YES! It's finally here … I'm giving something away … and since it's Friday and I'm "so original" I'm calling it my Freebee Friday Giveaway! Woo-hoo!
Ok, so here's the deal. I've been planning on giving something away for a while, but I was having a hard time deciding what to do. Since we cut Goose's hair and it is so thick and bluntly cut, it's been driving me nuts the way the ends just flip this way and that way. I have an old "crimper" (yes that dates me) that has flat plates & waver plates that are interchangeable that I'd kind of used as my flat iron. But of course, it just wasn't cutting it. So I finally bought a flat iron. GASP – yes I know – pick yourself up off the floor from your shock … how have I lived without one – not just for the girls, but for myself? I'm now wondering that myself! So anyway, I'd been looking around and asked around, and this is what I finally bought:
And while I was at it I bought one of them for one of YOU! Yup — that's right … one of you fabulous people have the chance of winning one of these. It's a Revlon 1″ Flatiron that has ceramic plates, 25 heat settings and heats up in 30 seconds. I know there are tons of flat irons out there, but this one has worked very well for the girls (well the older 2) and my own hair. It curls and straightens nicely. Keep in mind none of us have majorly curly hair, but I've got "post 3 children hair" that has gotten wavier w/each child so it has done well for me.
So that's my first item to give away. And since I have 3 wonderful daughter's I thought I'd give away 3 wonderful things. But here's the problem — This whole week I've had big plans to go out and get the stuff to make 2 sets of hair accessories to give away and every single day something has gone wrong and my plans of getting out have been foiled. I ended out taking Bee to the doctor today for some random patchy rash she had all over, and it looks like I might be taking Goose in tomorrow for an ear infection. It never ends. So anyway — I will give away some bows or flowers to TWO other lucky winners. And once I get them made, I'll add them to this post. I'm sorry for the lack of preparedness & being behind – but with kids, isn't that how it always is?! But I didn't want to wait any more to get this going & give away the flat iron.
* ~ * ~ * ~*~* ~ * ~ * ~ * ~ * ~ * ~ * ~* ~* ~* ~*
*** UPDATE — Ok, so I busted my back side to get these done tonight once I got the girls in bed. My husband is basically out of town for the next 2 weeks, so things have been non-stop crazy. But- since he wasn't home I was able to get these done a lot quicker! (Is it just me, or am I the only one that tends to be more productive when the lovey is not around!?!) Anywho — here's the other 2 give-aways. And when I was out looking at stuff today I got so excited, and because I was so excited, you'll benefit!
FREEBEE #2: These are on the smaller side for maybe the younger DD but can be used for any age – just wanted to give you a heads up cuz it's hard to tell from a picture how big they are – the pink ones measure about 1 3/4″ across, and the cream/white daisy's are 2 1/2″ across. I liked them so much I made some for my girls too!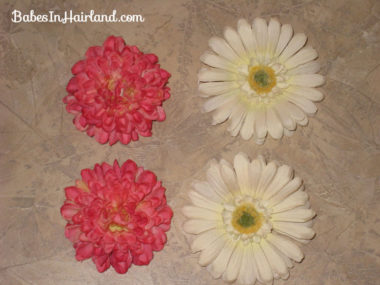 FREEBEE #3: When I was busting around the store tonight I decided to make one of these things — I've heard they are called "pony-o's." I have a couple of these that I loved putting in the girls hair whenever I did a bun – sometimes a ponytail, but mine have gotten totally ratty looking so they rarely come out anymore. I still love them & think they are oh so sweet in a little girls hair, so thought I'd make one tonight. If you don't like those, I do have an extra set of one of the above pictured flowers I'd be willing to part with. Oh, and the red daisy is about 4″ across, just in case you were wondering.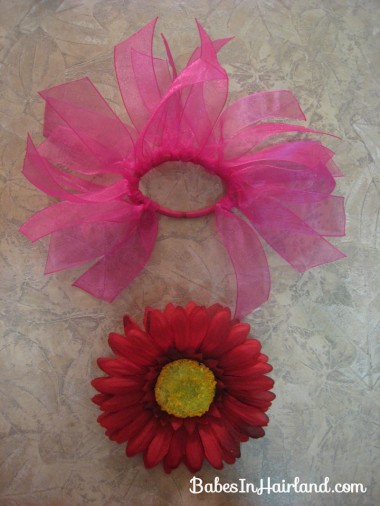 So that's it — Those are your choices! If you have a flat iron & don't want another one, let me know that you're going for #2 or #3 choices! Thanks again to all ya'll who've already voted. You guys are just FABULOUS!
There you have it — Let's get this party started … oh yeah, the requirements are:
1- Leave me a comment of course & a way I can contact you when you win
2 – Because I'm always wondering what people like & since there are so many "lurkers" out there – If you've done any of my do's – tell me which has worked best for you — or even if you haven't done one of them, still let me know which one you'd like to try.
3 – Oh yeah, tell all your friends and family to come on over & enter … heck if they win, you could maybe ask to borrow whatever they get! 🙂
4 – The giveaway ends Wednesday, September 10th at midnight (as in once Wednesday is completely over and the clock strikes 12!). I'll announce the winners by noon on Thursday the 11th.
5 – Oh and hey – if you aren't in the U.S – that's ok … granted you probably can't use the flat iron, but the hair accessories are still up for grabs. So – everyone is welcome to enter — besonders die dass Deutsch sprechen– weil ich dich verstehen kann! 😉
So, if you want to be entered, hit that "comment" button and drop me a line — but don't forget requirement #2! Good luck & once again THANK YOU so much for all the personal e-mails and comments I got regarding my drama last week. You all had such nice things to say & it really meant a lot. Now go ahead … you know you want to … enter NOW!
**Disclaimer — This page contains affiliate links. If you click on an item and purchase it, we receive a small % of the sale price. This does not change the price of your item. By purchasing these items it's like saying a little "thank you" to us! -
You might also enjoy these related posts