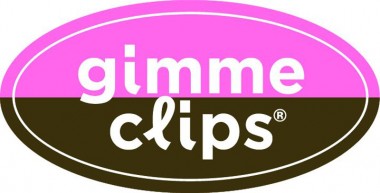 UPDATE:  *** The winners have been announced. 
Scroll to the bottom of the post to see if you are one of them! ***
I'm sure most of you are familiar with Gimme Clips, as we've used some of their cute accessories over the years, or maybe you've seen them in stores like Walgreens, Target or Wal-Mart.  They have accessories for girls of all ages & they make everything from flower clips and bows, bobby pins and hair elastics to headwraps and flatirons.
Currently, Gimme Clips is wanting to hear from you moms about doing your daughters' hair.  They are wanting your fashion opinions for hair accessories, and ways Gimme Clips can help take the pain out of doing your little girls' hair.  They want YOUR input.  How cool is that?
So if you want to have a say in what types of accessories and hair tools they offer, they've set up a short little survey that will take you about 3 minutes.  And even better — just for taking their survey you will be entered to win 2 flower clips (flowers & colors may vary) and one of their brand new & innovative elastic EZ Cutter Combs.  You may remember I posted about these combs last year.  Well, they have actually been manufactured & are just coming to stores.  They are currently available at Walgreens and Wal-mart should have them at the end of the month.  So keep your eyes out for them!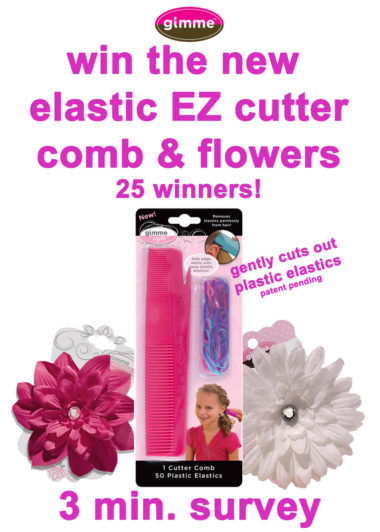 To be entered to win, you'll need to take the survey by Monday, May 13th.  Gimme Clips will randomly pick 25 winners from those who complete the survey. I will announce the winners at some point on Tuesday, May 14, 2013 here on our blog.  The names of the winners will be announced at the bottom of this post.
At the end of the survey there will be an option to enter your e-mail address to be entered to win.  There will also an option to be included in taking future survey's for Gimme Clips from time to time.  If you choose to be included you'll be entered to win accessories from Gimme Clips after each survey you participate in.
**UPDATE — the giveaway is closed — you may still take the survey, but the winners have been chosen! **
And don't forget to come back on Tuesday to see if you're a winner of some darling accessories & their fabulous new elastic cutting comb!
FTC Disclosure:  While I was compensated for this post, as always, all opinions are entirely mine.
THE WINNERS ARE:
** UPDATE ON OBTAINING YOUR PRIZE *** You should receive an e-mail from Gimme Clips with a link to a short form to fill out w/your address so they can send your prize.  Originally they'd had you e-mail them, but spam filters were causing issues.  So if you don't hear from Gimme Clips, let me know & I'll put you in contact with them!
mongarza1234@__________
aekislandangel@___________
michaelanorthrop@__________
bigredpen@_________
Qsanch@___________
mrsmbm@________
Arlind1_usa@______________
emilyjcook@________
Molly.schemel@_________
shemikey@________
herbert_nayra@_________
chickadee3394842@_________
meritodd1221@_______________
Raccoon572@________
myshellybert@_________
jill@_________
Kaseykoer@____________
faith.wagner@_________
fabiolagaytan3859@_____________
warch2@_____________
Katielapin@_________
kaylyn914@_________
shimmyminion@________
valdezpatty77@_________
sarahj.sawatzki@_________
**Disclaimer — This page contains affiliate links. If you click on an item and purchase it, we receive a small % of the sale price. This does not change the price of your item. By purchasing these items it's like saying a little "thank you" to us! -
You might also enjoy these related posts