I think I'm seriously loosing it. I just finished up dinner w/my family & asked my husband – what day is it?! And with his answer of, "It's Friday" I realized I was supposed to post a winner today! I think I'd mentioned the other day I was going to be gone for a church youth conference, and so I've been gone most of the week. I got back late yesterday afternoon thoroughly exhausted & totally out of it … obviously… since I didn't even remember what day of the week it was! So I'm sorry for the delay on this!
Our winner for this week goes to: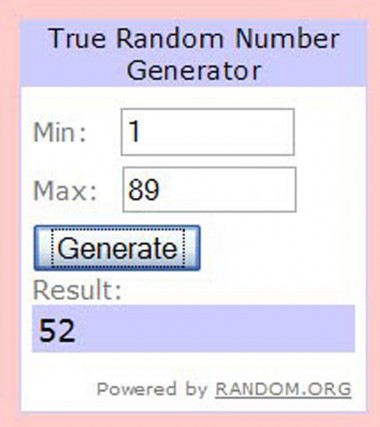 And that means Sarah – you're the winner! So get back to me asap so I can send you your Sally's gift card!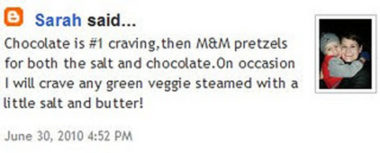 I've got to admit, after reading all your comments you got my mouth watering for these new M&M pretzels that I've yet to have. Don't think I've ever even noticed them … but I'm going to have to buy some for sure! I think I gained a few pounds just reading all the yummy things you crave too! LOL
Ok – with the winner announced – I've got to ask a question to you all (not in conjunction with "Just Wondering Wednesday.")
As most of you probably know I post videos now and then to You Tube. I get comments quite regularly on my Messy Bun video- which is great. Well I recently had a comment that said this:
"Wet hair + rubber band = Lice"
What the heck? I know I'm no professional or expert when it comes to "real knowledge" about hair – but I about fell off my chair laughing. Since when does a rubber band magically turn into lice? I remember reading on another hair blog a while back (sorry I can't remember which one) that someone had written in about going to bed with wet hair & having it mold. But wet hair & lice? Everything I've ever learned about lice in school and such there has never been any mention of anything like this. Lice doesn't just form or appear out of no where. Ack – just writing about this makes me start itching. I commented back that I'd never heard of wet hair causing lice and maybe they'd gotten it by using someone's hair band that had had lice. Now I've had another person comment that tying wet hair back and the humidity does cause lice.
Anyway – anything I've looked at and read about lice says nothing of the kind. I found one forum that talked about Chinese superstitions about going to bed with wet hair causing headaches & mental retardation (ROFL!) and someone mentioned wet hair & lice but that was it. I can see about wet hair & a possible headache – but come one – mental retardation or lice? Not a very credible source obviously since it was just a forum, right?!
Help me out here. I've never professed to be the smartest person around – especially when it comes to hair – but has anyone ever heard anything like this? If you ask me it sounds completely ridiculous. Sorry to bring up the "L" word – as it tends to make one feel itchy – but I've just got to know if anyone else has this same opinion as this You Tube comment or if you can find me a credible source I'd love to read it!
You might also enjoy these related posts