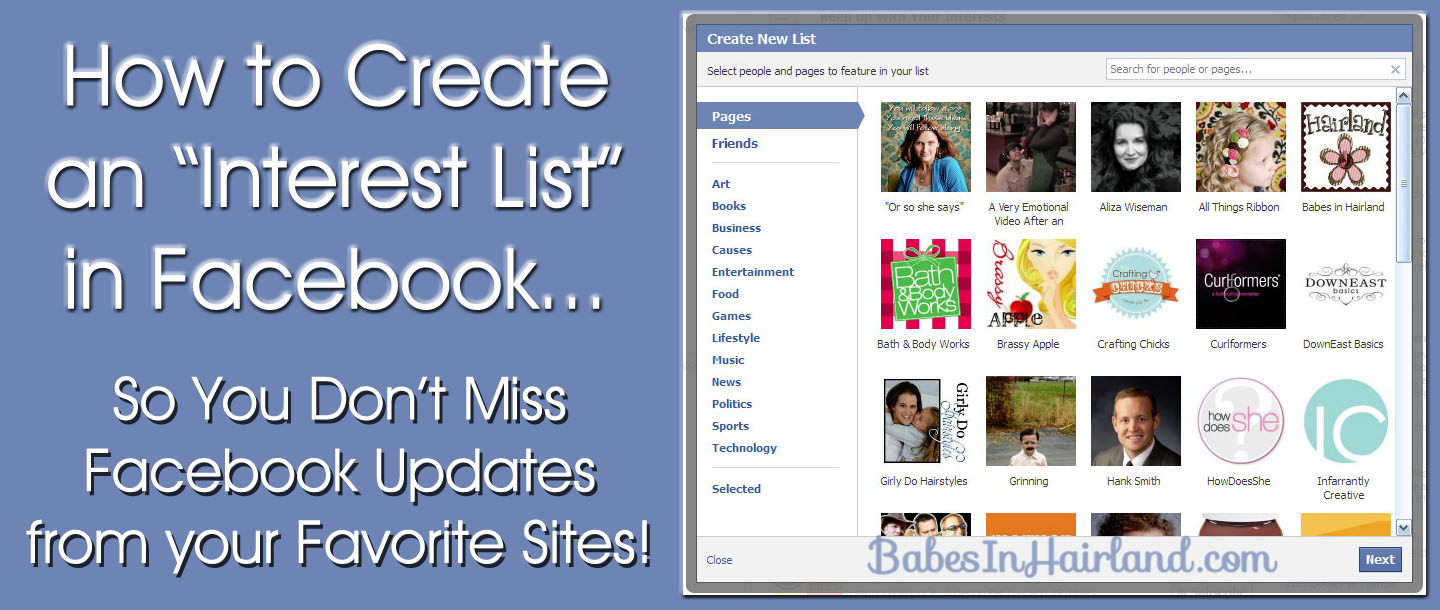 I realize this isn't hair related, but this is something that has helped me over the last couple weeks & thought it was important enough to share.
Have you noticed lately you aren't seeing all your favorite sites & blogs in your Facebook feed?  Are you feeling like you're missing out on the sites you have "liked" and wonder why?  There are lots of different rumors about Facebook changing things & even tests and reports out there claiming they haven't.  But I beg to differ.  There are several reasons I disagree that FB hasn't changed things, but I won't get into them all.  But I first noticed because things were showing up in my Babes in Hairland feed that weren't in my personal FB page and vice versa and they always used to be in both.  Regardless of what is true or false on why this is happening – I just wanted to share with you a couple ways to help combat this.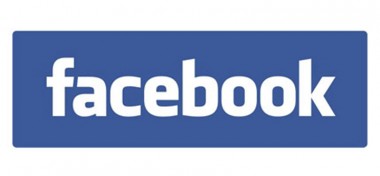 First – Facebook is supposed to be "social," right?
Well, if you see a great post and want to see more like it, just click "Like", comment, or share it.   I've read that if you never click, Like, comment, or share posts by a Page, Facebook makes that Page less likely to show up in your feed.  So if you like Babes in Hairland on Facebook, but never interact with us, we probably won't show up in your feed very often. 🙁
Second – If you "Like" us already – use the "Get Notifications" option
Go to the Babes in Hairland Facebook page.  Assuming you've "liked" us, there should be a check mark next to "Liked."  Hover over "Liked" and a drop down menu will show up.  "Show in News Feed" is probably already checked, but that is no guarantee all our posts will show up in your feed.  Especially if you aren't interacting with us when we post -(and we love it when you let us know you're out there!)  Be sure to check the "Get Notifications" option.  By having those both checked — especially "Get Notifications," it should help us to show in your feed.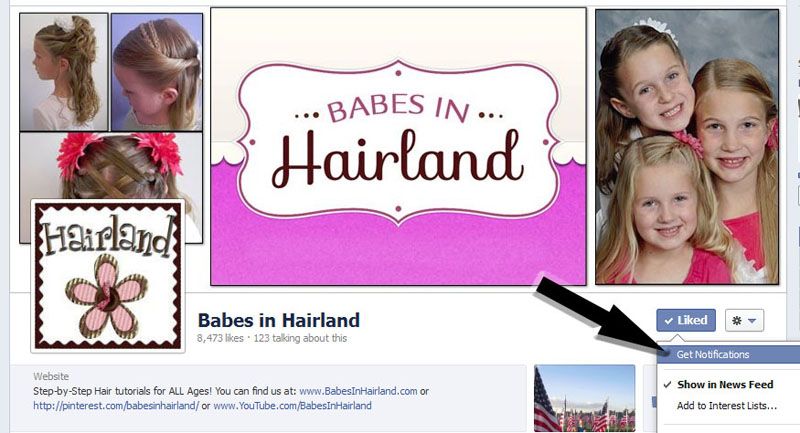 Third – Create a Facebook Interest List
Having a FB Interest List can be helpful if you don't want your feed jam packed with things other than your personal friend updates. You may know about this, but it was fairly new to me, hence I'm sharing it!
Toward the bottom left side of your personal facebook page there will be a subheader called "Interests."  You may have a few different options under the header compared to mine since I've already set up a list, but you want to click on "Add Interests…"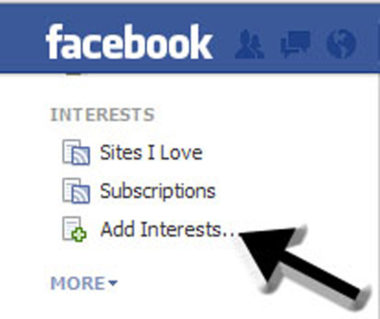 It will take you to a screen like the one below where you have a couple options.  You can subscribe to lists your friends have made, AND the best part is you can make YOUR OWN lists that contain all the sites & blogs you love and don't want to miss out on.  Click "+Create List" to do that.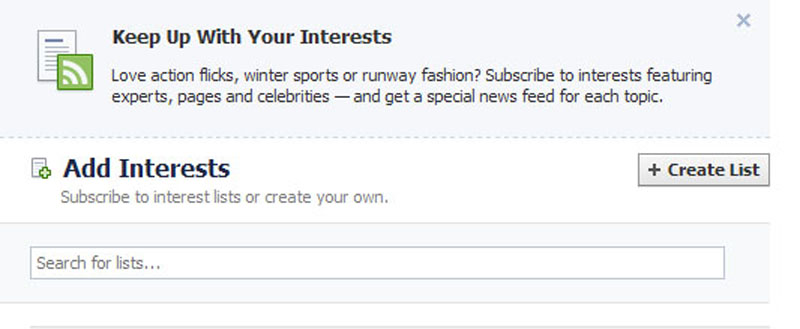 Once you click that, it'll take you to a page like is shown below, that shows you all of the Facebook pages you like.  You can make 1 list to show them all, or make many lists based upon your interests.  Click on the ones you wish to have for your particular list.  A check mark will show next to the ones you click on.  You can even do this with your friends which is the 2nd option on the left.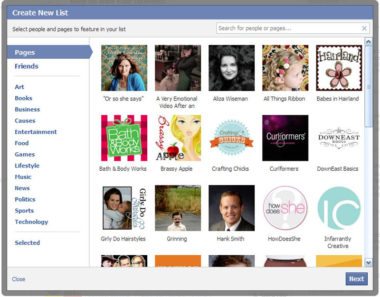 After you've checked off the ones you want to show in your list & have named your list (you can make it public or private) click the "Next" button at the bottom.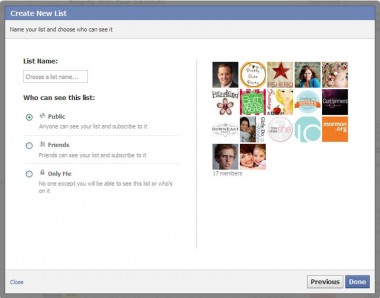 Then a page or feed will show up with updates from all your pages you added to this list.  There is a "Manage List" option up at the top right where you can do several things like add or remove sites from your list, rename it, or even delete it.   That's it.  Now whenever you want to see the feed from all your pages you like, just go to your lists & they'll be there for you.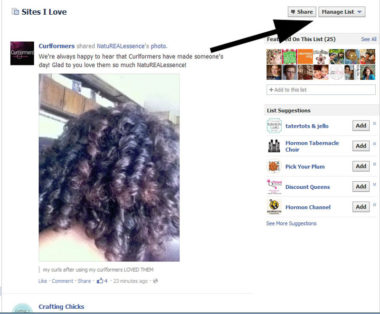 Lastly – Adding New FP Pages to your List
If you're wondering how to add new FB pages to your list after it's been created it's pretty simple.  Once you've liked a new page, you can find an option under the "Like" button, or to under the button on the right of it.  There is another pull down menu.  Click "Add to Interest Lists"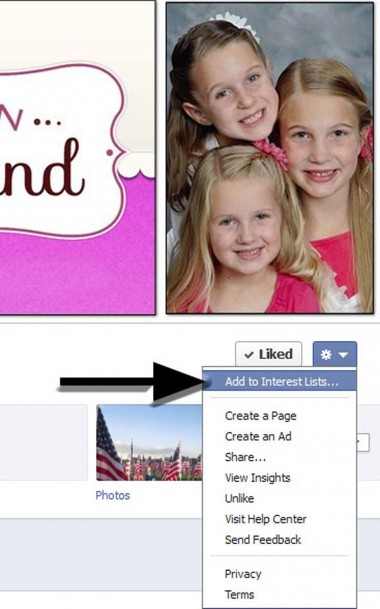 Then another option will show up where you can choose to which list you want it added.  In this case, mine is called "Sites I Love."  You'll add it to whatever list you prefer and you're set.  Or create a new list & repeat the steps above.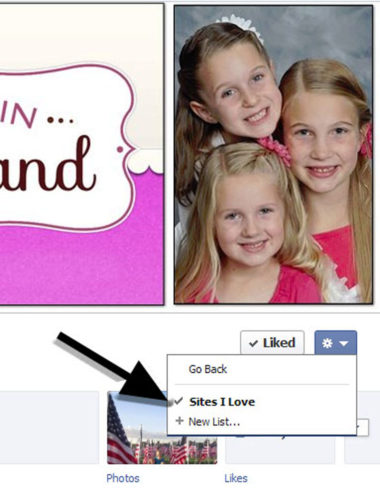 Hopefully I didn't totally confuse you & this will help you in the future.  Of course, you can also sign up for our RSS Feed or e-mail from us by clicking on the icons at the top right of our blog.  And we're also on Pinterest too!  Also — if you follow blogs via Google Friend Connect & have a dashboard through Blogger, you can still follow us by manually going in & adding our URL to your list of blogs you follow.  I follow several WordPress blogs in my Blogger dashboard feed.  We'd hate for you to miss out on any of our posts or giveaways.  Let me know if you have any questions!  Hope this helps.
**Disclaimer — This page contains affiliate links. If you click on an item and purchase it, we receive a small % of the sale price. This does not change the price of your item. By purchasing these items it's like saying a little "thank you" to us! -
You might also enjoy these related posts