Hey everyone! I realized I never posted it here on my main blog, but I announced our winner for the Stylish Mode giveaway the other day, as well as on Facebook a couple times & I still haven't heard back from the winner. Last call for our winner. I'll pick a new one first thing tomorrow morning if I haven't heard from her. Head over HERE to see if you are the lucky winner of the $25 gift certificate to Stylish Mode.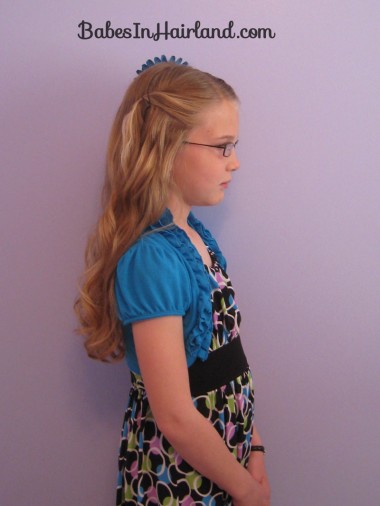 So I had a friend come and borrow some of my Curlformers the other day and then after chatting briefly with Curlformers on Facebook I realized yesterday that I never posted pictures from our first attempt at using our Long & Extra Wide Curlformers. We've only ever used the pink & orange ones that are the long (or extra long) and wide ones. If you're not familiar with Curlformers, feel free to check out my old posts about them HERE. But Curlformers was so generous to send us a pack of the long & extra wide ones – they are yellow and hot pink. They give what I like to call a more "mature" curl or wave. These are what they look like: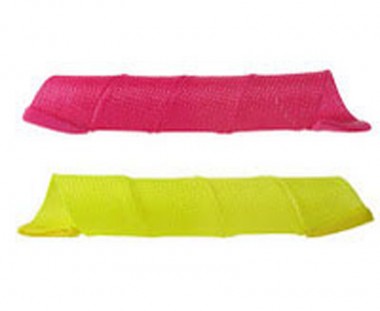 I used these for Easter Sunday in Goose's hair and was excited to see what the result would be. Obviously her hair is much longer than the curlers are, but the curl at the bottom of her hair is what I was going for anyway.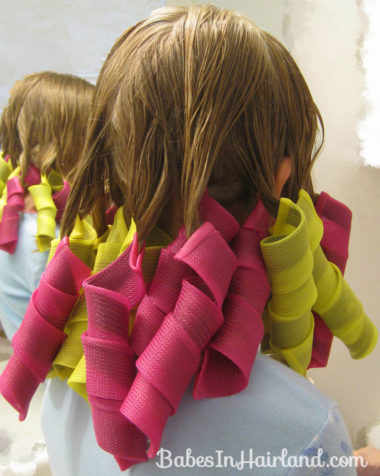 Here's the result before I touched them at all: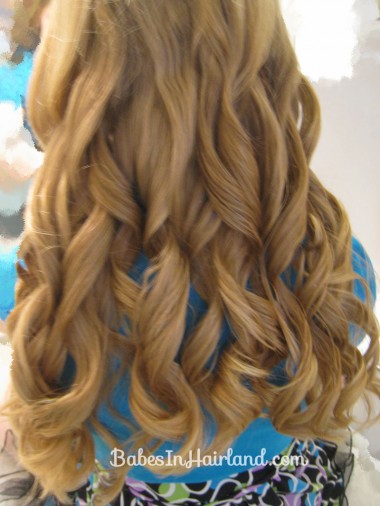 They were definitely a looser curl/wave than we were used to from the pink & orange ones we've always used. At first I was almost disappointed – well, disappointed isn't the right word – but I'm just so used to the "major curl" the other ones give and these gave such a looser curl it was hard to get used to at first! I only used the tail of my rat tail comb to go through the curls.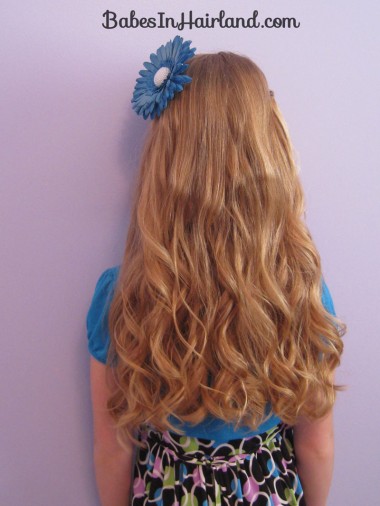 We simply pulled back a bit of the hair on both sides & I had a monstro flower I'd made last minute to match her Easter dress and that was it.
The curls achieved by the extra wide Curlformers are really beautiful. A much more mature curl or wave is achieved – perfect for a teen or adult. In fact, now that my hair is getting a bit longer, I really want to try them in my hair!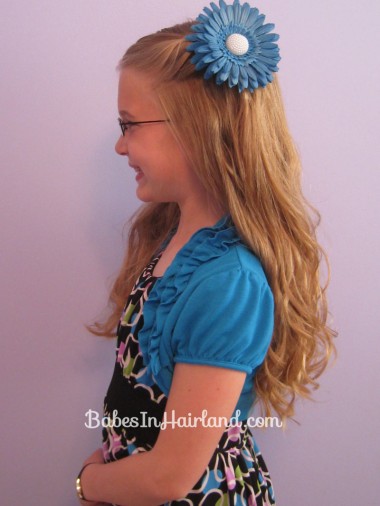 I posted this pic on FB back around Easter, but this was the girls all guzzied up before church.
I really like these other Curlformers and I'm anxious to try them again. I actually think I might use less of them and add more hair to each curler next time. And I seriously need to try these on myself. If I do, I'll be sure to post pictures. Does anyone have the long & extra wide Curlformers? We'd love it if you shared your Curlformer pictures with us on our Facebook page!