Some people call these type of 4 strand braids 3D, while others call them round, so we'll combine the two names and add another fun element to it and create a pretty lace braid.  You could easily use a flat 4 strand braid if you want, but I think it gave the lace braid an extra cool look using the round 4 strand braid.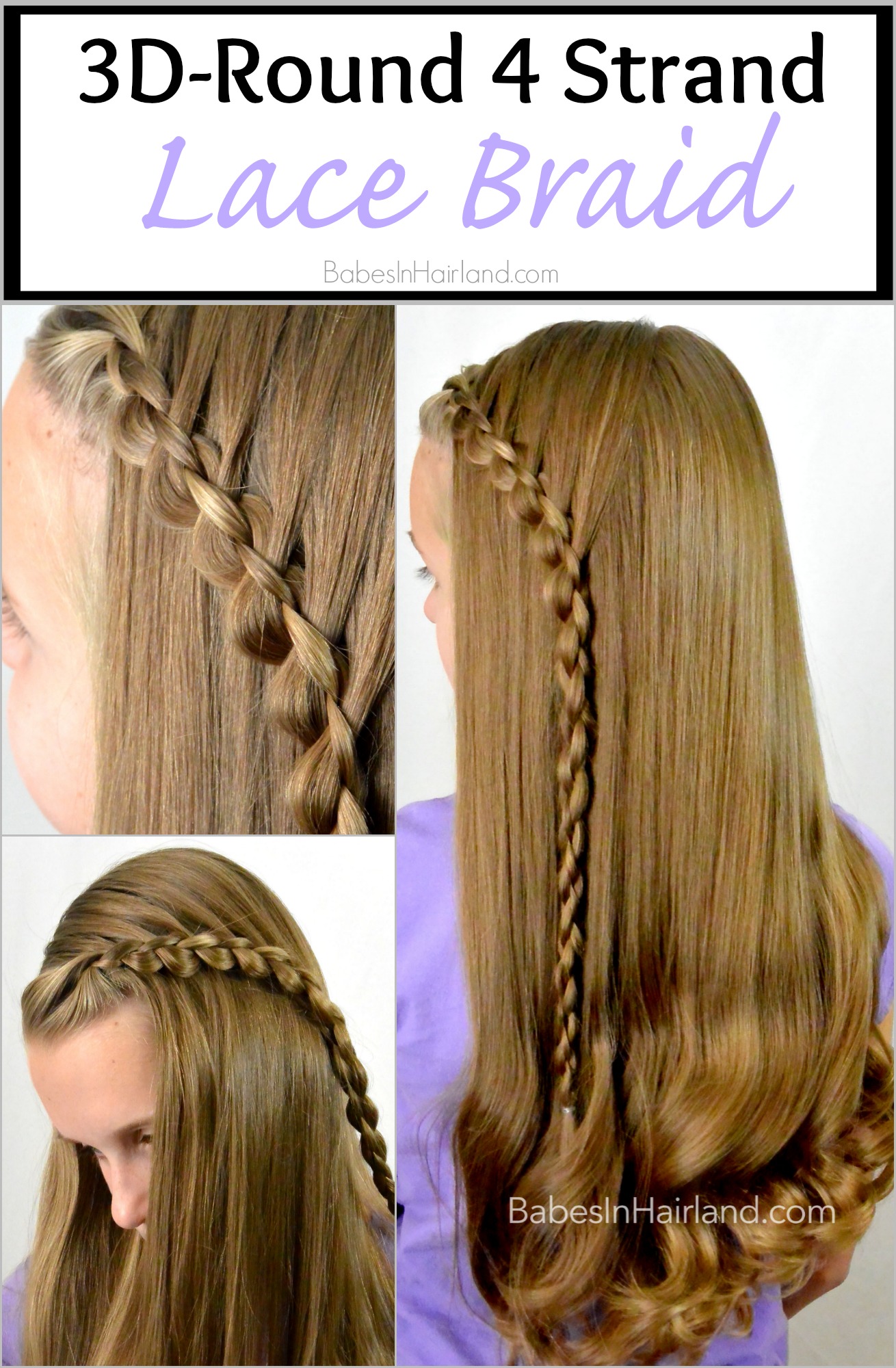 If you're you need to brush up on your round 4 strand braids, watch our video from our archives where we show you how.  And remember, a lace braid is just a "half" French braid where you only add hair to one side.  Ah, so many different hair terms and techniques to remember!  Oh, forget it!  Just watch our video and you'll see! 😉
Step 1 – Make an off-center part on the right
Step 2 – Grab a small section of hair near the forehead on the left side of the part
Step 3 – Divide that hair into 4 even sections and place between left hand fingers, palm side up
Step 4 – With your right hand, take the 2nd position section of hair between your thumb and index finger
Step 5 –  Place the 4th position of hair in between your index and middle finger of your right hand
Step 6 – While still holding the 1st & 3rd sections in your left hand, twist them so your left palm is now facing down
Step 7 – Pass them to your right hand so you grasp them between your middle and ring finger and ring finger and pinky
By completing these steps, you will now have 2 X's of hair and be holding the hair with your right hand.
Step 8 – Repeat Steps 4-7, but pass the hair from your right hand to your left
Step 9 – ADD hair from the top of the head to the section of hair that is between your left hand ring finger and pinky
Step 10 – Repeat steps 4-7 – but do not add hair to the bottom
Step 11 – Continue adding hair to the 4th section of hair only when your left hand is holding the hair
Step 12 – Stop adding hair to the lace braid once you reach the crown
Step 13 – Continue braiding down the remaining hair and secure with an elastic
Step 14 – Optional – Curl all the hair down in back
FINISHED!
And one last view from 3 different angles:
If you like 4 strand braids be sure to check out our many different 4 strand braid tutorials.  Or if you prefer a different look, check out all our different lace braid tutorials.  And of course, if you try this one, please be sure to share it with us or tag us on IG (@babesinhairlandblog) so we can see them!