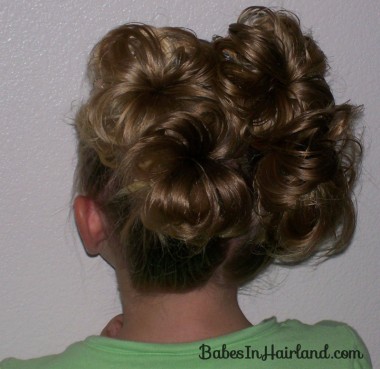 A while back I mentioned I'd gotten a post from one of my readers – Amy, from Clouse Cousins Cookin'. Over a month ago she sent me a darling do that was done on her niece and I've been meaning to share it, but was waiting on a video she'd she'd sent me. Unfortunately I had issues with it downloading and whatever else comes along with not knowing everything about computers, so you only get pictures. Sorry. I think it's pretty self-explanatory and I know I've seen similar things on other blogs, but this is what Amy called their "fancy hair" and since I had a fancy schmancy princess do – I figured we'd call this one fancy schmancy buns! Plus I was excited to share it because it, along with her neice are sooo cute!
Begin by parting the hair from ear to ear. Then part it down the middle of the head – making a + sign with your parts. Then make a pony tail out of each of those sections – 2 on top & 2 on bottom. Be sure to make them fairly close together on the top of the head.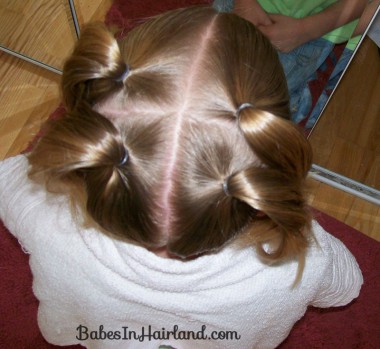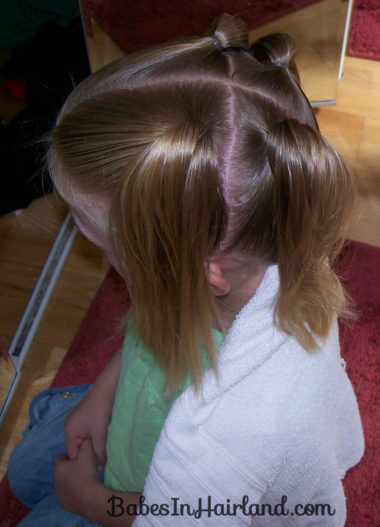 With each pony tail divide the hair in half – folding a piece of the hair up and the other down (basically making a messy bun) and secure it with another rubberband to hold it in place. Once you've secured the hair with the rubberband be sure not to have too long of ends sticking out underneath the rubberband against the head. If the ends are too long, you can loop them back up into the ponytail or probably curl them with your iron to blend in with the rest of the loopy ponies.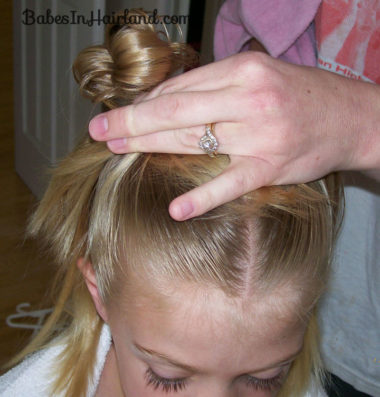 In the picture below it almost looks like it has 4 loops to it – but I think it'll depend on the length of your DD's hair if that happens or not.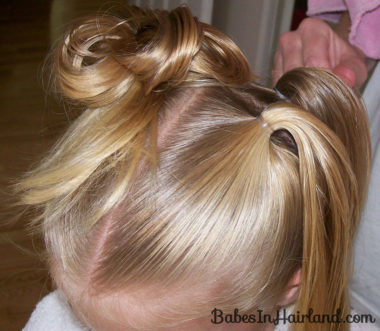 Repeat steps to the rest of the ponytails. Hairspray the buns & kind of piece through the hair to seperate it making the buns nice fluffy. And voila!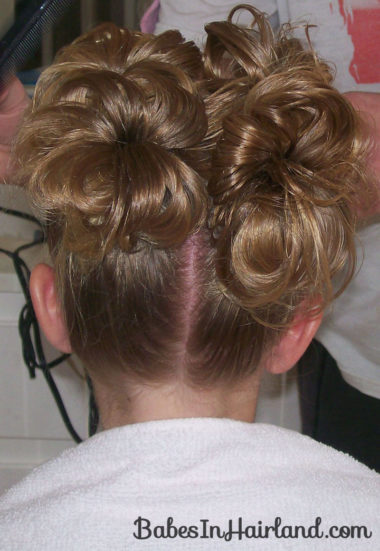 There you have it – add bows or other accessories on top & you've got 1 very cute girl & 4 fancy schmancy buns!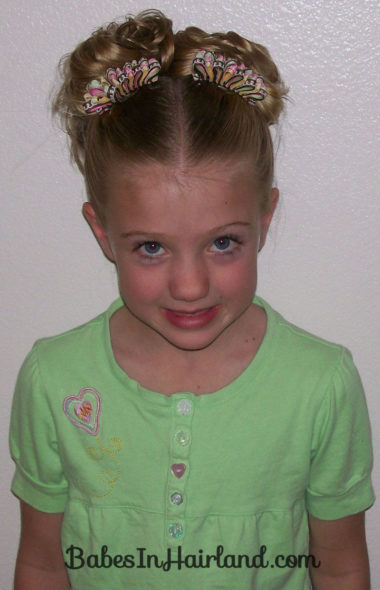 Thanks so much to Amy for sharing and for sending your darling do in! I hope I've explained your do in an okay fashion. Remember, I'm always up for sharing (in fact one of my next posts I've got more sharing pictures to show).
So I'm not leaving anyone hanging overly long wondering when I'm going to post their stuff, I've decided I'll post YOUR pictures once a month – sometime during the first week of each month. So if you have any ideas, or successes of hairdo's that you want to share with me & the rest of the hair blog world, send them my way and know they'll show up at the first of the following month.
Also, another matter of business …. until recently I'd tried really hard to reply to most everyone's comments whether I could e-mail you back directly or I would make a comment back in the comment section to you. This has become quite the crazy task! If you have been a follower from the start, you know I had some issues with this – thinking I was e-mailing people back, when in fact it was going to some spot in cyber space never to be received by those who's ID's showed up as "no reply-commenters" @ blogger. Anyway, due to things becoming rather hectic in other areas of my life, I've decided that if you have an actual e-mail address that shows up in my g-mail, I will reply, but know that if you don't hear from me, I still am getting your sweet comments & greatly appreciate them. If there is something you do want me to reply to, feel free to leave your e-mail address, or e-mail me directly. Hopefully this won't bug anyone too much, but I just am finding it hard to keep up on everything in my life & I've got to "cut back!" Thanks again for commenting & for continuing to check back on the latest here in Hairland.