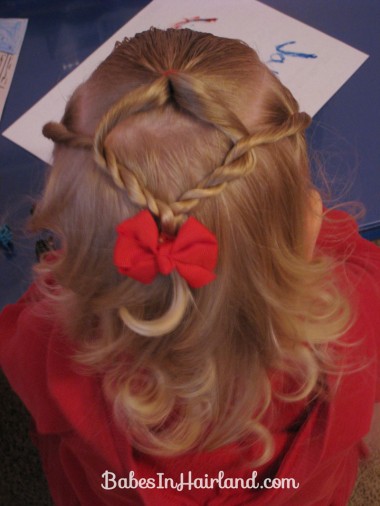 I figured I'd try the hairdo I posted yesterday again – only this time on Bee. I did it just a little different since she has less hair to work with. Plus, towards the end, find out our latest "attention keeper" while doing Bee's hair.
No step by step on this – since I did it yesterday – but if you need to, keep scrolling to yesterday's if you want.
Instead of pull throughs, I just parted her hair from ear to ear & made 3 ponytails. I can do pull throughs on her, but I was in a hurry to get to the store today.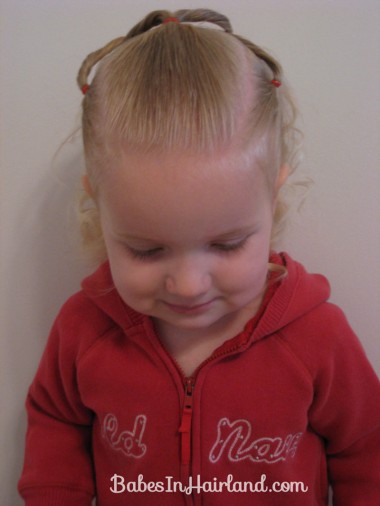 Then divide the middle ponytail in 2 sections to combine them with the outer ponytails. Twist them to make corkscrews & tie them off at the ends with rubberbands.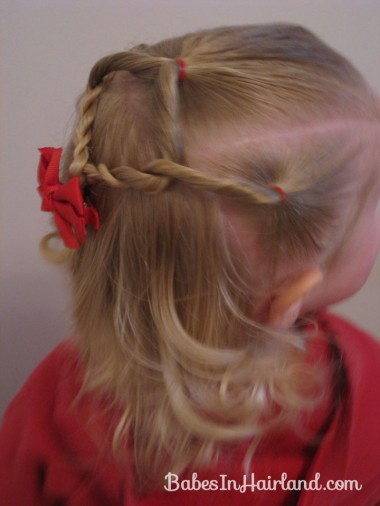 Then instead of pulling them into a ponytail or bun, I just joined the ends of the corkscrews together in the middle – kind of making a diamond shape. It was rather cold and windy today so I didn't wet her hair to get her curls to fluff up. I touched it up with a curling iron instead so she wouldn't have the wet hair when we left.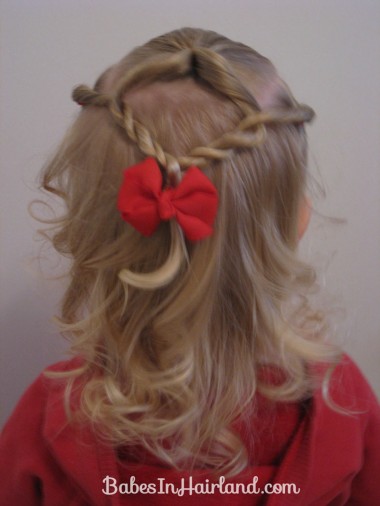 She was a big time busy body this morning & I could barely get her to look up from her coloring – so here's her "leave me alone already" smile!
As everyone is always asking different ways to keep your DD still while doing their hair – I know there have been several people list things I do – like the sucking on squirt bottle (yes gross, but it works) playing with a toy, letting them have their feet in the sink, etc. etc. Well, this is Bee's latest craze. Sorry it's kind of blurry –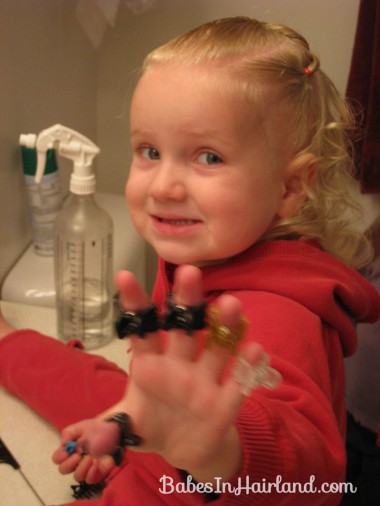 She's taken to putting claw clips on every one of her fingers. I can't imagine that this is very comfortable, but she does it. She tries to do it with the tiny baby ones but they totally turn her fingers blue so I've put a halt to that. But these are a bit bigger and she sits and messes with those the whole time I'm doing her hair. They do leave big ol' dents in the top of her fingers which I don't like, but she doesn't seem to care, but once I'm doing her hair we take them all off & drop them back in their little spot in the drawer. She feels like a big helper doing that part! Anyway – there's maybe another option to let your DD try with the claw clips! She also clips them all over her clothes, and other items hanging out on the counter. Bug used to do it with all the little rubberbands. She'd pile rows of them on her fingers & get all excited about all her "rings." Anyway – just thought I'd share another "tip" of how she entertains herself while I'm busy on the back of her head!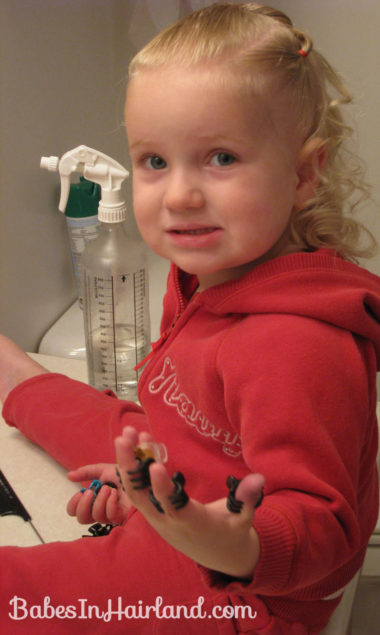 Oh – -and see that cute little red bow?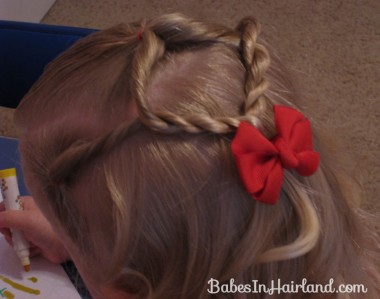 I got it from Flowerz in Her Hair. Stay tuned for a giveaway coming next week from Flowerz in Her Hair. Head over there to take a look around so you can maybe have an idea of what you might want!