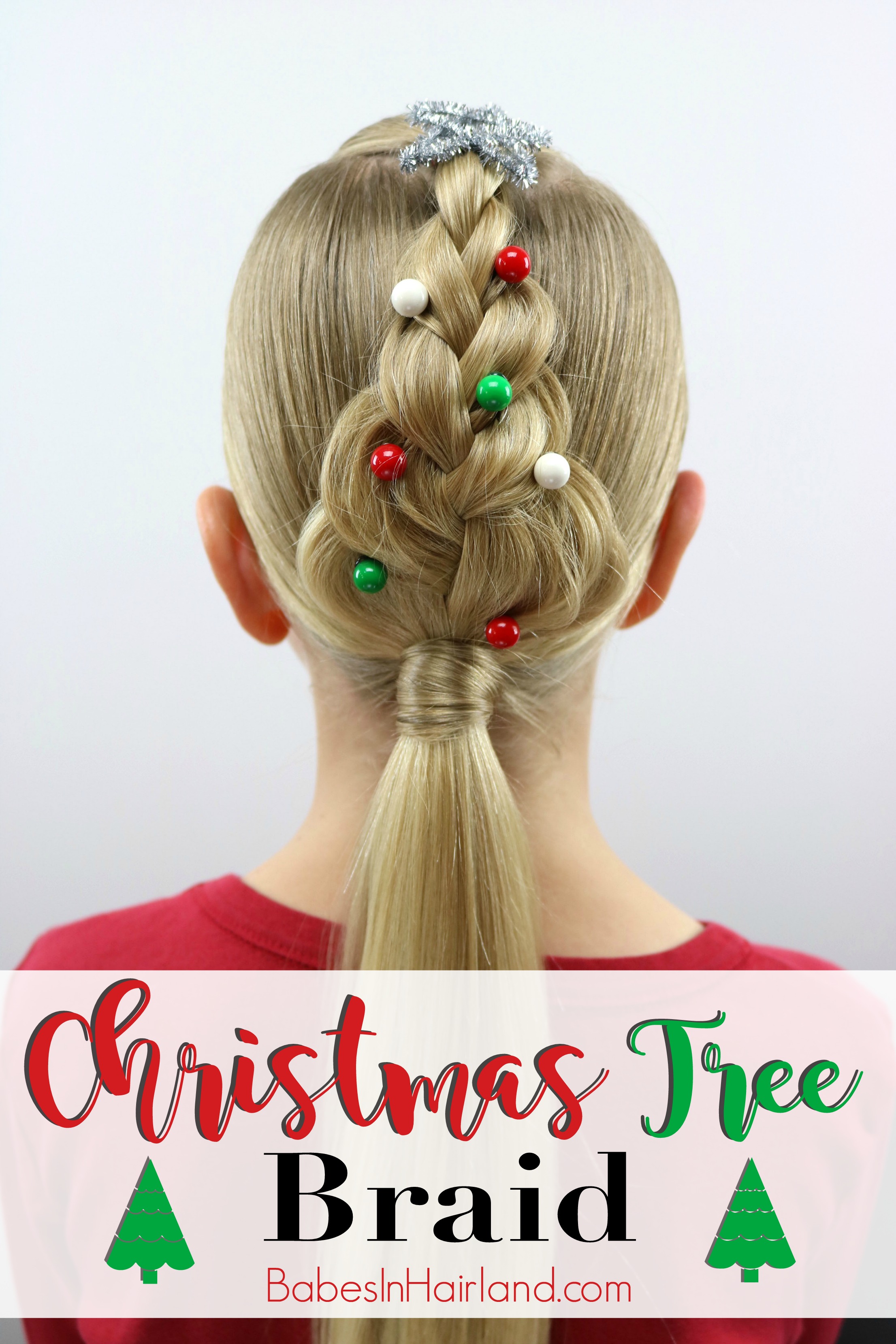 Last year we had fun coming up with some new festive Christmas hairstyles, like our Braided Christmas Tree Hairstyle, Santa Hat Hairstyle & our fav from last year, the Christmas Tree Pull-Through Braid.
Today's style is totally easy and quick so you can still whip together a cute Christmas  hairstyle even if you're in a hurry!
Here's our quick video, and below that are the step-by-step instructions along with what we used for our decorations and even more pictures of this cute and festive style!
Step 1 – Part on a diagonal from the temples back to the crown so you create a triangle shape section of hair
Step 2 – Make a ponytail with that triangle section at the top point of the triangle near the crown.  Secure it with a clear elastic.
Step 3 – Gather all remaining hair down in back into a low ponytail near the center of the nape of the neck.  Secure with an elastic or ponytail holder.
Step 4 – With the ponytail on the crown, create a regular 3 strand braid
Step 5 – Leave the top of the braid tight, but gradually make it looser as you go
Step 6 – Begin to pancake the lower portion of the braid so the base is wider than the top, like a Christmas tree
Step 7 – Secure the braid with a clear elastic to the base of the ponytail at the nape of the neck
Step 8 – Once the braid is secured, go back and gently adjust the braid so it has the shape you want for your tree
Step 9 – Optional – Wrap the base of the ponytail with hair to cover the elastics
Step 10 – If desired, decorate your Christmas tree
If you opt to leave the braid as is, it looks cute too.  Bee has worn this to school without decorations, because I told her she had to wait until December to sport Christmas decor in her hair! haha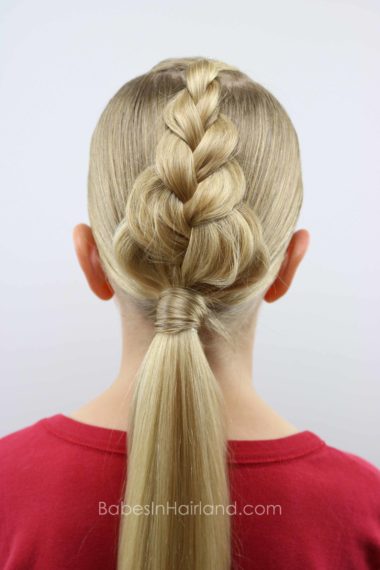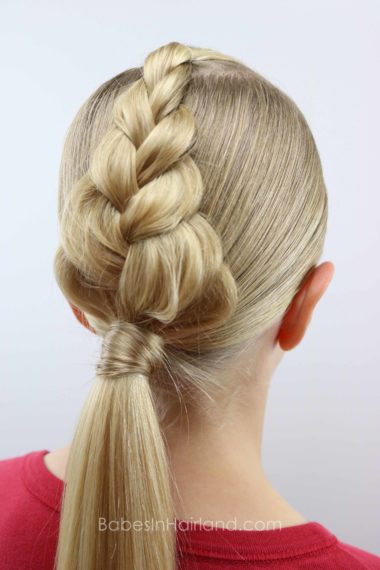 Decorations:
Last year we used little pom pom's but this year I found some cute Christmas color sprigs with little beads on the end.  I think you'd normally stick these into your tree or a wreath but I cut them off near the bead and then hot glued them onto some hair pins.  I created the star out of some fuzzy silver pipe cleaner I had on hand.  You can decorate the tree any way you like.  You could thread some ribbon around the "tree" like garland and that would look really cute too.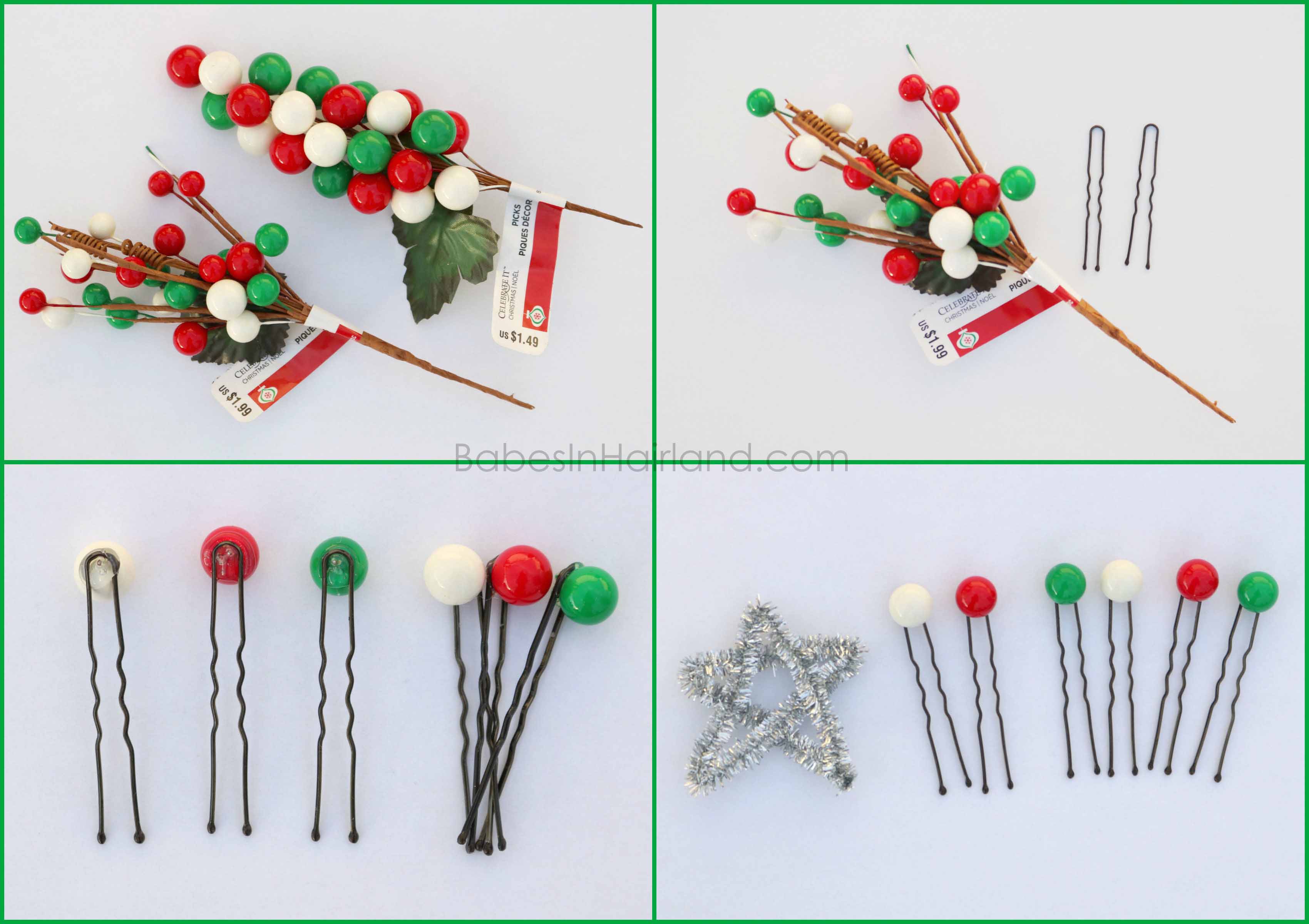 FINISHED!
If you are looking for other fun Christmas hairstyles – here's some more!
Comment & let us know which Christmas tree you like best!