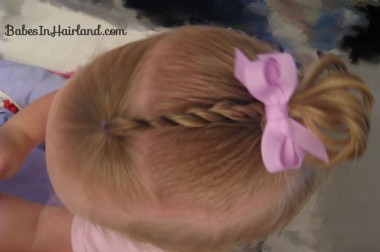 Just be forewarned that this was a "not wanting to sit still day" and so these are not the best of pictures. I've done this on Bee so many times lately, and the one day I finally decide to take pictures she's got ants in her pants (or maybe bees!)
Nothing overly new here, but a nice & easy one that I think looks cuter than just a pony on top. Part the top section of hair about 1/3 of the way back.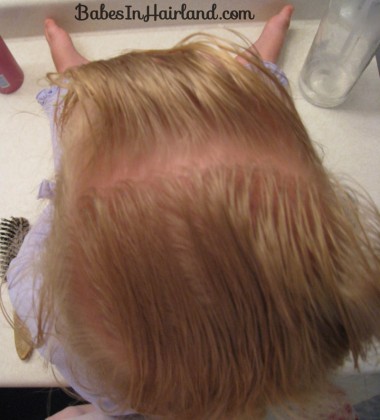 Make a ponytail and tie it off with an elastic. You don't have to do this, but I prefer to so it lays nicer & stays in better.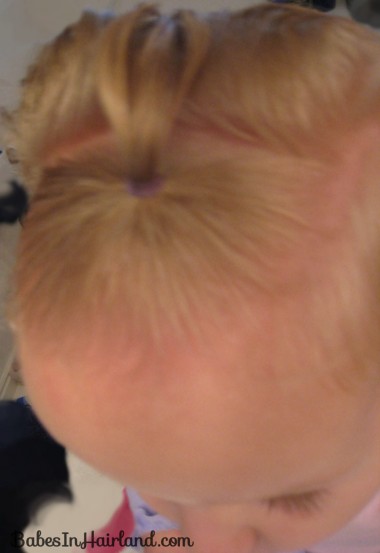 Then make a rope/twist braid  (go HERE to see our video) – or I've done a regular braid too, and then tie it off on the end – temporarily.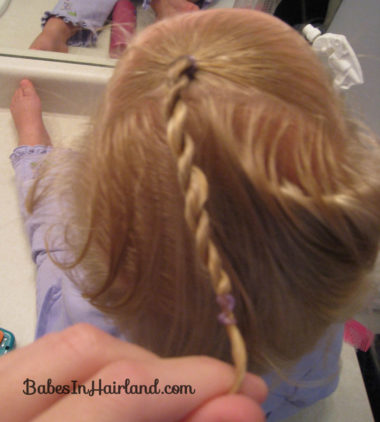 Then take the rest of the hair that's on the top of the head and make it into a ponytail, adding the end of your rope/twist braid. Once I've wrapped the rubber band around a few times & know myrope/twist braid isn't going to unwind, I pull the rubber band out from the end of the rope/twist braid.
On the last time around the ponytail with the rubberband I don't pull the hair all the way through leaving a bit of a loop. I also make sure the ponytail is rather damp – or mist it to be able to work with it a bit better.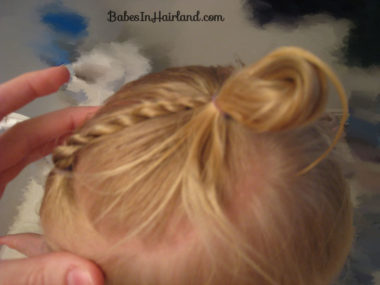 Once I've got the looped ponytail to where I want it, I just wrap the ends around the base of the rubberband to hide it and then just pull them back around front & clamp them down with my bow.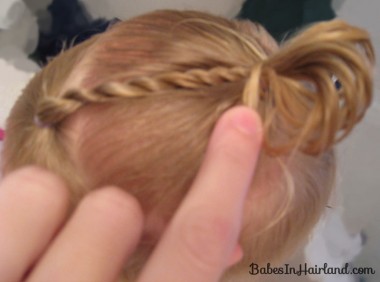 Once I'm set with the bow, I'll sort of piece out her looped ponytail a bit so it's not just in a chunk of hair. I fluffed up her curls around the sides, sprayed it all over. And that's it.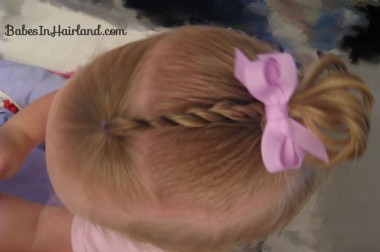 Sorry, the flash went off on this one, but like I said, I didn't get too many good pix this time around.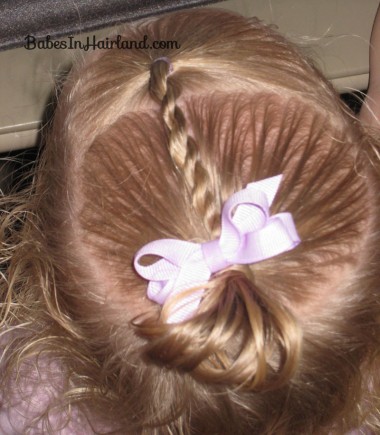 A bit blurry, but she was truly happy to be done today. Most days she's mad if she's not the first one up on the counter to have her hair done – but alas, not every day can be that way! 🙂