So I'm sure you've all been waiting on the edge of your seats to find out what hairdo I'd come up with using THIS VIDEO that I posted last week, right?! Yeah right! It's ok – you don't have to be embarrassed, I know you have! hehe Only kidding!!
Alright, enough of the silly stuff. I actually came up with this as another hair request. Love that you guys keep me on my toes with things! This was for Anissa H. She had a school dance and said she could do pretty much any kind of braid and was looking for something that was half up-half down. It was initially for a friends hair that was shorter, so I opted to use Bee for this, since she obviously has the shortest hair of the babes. Just as a side note – this style is obviously too mature for Bee – but she's just the model here – nothing more!
Begin by parting out the hair on the top of the head like you're going to make a bang "poof." Start making a basic 3 stranded braid (but make it rather loose up front), but after a few plaits make it a cascading/feathered like in the video. (click HERE if you haven't watch it yet) **I left hair out of both sides of the braid for all the braids in this style. **
Braid to the end of the hair & secure it with a rubber band. Then push the braid forward a bit up front and make and X with bobby pins to give yourself a little "poof" up front for your bangs. Just as hint – I did most of this style dry so fly aways and wispy hairs are a-plenty in this style. But that's ok. It's a fun & funky one!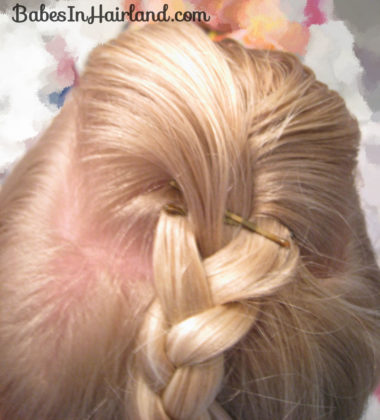 When you're done with this braid it should look all crazy like this: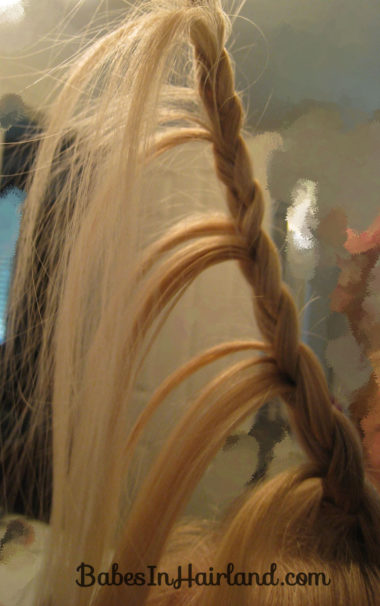 Now move to the right side of the head. Part the hair down to the ear & hold the hair behind the ear out of the way with a clip for now.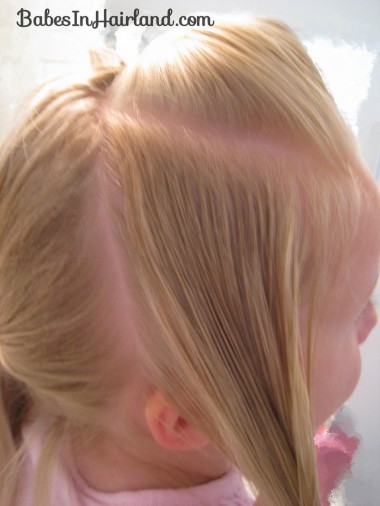 I then did a half French braid – (you can watch my video HERE). You can do a full French braid or whatever you prefer here. Braid back until you reach the ear & can no longer incorporate any more hair for the French braiding part.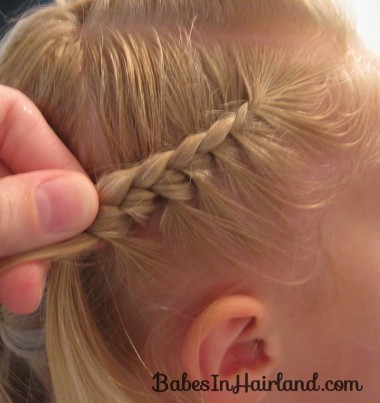 Then continue braiding the rest of the way down the hair – using the cascading/feather braid technique. Secure it with a rubber band temporarily.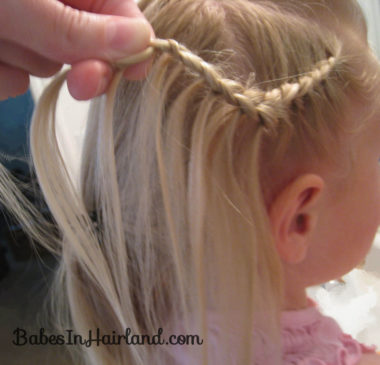 Repeat on the left side with the Half-French braiding and the cascading/feather braid to the end.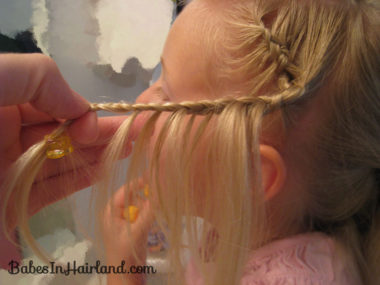 Now pull both braids from the left and right side together and join them on top of the head with a rubber band. It'll be on top of the braid you did at the very beginning that runs down the middle of your head. The pulled up braids should hopefully sort of sit on their sides so the hair you pulled out as you plaited the braid will cascade down from below.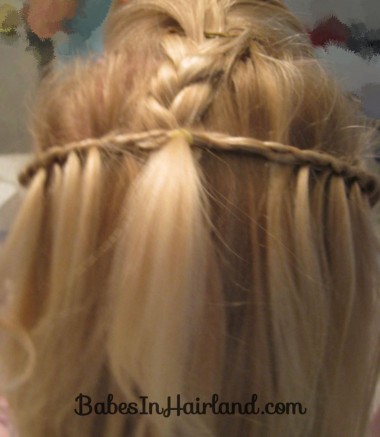 Now take the tail from the middle braid (the 1st one you did) – it may be hiding under things right now …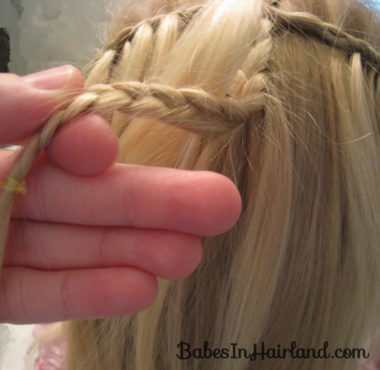 and take the tail of that braid up and over… and then under the braids you pulled from the side and secured on top.
If that doesn't make sense maybe my arrow will help!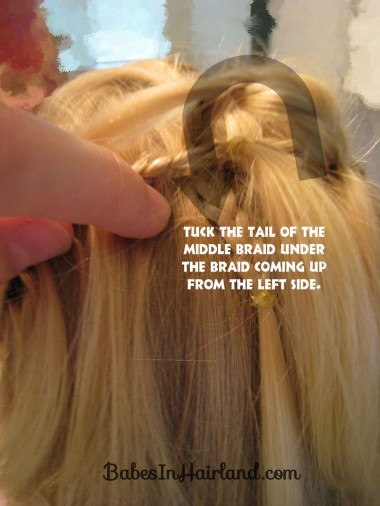 It's going to make a loop basically. You can bobby pin it in place if you worry about it slipping, but I just pulled it through and it pretty much stayed.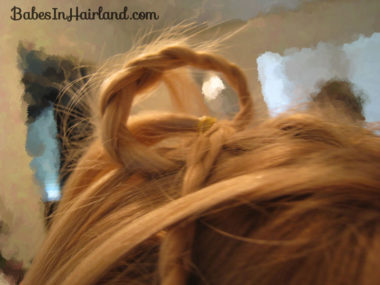 Here's another view from the side. Hopefully this makes sense. With all the wispy hairs from the braids it's hard to see everything.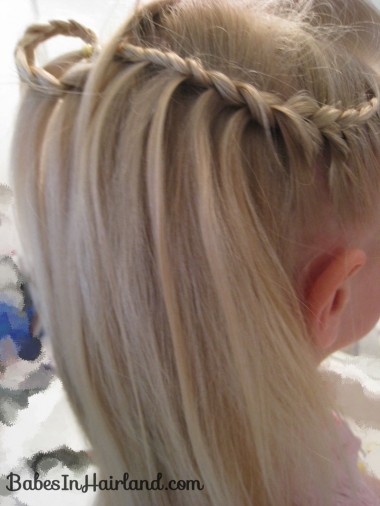 For the final step take a small curling iron & curl all those feathered/cascading pieces of hair you'd left out as you'd braided the hair.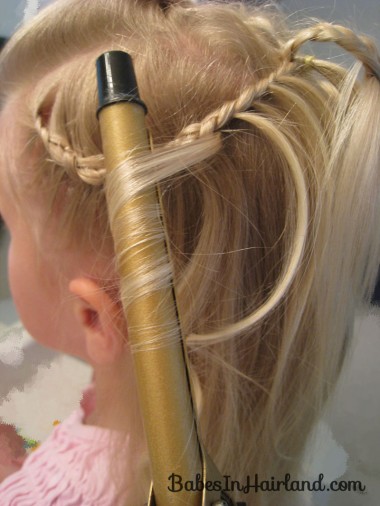 Work your way around the head, curling all those little wisps of hair! Be sure to curl the ends of the braids too (the one that is looped around, as well as the one that is from the 2 braids joined in the middle!)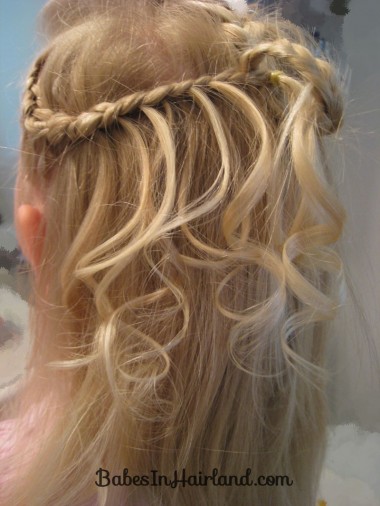 Once you've curled your way across the braids that's it! I straightened all the hair that was hanging down try give those braids & curls a bit more "pop" and make them more noticeable. I then added a fancy little fan comb I had laying around for a finishing touch!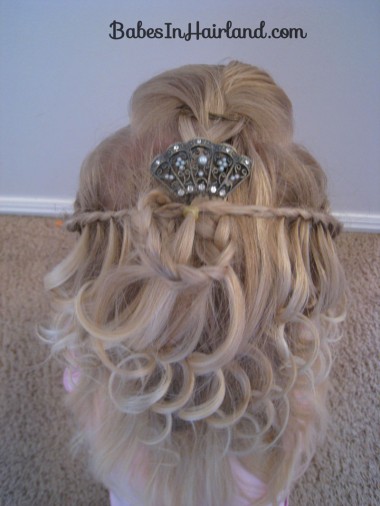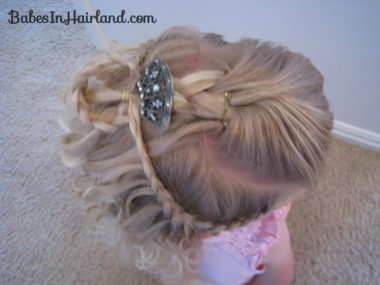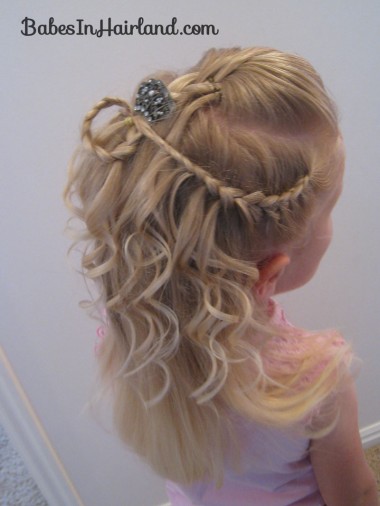 She didn't want to stand up for me when I started taking the "final" pictures! She was striking quite the poses though!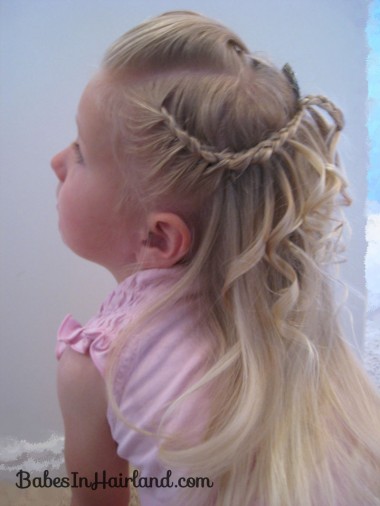 Like I said, she was being silly so I don't have really any good shots form the front. But you hopefully get the idea from this front-ish view!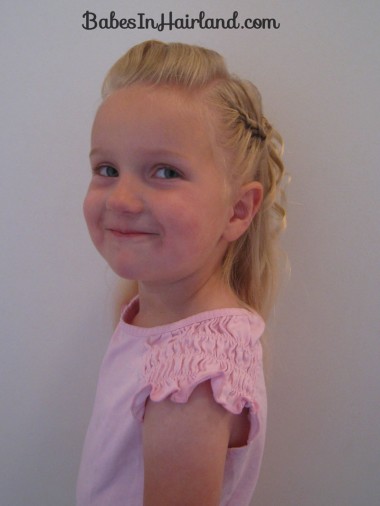 There you have it. I think this style has a fun & funky look – yet is simple & pretty. Pretty much any age could use it. For some reason when I got done the style reminded me of something Gwen Stefani would wear! Not sure if it was just the hair color or what! Let me know what you think. Like this one or not?!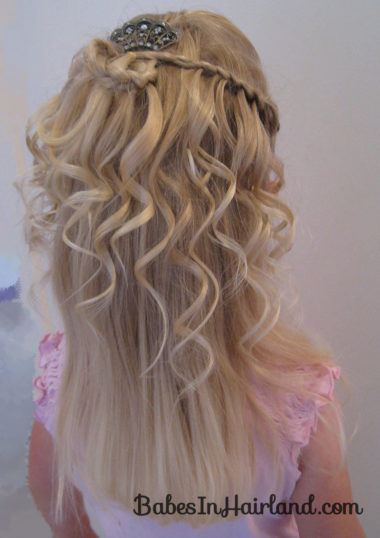 Oh — and I've yet to hear from last week's Just Wondering Wednesday winner. Get back to me soon or I'll need to pick another one!

You might also enjoy these related posts