First off, the last & final winner of circus tickets has been announced. Head over HERE to read about that.
Today is Miss K's last day with us and so I thought it only appropriate that she gets the spotlight today! Nothing really new here, but it was fun for me to do these because of her amazing curly hair. They totally reminded me of a cheerleaders pom poms, hence the name! Maybe they are more a "bun" than a pony though?!
I've done these with my girls hair, especially when they were smaller and had less hair, but they never looked this cute because I had to curl the ends with the curling iron & or course that doesn't get the same result as you do with naturally curly hair!
Like I said, nothing rocket science or new here – but while Miss K. was with us, I'd been trying to do easy and quick styles for her dad to be able to do once he is having to style her hair every day instead of me. I'd hoped to post more styles on here using her hair, but it's been a struggle just to keep my head above water lately.
Anyway, I put a bit of our favorite Garnier curl product in. Part the hair from front to back & make 2 pony tails. On the last wrap of the rubber band – don't pull the hair all the way through – basically leaving a loop. Kind of a messy bun I guess – but with the curls it changes it for me!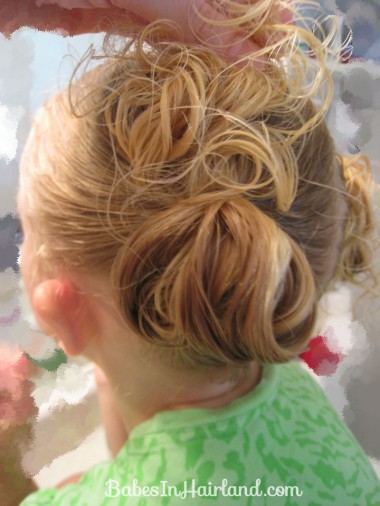 Let the "tail" of curls fall down over the loop. Fluff them up nicely to make your little "pom poms." I like doing these because it kept her curls from getting really tangled throughout the day & of course her hair seemed shorter – also lessening the tangles.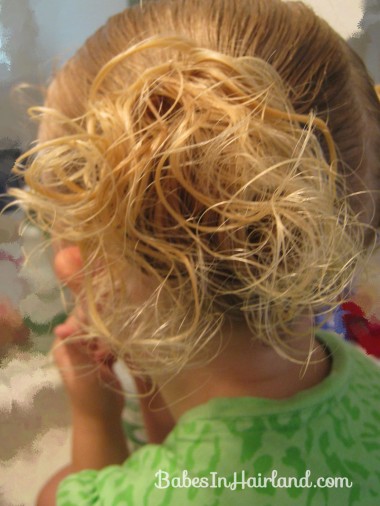 She is a little wiggler & so unfortunately I couldn't get a decent shot of the finished product! With the way the curls fall so cute on top of the loop, I don't even think a flower or bow is needed. But that's just me!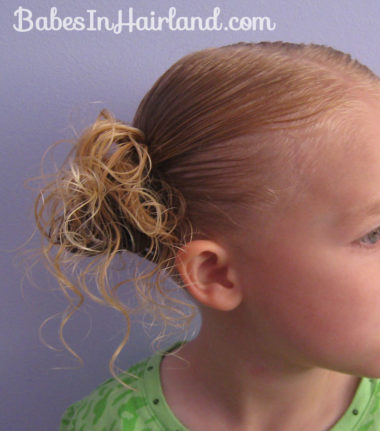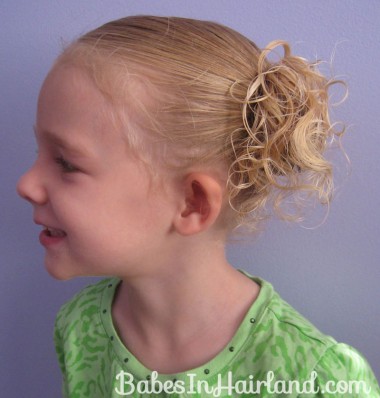 She did hold still long enough for me to get a little smile from her. I'm going to sure miss her pretty blue eyes and cute curls. She's been with us for about 2 months now & things are going to quiet down for sure & I don't think Bee is going to know what to do without Miss K. around here!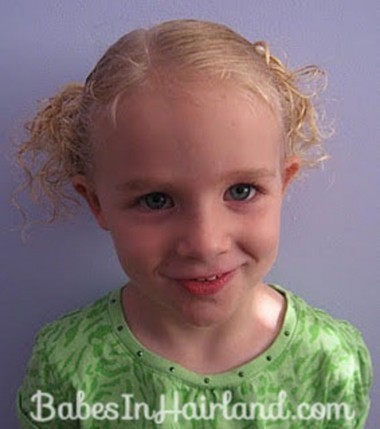 Thanks for letting me play with your hair Miss K! We will miss you.

You might also enjoy these related posts