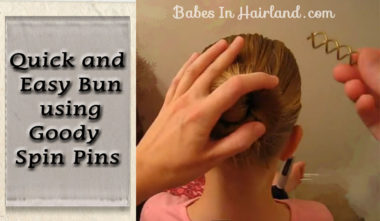 As promised, here's the video on Spin Pins. They are so stinkin' easy to use – so if you end out buying them I hope you love them as much as we do. In the video my hands were a bit slippery because of her damp hair so they go in and out even faster then I'm showing just because I was having a hard time holding onto them due to my damp hands!
*** To see our review and a few other pictures of the buns where we used these go HERE.
I have heard they hold best in thicker hair – and I imagine they'd work fabulous in curly hair since there is even more texture to grab onto. We've used these in both damp hair (from after a bath) and dry hair & they work great either way.
Hope this helps with your questions of how they work & if they are easy to use or not! They really are a cool invention & they do what they say they will!
You might also enjoy these related posts