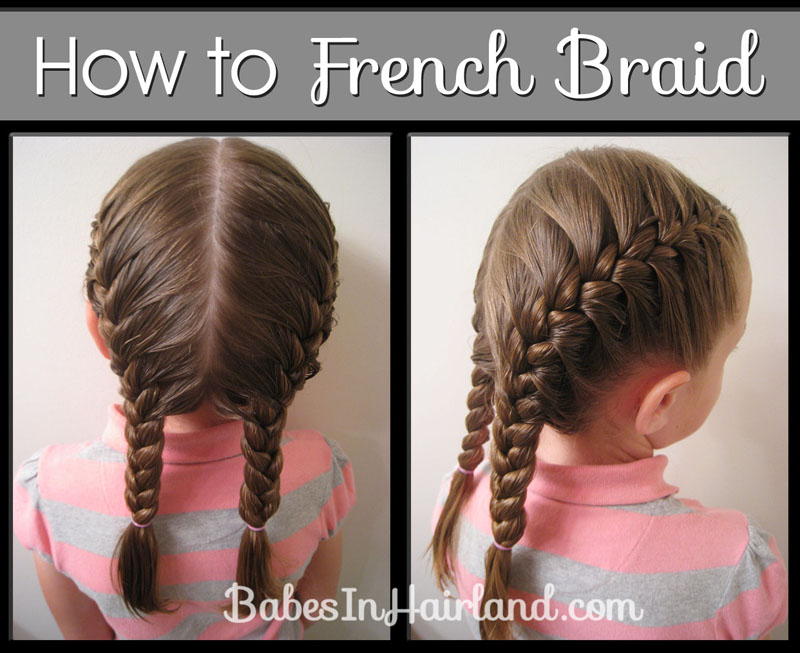 After all these years I still get regular requests for a video on how we French braid.  I'll let you in on a little secret … when I first started this blog, I really didn't know how to French braid and my girls wouldn't sit still long enough for me to practice.  So I bought one of those big Barbie doll heads that is just shoulders & a head with hair -  just so I could practice!  Yup – it's true.  I knew the general idea of it, but felt I needed 6 hands to make one.  If you feel like that, know that you aren't alone & I was right there with you!  I still don't consider myself a French braiding queen, but after plenty of practice I finally figured it out and the rest is history!
I realize everyone has their own technique for what works best for them, but this is what works best for us.  I found learning to do a half-French braid (where you only add hair to one side of the braid) was easier to handle in the beginning, so if you find you are really struggling, try starting with that.  You can watch our half-French braid video HERE.  Obviously this is just the technique of French braiding, but you can add any size or quantity of these to different hairstyles.
You can check out styles we've done in the past using French braids HERE.  Hopefully what I do makes sense and will help you a bit.  Let me know if you have any questions.  Remember, if I can learn how to do these – you can too!  Practice makes perfect! Be sure to share this with anyone you know that might need French braiding help!

You might also enjoy these related posts