These days, with the world of Pinterest, there are so many amazing ideas out there for hair and everything else under the sun, I could sit all day letting all the beautiful images wash over me as I scroll and scroll through!  Obviously I can't do that – but there I times I wish I could!  If you haven't checked out all the fun stuff we've pinned, feel free to join us HERE!
That brings me to the style I'm sharing today.  I've seen this picture floating around Pinterest for a while, and have had readers and friends also send me the picture asking how to do it.  I kept finding it linked back to different sites like WeHeartIt.com as well as other sites, so honestly I don't know to whom to give the credit .  That's one of the downfalls of Pinterest when things don't get linked correctly.  If anyone knows it's true origin, please let me know.  **Update – I've been told the pic on the left comes from here, but didn't find the actual picture!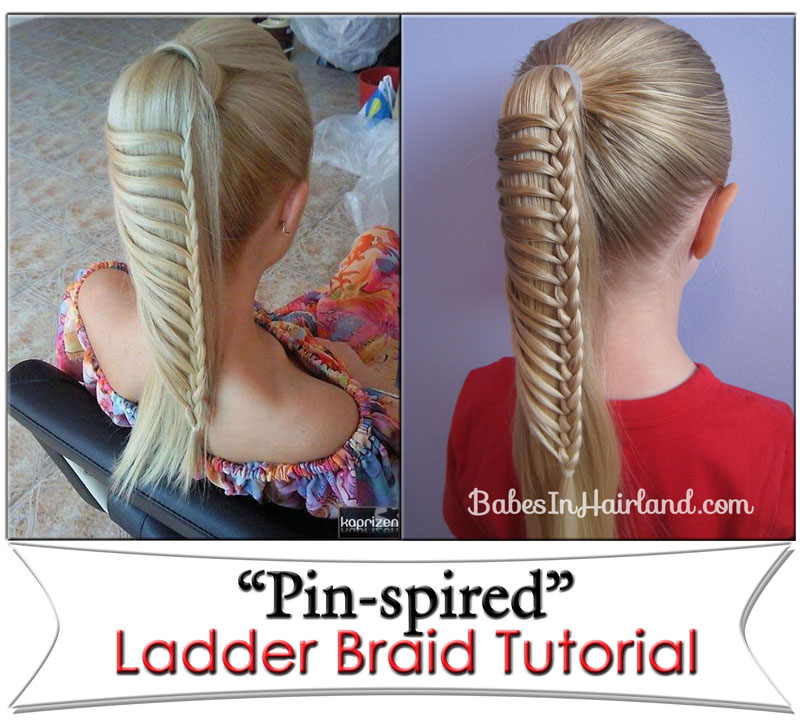 We did this on Bee a couple weeks ago for church, and had so many people stop & ask how we did it.  I realize in the original picture from Pinterest, the girl has her ponytail wrapped, so if you want to do that, check out how we wrap our ponytails in our last post.
Step 1 – Make a ponytail
Step 2 – Begin a small braid on the right side of ponytail
Step 3 – Add small sections of hair only from the left side into the braid
Grab small sections from the under side of the ponytail and pull across to the right.  As you add sections to the braid, be sure to pull your braid off to the right – pulling it away from the ponytail.  This will allow the "ladder" pieces to lay nicely over the ponytail when you are done.
Step 4 – Secure the end with a rubber band
Step 5 – Watch our video!

Here's a few other pictures from when we did Bee's hair in this awesome style!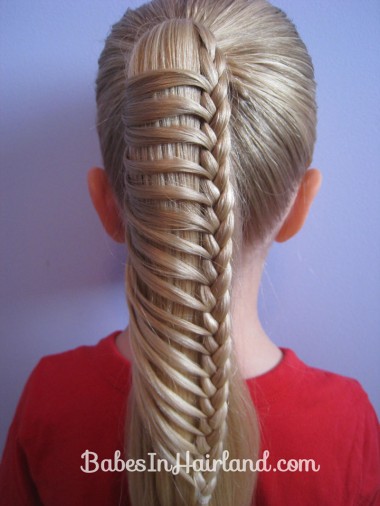 Let us know if you if you try this one!  We'd love it if you share pictures with us on our Facebook page!  This braid is quickly become one of our favorites!  Be sure to share this awesome style by clicking the social media buttons below!  🙂