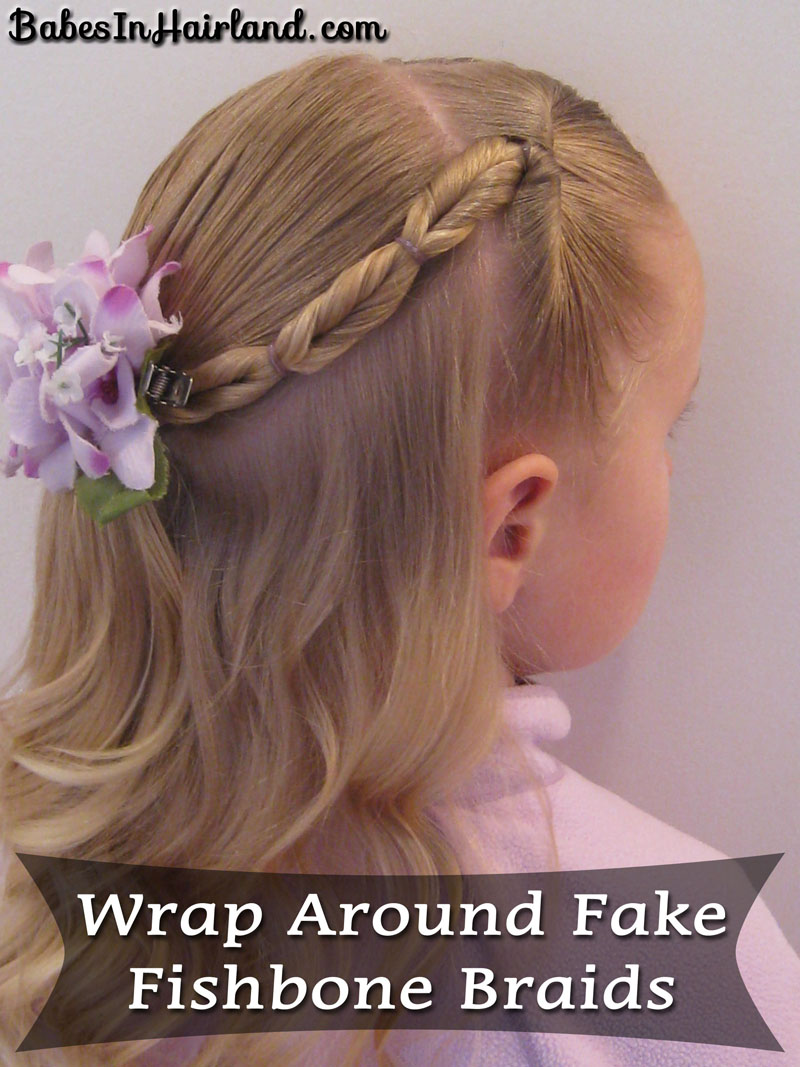 Almost 2 years ago I'd done this fun style on Bug that I called a "Fake Fishbone."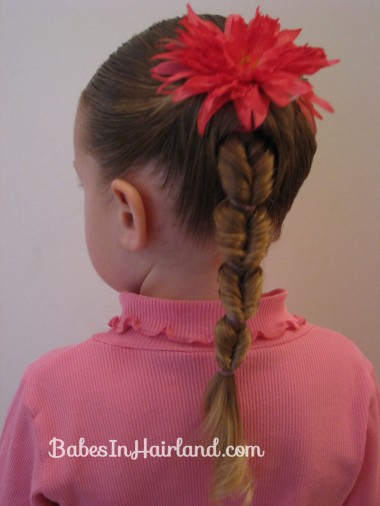 I'd almost forgotten about it until recently. There are so many styles in my archives that I sometimes forget what is in there! Funny enough, my BFF Jenn over @ Girly Do's and I got talking and she's got a fun similar style using this same idea that she did on Beans forever ago too (go HERE to see it — Beans looks so darling – she's sooo little!)
Anyway, using this same technique I did this cute one on Bee recently.
Part the hair from ear to ear over the crown of the head. Then make part it in the middle or off center, as I did. Make a small little pony & do a pull through. You can watch my video HERE on how to do those if you aren't sure.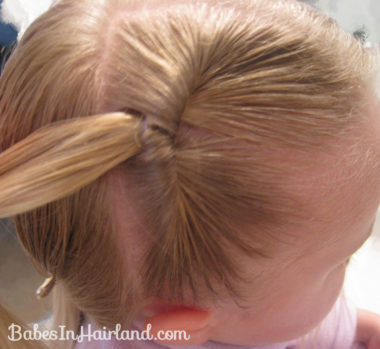 Then add a rubber band a few inches below your first pull through.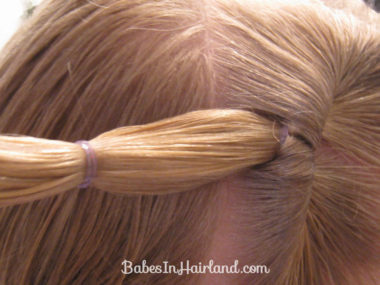 Divide that little section of hair in two – making a hole.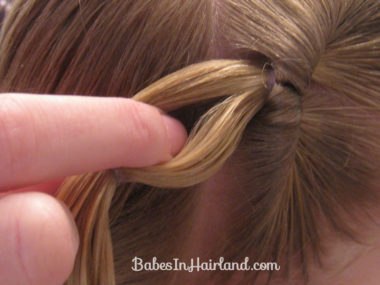 Then tuck the rest of the pony tail through the top of it and pull it through.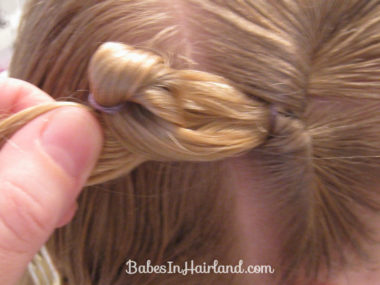 Once it's all pulled through it should look something like this: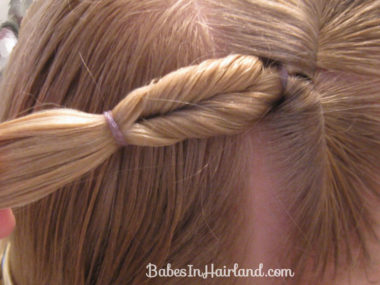 Repeat 2 more times, so you have 3 of these fake fishbone braid sections.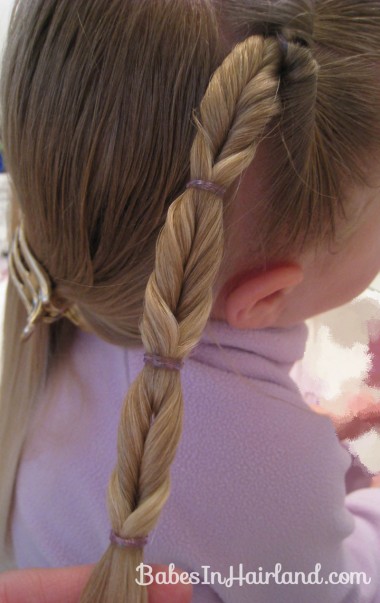 Repeat on the other side of the head.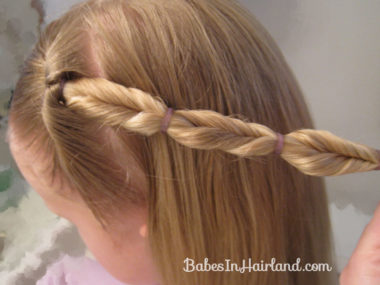 Then part the hair diagonally at the angle your fake fishbones fall if you pull them a bit out from the the head. You don't want to pull them straight back around into the middle of the back of the head. You want it a bit lower, so the part is a bit of a different angle.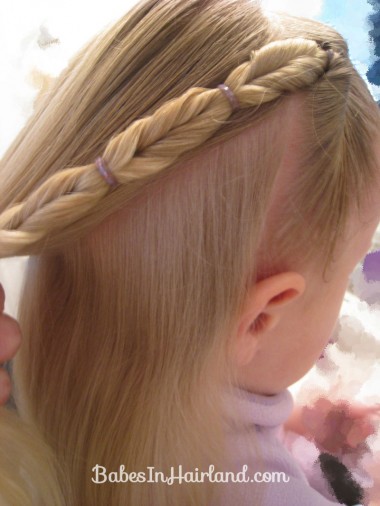 Part both sides of the hair at that angle and pull the fake fishbones backwards and combine all that hair and the 2 "fake fishbone" sections into a rubber band.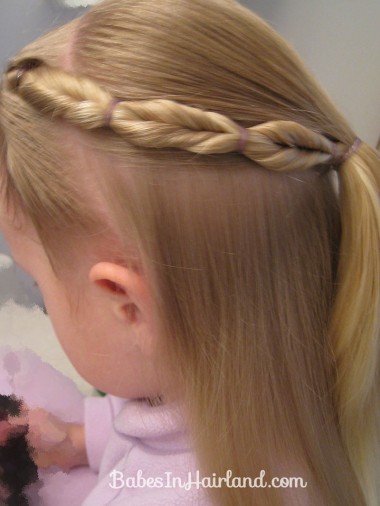 After I pulled it back into the ponytail, I added some curl to all the hair hanging down, and then added a flower & we were done. Pretty quick & easy.
** If you were doing this on an older girl, you could totally tease the hair on the crown a bit to give it some volume or if you have a Bumpit you might stick one under the hair. I just didn't think she needed the "poof" there in back!
From the top: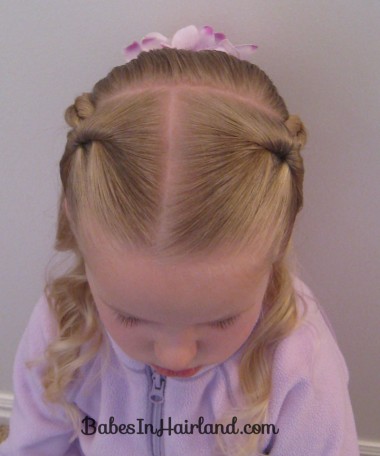 And from each side: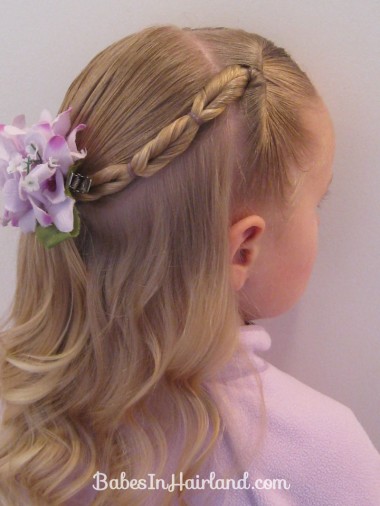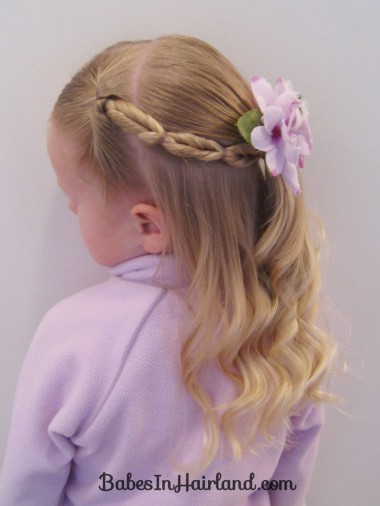 I really liked this one and it was quick & easy, without taking forever like a real fishbone braid does.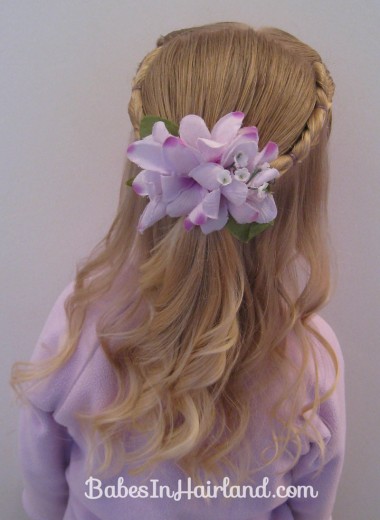 Don't forget about the Monster Jam Tickets we're giving away … head over HERE to enter. And if you didn't hear about my latest news, scroll down to yesterday's post! 🙂