Can you believe next week is Halloween?  I don't know what my problem is this year, but Halloween has not really been on my radar.  I think having all the girls attending different schools has made things so much busier for me.  Anyway, I didn't want the month to escape completely without sharing another fun Halloween hairstyle.  Bee is probably the only one dressing up this year, and she is still undecided as to what she'll be.  Gasp, I know!  So this Halloween Ghost Ponytail is one I randomly came up with on Bee one day.  I thought it turned out cute, but I wanted to see if I could get it to work a little better.  So, hopefully you don't mind, but I've filmed the tutorial again on our mannequin.  I have a feeling, with things being so busy, you might be seeing more and more of her down the road.  Sigh!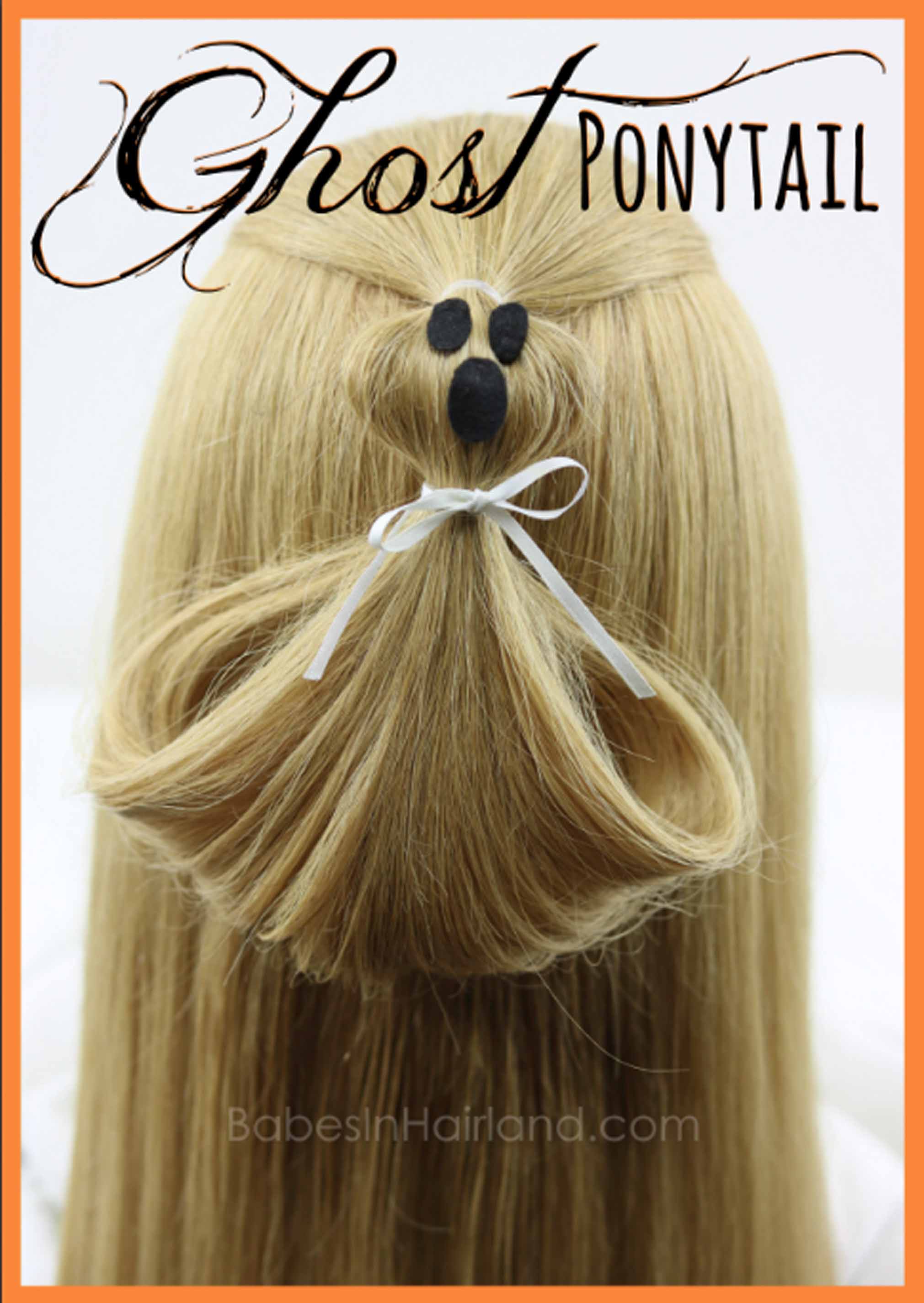 Here's our video tutorial.  If you have issues watching it here, head to our YouTube Channel and watch it HERE.
1- Divide out a section of hair from the temples back to the crown.  Secure this hair in a ponytail on the crown with a clear elastic.
2 – Wrap another clear elastic, around the first one, and the last time you wrap it, don't pull the ponytail all the way through.
3- Your ponytail should be a big loop now with the end of it spraying out near the elastic on the crown.
4 – Take another clear elastic, and about 2 inches below the other elastics, wrap it around your ponytail loop.  The hair between these 2 elastics will be the head of your ghost.
Be sure to include those tails of your ponytail in this elastic so they stay hidden behind the head and body of your ghost!
5 – With the hair in between the elastics, gently pull on it to make it more like a bubble ponytail.  Make it as round and puffy as you desire.
Note – I found that if it was too puffy, the face of the ghost didn't stay on or lay as well.  Keep that in mind when creating the shape for the head.
6 – In the hair below the head of your ghost, you should have a big loop.  This will be the body for your ghost.
7 – Depending on how fanned out you want the body, will determine how you will adjust the hair in the loop.  For a wider base, apply hair spray liberally to the loop and draw the left and right sides of the loop upward.  If you prefer it to be a smaller body, you don't need to do much to the loop.
8 – Accessorize your ghost.
9 – Add some ribbon around the "neck" of your ghost to make a little bow tie.
10 – For the face, cut some felt ovals for the eyes, and a bigger oval for the mouth.  Hot glue the felt pieces to hair pins. Place on the "head" of the ghost to make the face.
Note:  I bent the top of the hair pins a little bit so the face would sit better in the hair.  Adjust yours as needed.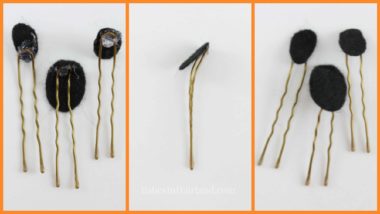 11 – Make any other additions to your ghost as desired.  Color it white to add to the festiveness of this cute little ghost!
You can use baby powder to make the hair white/grey, or we even used dry shampoo.  Just spray it really close to the hair and it turns it white.  (That's not what you're supposed to do w/dry shampoo when wanting to use it for what it's intended though!)  Or, of course, you can buy white Halloween hair spray paint to make it good and white!
FINISHED GHOST PONYTAIL
Here it is after we'd sprayed it with some dry shampoo to make our little ghost a bit more white.  I'm not sure if I like the original one or the white one best!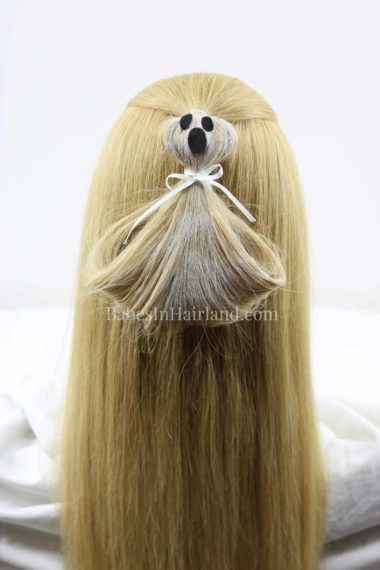 And here's our ghost before the white look!  Which ghost ponytail do you like more?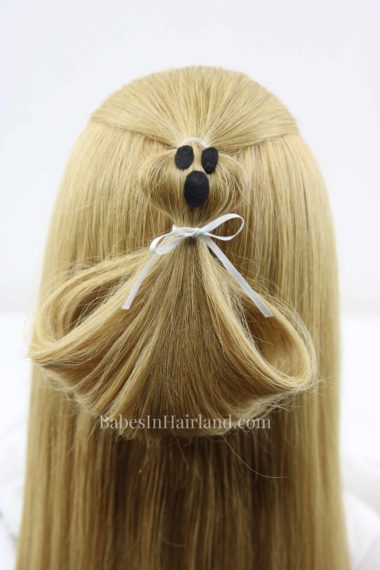 And here are several angles of the ghost ponytail we did on Bee.  I would have probably added some back-combing and added more hair spray to get the bottom of her ghost to fan out a little more.  But it still turned out cute I think!
If you're looking for other fun Halloween hairstyles, here are a few more fun suggestions: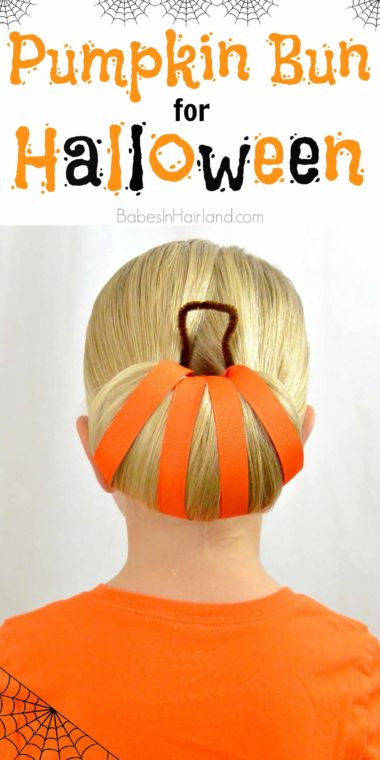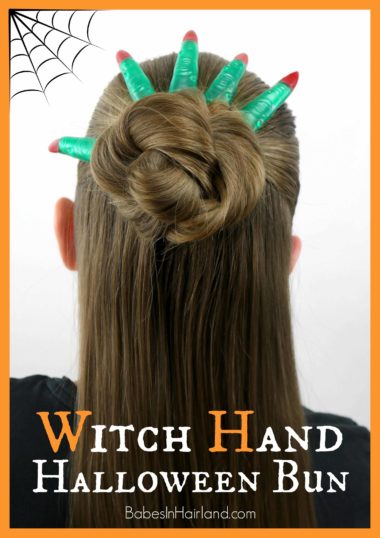 Don't forget to check out ALL OUR OTHER HALLOWEEN POSTS HERE.  We've got accessories, fun hairstyles that go with costumes, and so much more!  Don't miss out seeing them all!  Thanks for stopping by.  Don't forget to PIN & SHARE today's "ghastly" ghost ponytail with all your friends!