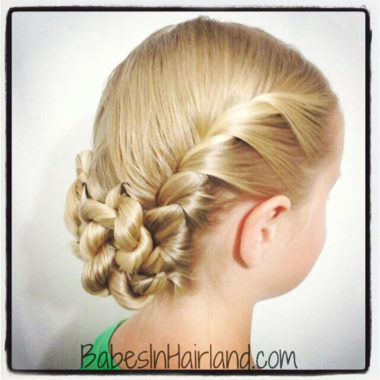 I guess technically when I think of a French twist, I think of an updo where all the hair is swept into a big twist on the back of the head – where it's almost folded into itself and pinned.  But I think these are technically a type of French twist too.  If not – let's just pretend ok?!
The picture above is one I first posted  on Instagram a couple weeks back & it was a big hit!  (Are you following us yet!?  We'd love it if you did! @babesinhairlandblog) I'd done this on Bee after her swimming lessons because it was so hot and she just wanted her hair up off her neck.  I try to do more than ponytails and such when she wants her hair up so I can give her hair a rest from those.  So this is what we did and it sure turned out pretty if I do say so myself!  It was easier to make a video showing how I did it rather than step-by-step pictures.  So sorry for those of you who don't like videos as much.

Step 1 – Part hair down the middle
Step 2 – Start at the temple and divide out small section of hair
Step 3 – Divide that section of hair in 2 pieces
Step 4 – Cross bottom piece over the top piece
Step 5 – Add hair into bottom piece and cross it over the top piece
Step 6 – Continue adding hair & crossing/twisting it
Step 7 – Once you reach the nape of the neck stop adding hair
Step 8 – Make a rope braid with remaining hair & secure end with elastic
Step 9 – Repeat on the opposite side
Step 10 – Wind each rope braid up into a loose bun & secure with bobby pins as needed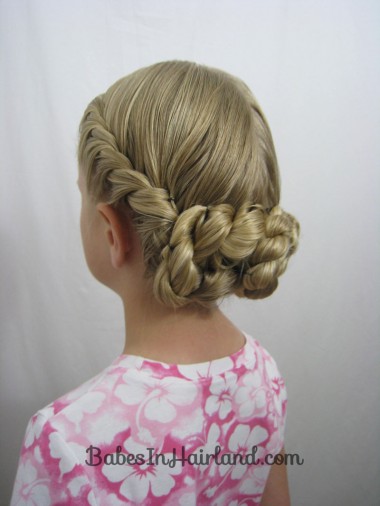 And the next day when we took it out, we got some really pretty "beachy waves."  Because her hair is rather thick, being twisted up like this it was still a bit damp in places when we took it out.  So I'm sure the waves would have been ever tighter if her hair had had a chance to dry completely.