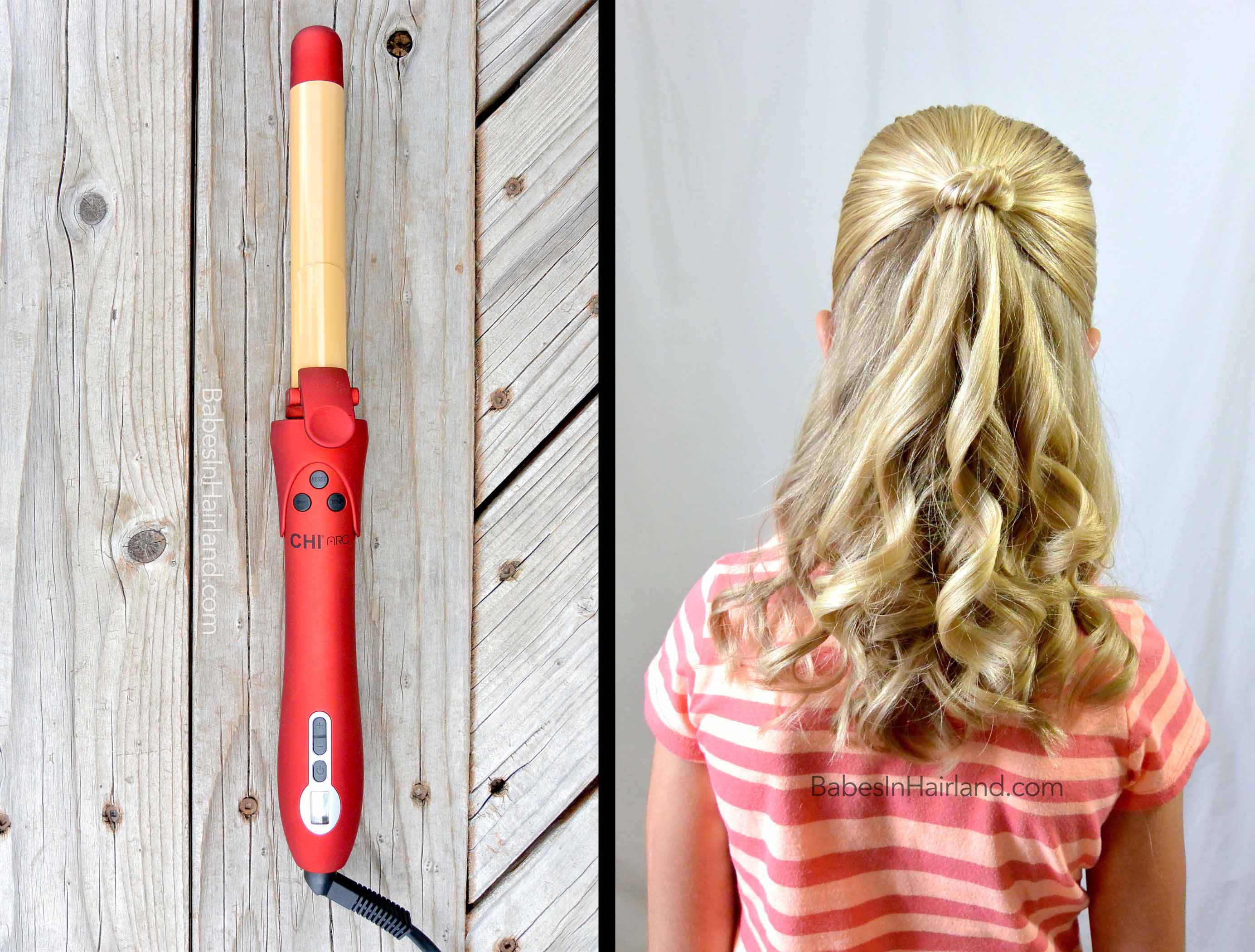 Today's post is a cute and easy way to finish off a ponytail.  Not to be confused with a "top knot" – this is a "knot topped" pony!  We are also talking about the fabulous curling iron from CHI called the CHI ARC that Farouk Systems (aka CHI) sent to us as we were writing our book.  They were so generous to send the ARC as well as an amazing flat iron for us to have and we were able to use them in some of our hairstyles for our book.  First we'll share our hairstyle, and then we'll tell you a bit more about the ARC.
Step 1 – Part hair from ear to ear & make a half pony
You just need a ponytail – so you can make pigtails, one big ponytail anywhere on the head, or you can make a half ponytail like we've done.
Step 2 – Divide out 2 small sections on the side of the ponytail
Step 3 – Create a knot with these 2 sections of hair
Step 4 – Flip ponytail up out of the way
Step 5 – Bring tails of knot underneath ponytail
Step 6 – Combine tails of knot with an elastic under the ponytail
Step 7 – Optional – Curl remaining hair
FINISHED!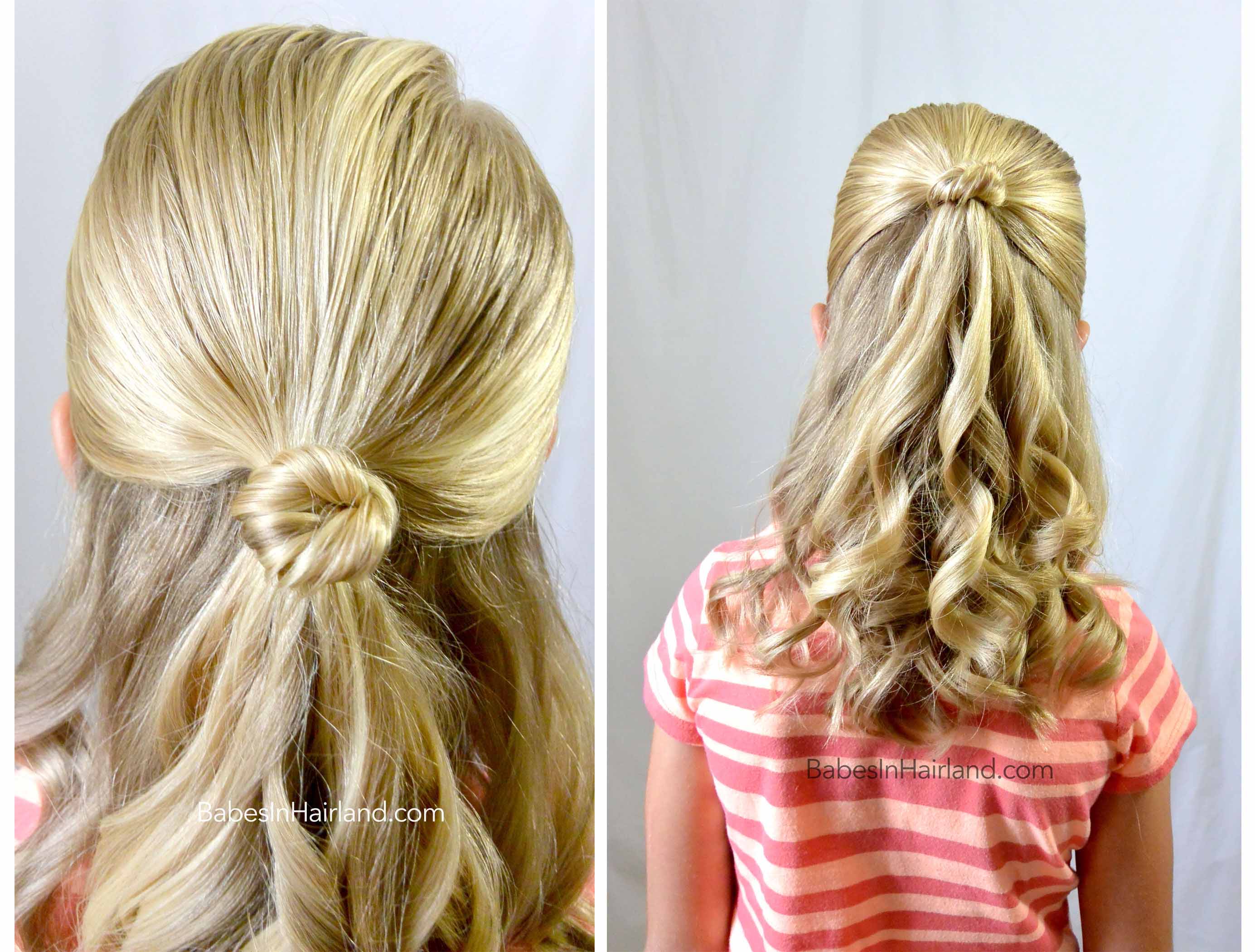 So, more on the CHI ARC –
ARC stands for "Automatic Rotating Curler."  How many of you hate trying to twist and twist your wrist when curling your hair?  Well this amazing curling iron takes that hassle out of the equation and with the push of a button you can get amazing curls.  Click HERE to buy a CHI ARC Ceramic Curling Iron
.
Those buttons I mentioned — these are the 3 buttons that make magic happen.  You simply clamp your section of hair and then with either the right or left arrow pushed it winds your hair onto the barrel.  You can release the hair by pushing the clamp, and if the barrel is not turned correctly you can push the "reset" button and it bring is back into the correct curling position.  (Watch our video for live action on this!)  At first I wasn't sure if I was going to like how it wound up the hair instead of twisting my wrist, but after a few tries, it was easy to get the hang of, and was no big deal.  Now if I happen to use my old curling iron, I'm reaching for a button to have it wind up and it doesn't!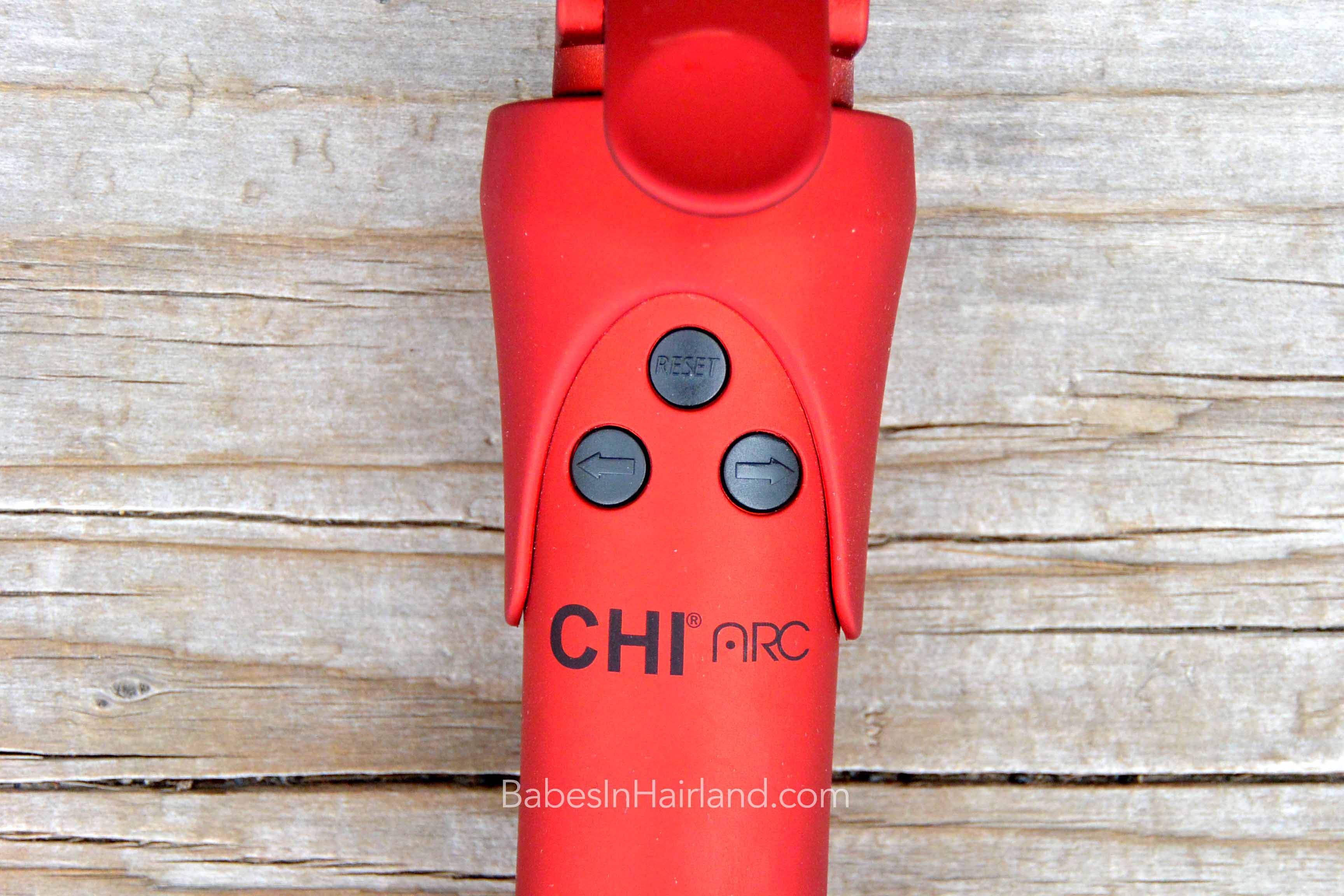 * It heats up in 30 seconds
* Digitally programable to temps as high as 410 degrees
* Extra long salon length cord
* Is awesome to hold – seriously I love the handle! 😉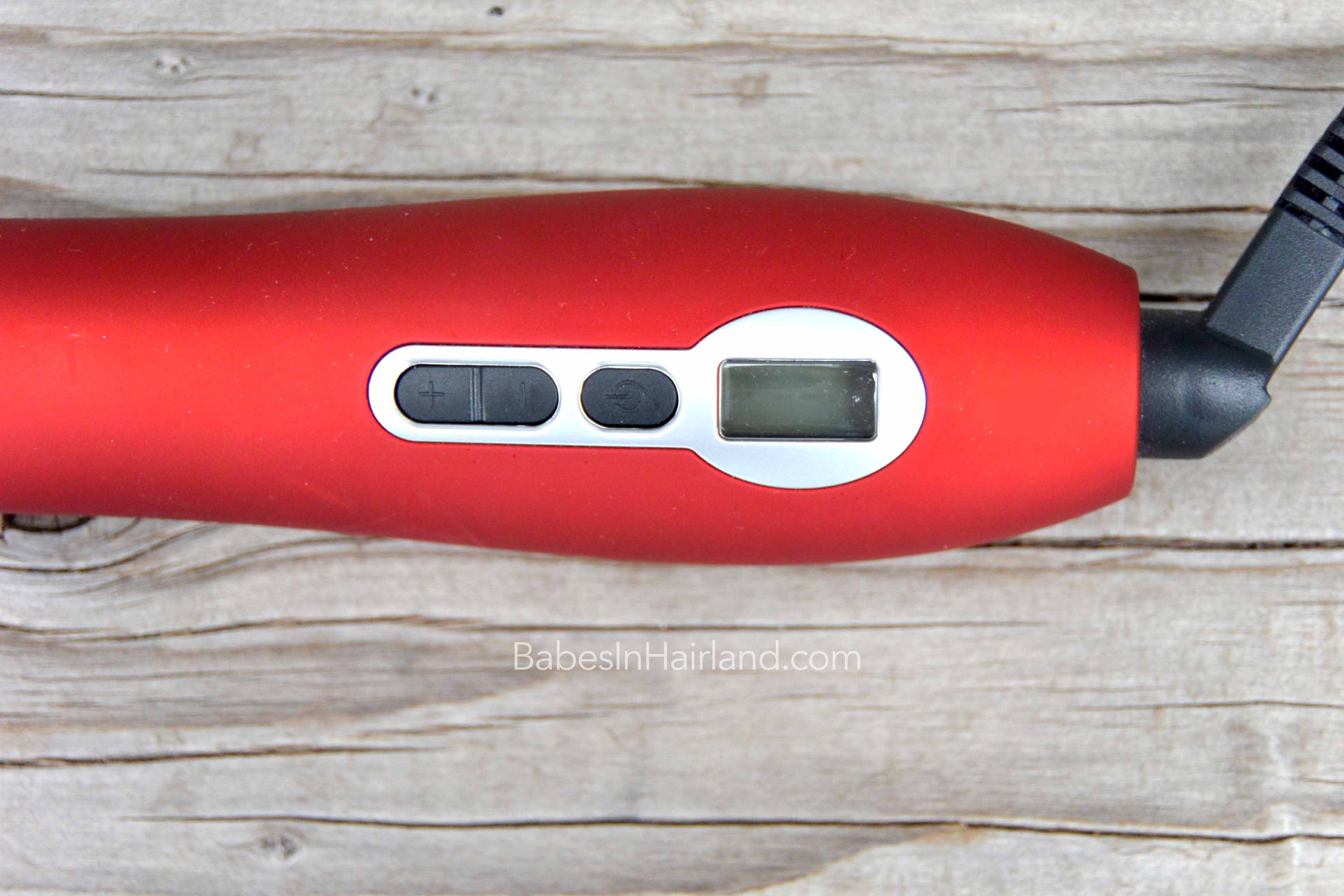 When it comes to curling irons, this is by far the best thing I've used in a long time.  The curls stay wonderfully and my wrist isn't tired after curling a bunch of hair because the CHI ARC does all the work for you.  It retails for $130+ depending on where you buy it, but if you can swing the price tag, it is well worth it.  I have loved using this and am so thankful for CHI's generosity sending this and the flat iron to me while we were working on our book.  They were life savers!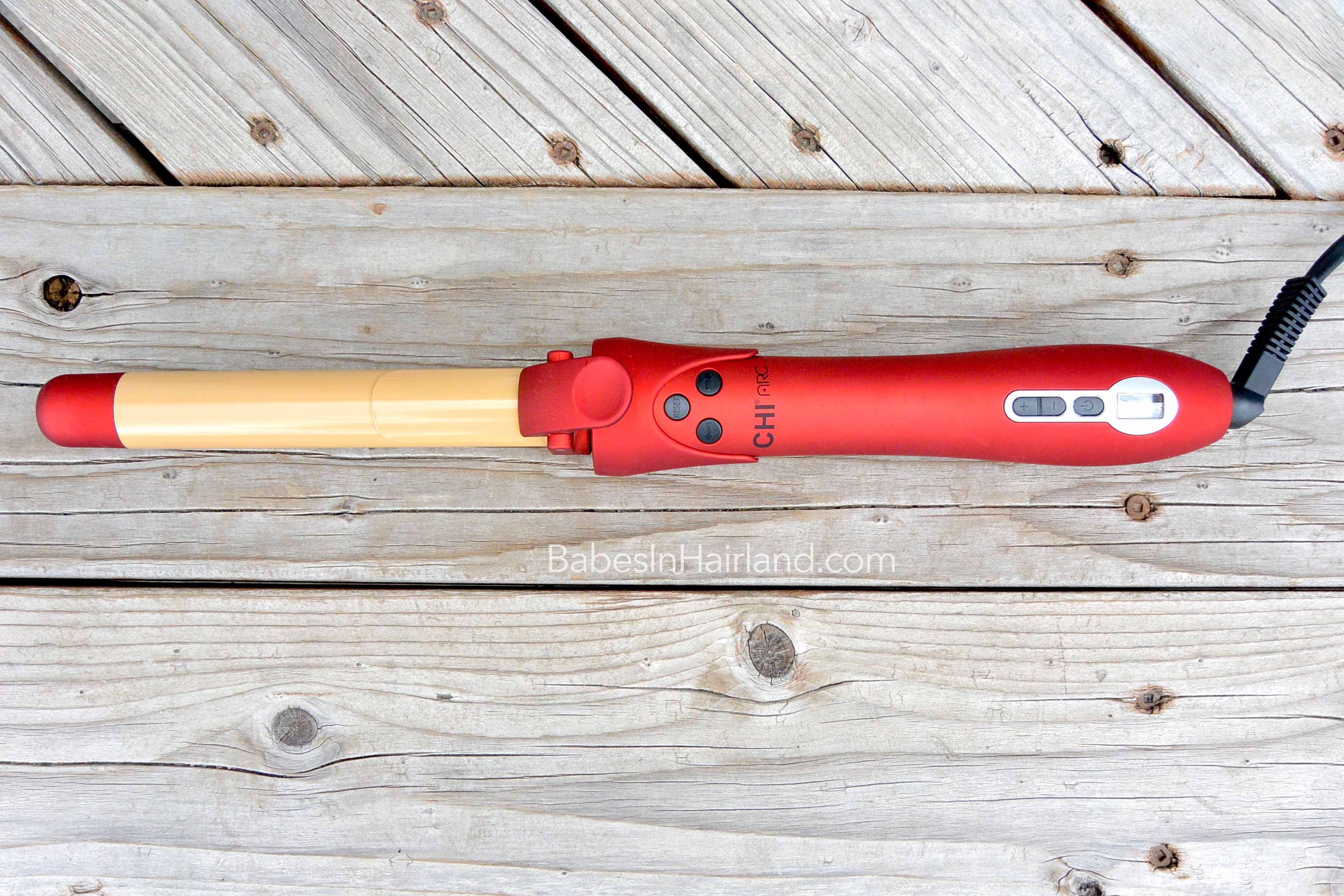 So as you can see, you don't need an extra fancy reason to add curl!  This was such a cute hairstyle to begin with, but adding the curls made it simply perfect!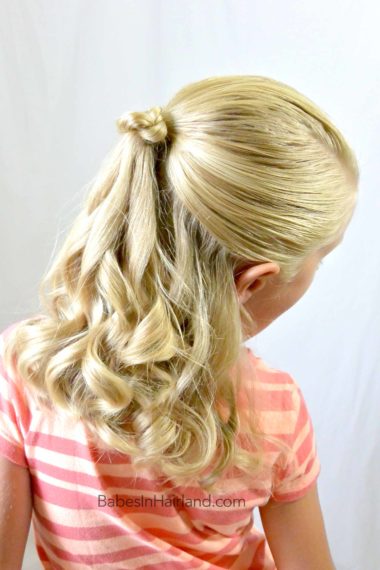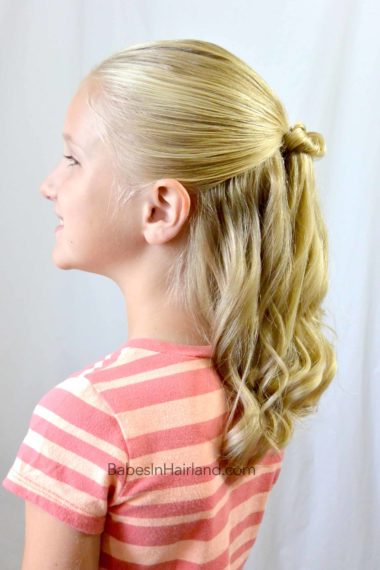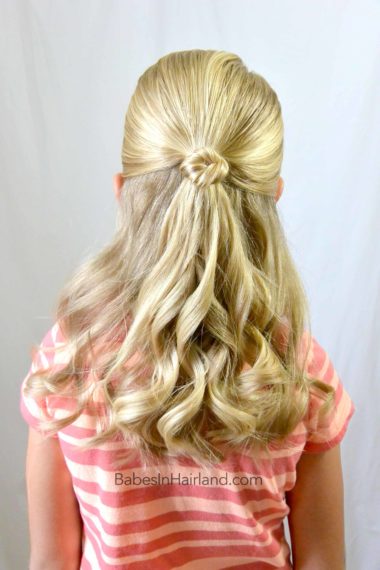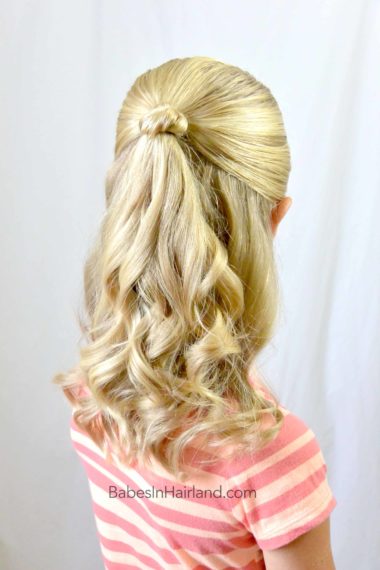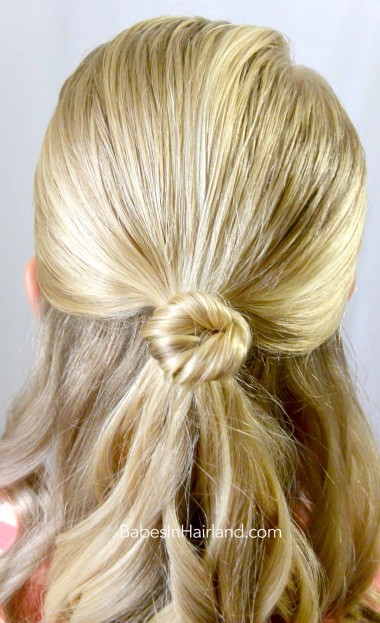 Have you ever heard of the CHI ARC before or do you own one?  If you're interested in purchasing a CHI ARC, click HERE. Do you like the idea of a rotating curling iron?  Chime in on what you think!  And don't forget to share this cute and easy style by clicking the social media buttons below!
If you saw this picture we recently posted on FB and Instagram, we used our CHI ARC to create her gorgeous curls too.  Sorry the pictures are not as great of quality- they were shot with my phone!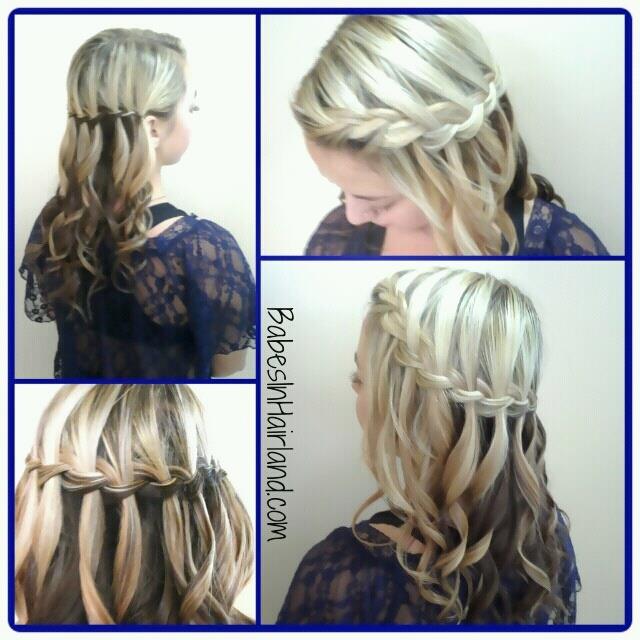 ** Disclaimer:  While I was provided the CHI ARC free of charge, all thoughts and opinions are 100% mine and no other compensation was received for my honest review. **