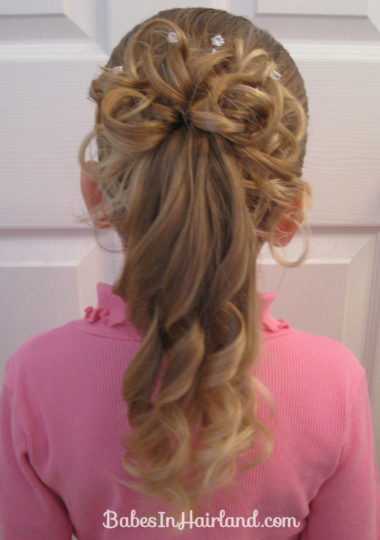 As promised, although I'm cutting it close, I said I'd get one last hairdo posted before Christmas came. I figured I'd do a bit fancier/prettier one, seeing as I always want my girls to look extra "done up" when we've got holiday parties and such going on!
I think this one is really pretty & can be done on pretty much anyone of any age. Plus, it looks fancy and isn't hard! If you can use a curling iron – you can do this hairdo!
I started by making a bit of a zig-zag part in Bug's hair and then pulled it back into a regular ol' ponytail.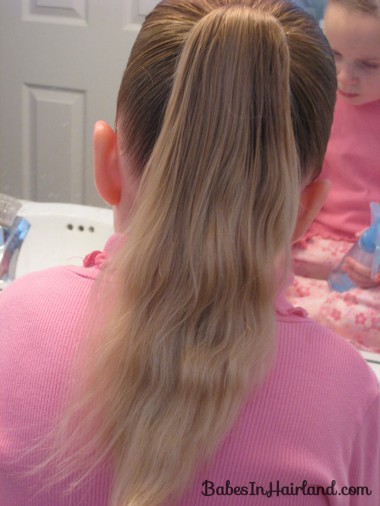 Then pulling hair from the top of the ponytail, I took small sections and curled them. Before curling the hair I sprayed it with hair spray. Depending on how your DD's hair, or your hair holds curl, I can't say enough about product-product-product! Bug's hair doesn't hold curl overly well – at least not for a hair do like this, so use plenty o' hairspray or pomade. Whatever you prefer to help hold the curl.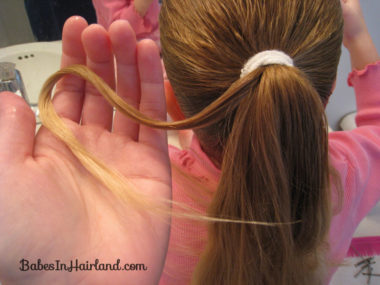 This actually was a bit thicker of a strand of hair than I'd prefer so for most of the rest of the curls, I took smaller sections of hair.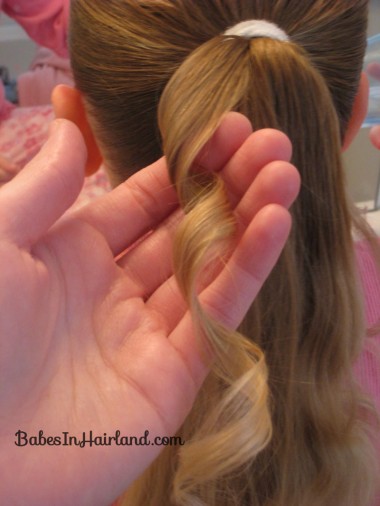 Then I take the curl and randomly lift it above the rubberband and using a bobby pin, secured it to her head.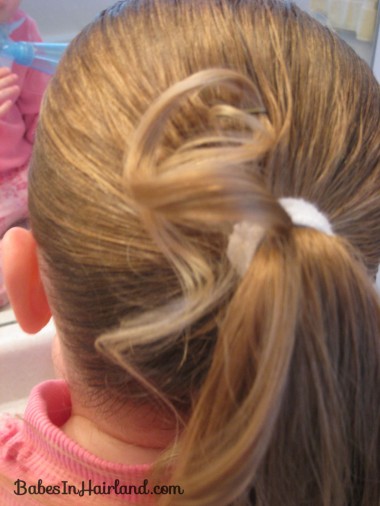 Then I continued curling little sections. If you have trouble getting your whole strand of hair to curl (not just the bottom of it) and need help on getting a full ringlet/curl, I do the same thing Jenn does in her video from this post if that helps!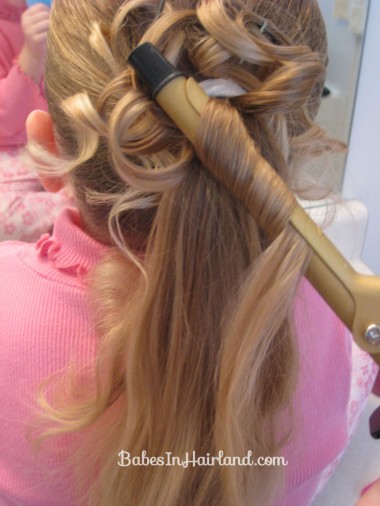 With each small strand of hair you curl, take a bobby pin and secure it to the hair above the ponytail. I usually put the bobby pin about half way in the middle of the strand of hair, so it would still have hair curls cascading down a bit.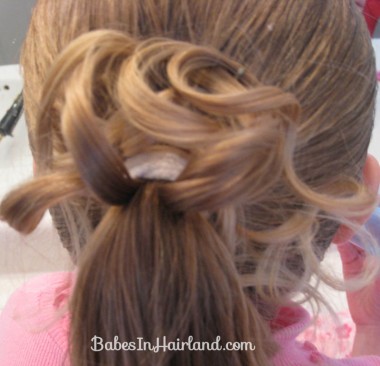 Once again, I got this strand too thick …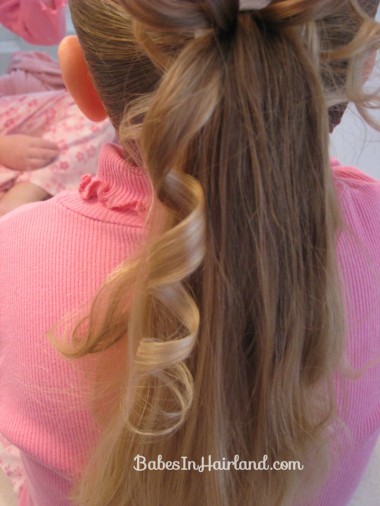 So I just divided it into 2 and pinned them up separately.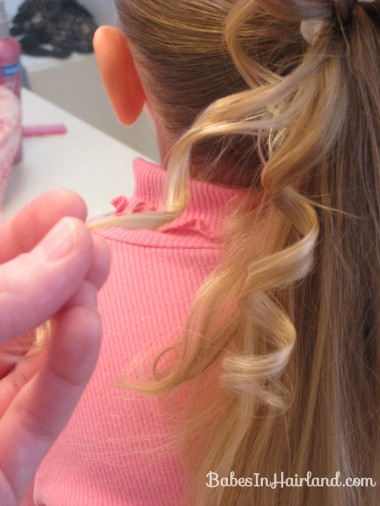 Ok, so this one, again, is not an exact hairdo – Sorry! Just arrange the curls up and around the ponytail however you think looks best. I did enough that the rubberband wasn't showing so much. There is no exact number of sections that you should bobby pin up. It all depends on the amount of hair you're working with too.
Once I had the desired look, I put in some fancier bobbypins to give it a bit of bling. Hair coils would work nicely too in this, but I wasn't in the mood for those today!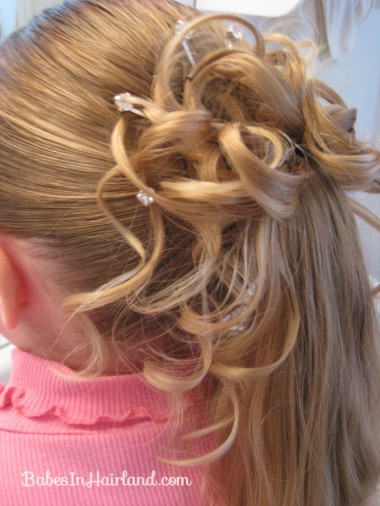 Here's a view from the top.
Oh, and I also curled the remainder of the ponytail. Again, it's whatever you prefer. Straight would work too. Oh, and I made sure that I had the curls on the sides of the pony cascading a bit further down & didn't pin them up as high.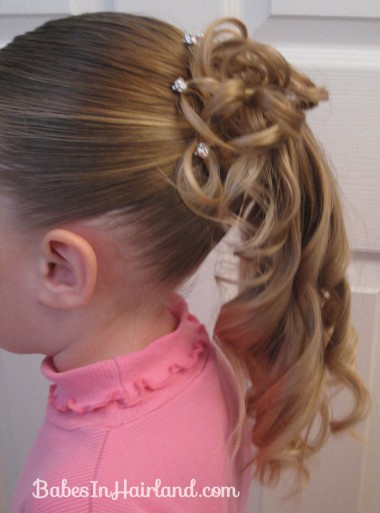 Here's a view of the curly section on top of the pony tail.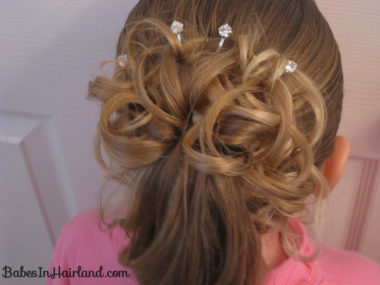 Once again, her "humoring me" smile. I made her "pause" her game of Go Fish that she was playing to get her hair done today. She was less than impressed! 🙂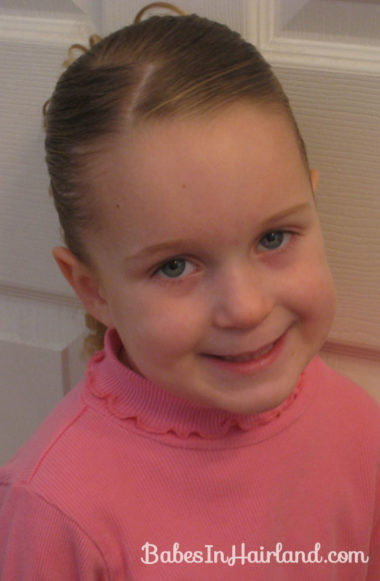 And that's it. See – curling iron & bobbypins — not too hard, right?!
Anyway, I just want to wish everyone a fabulous holiday season. My husband is having surgery on his other hand next week and so life will be even more hectic caring for him too. So, Merry Christmas and all that jazz. I'm not sure if I'll be back before the year is up or not but I'll be sure to be back with new stuff come the new year.
Merry Christmas &
Happy New Year!