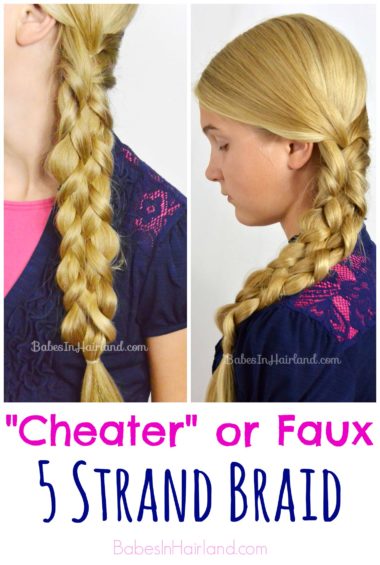 We sort of made this style by accident, but loved the way it turned out, so of course we had to share!  If you struggle with more than a 3 strand braid but love the intricate look of ones with more strands, you'll love this tutorial!  I've seen "cheater" braids done by hooking the braids together with bobby pins, but this has NO bobby pins in it at all and it's super easy!  Be sure to let us know if you try this!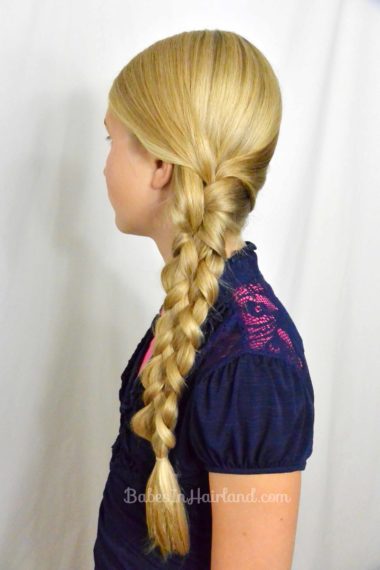 Step 1 – Draw hair from above both ears to the left side & make a ponytail
This step is technically optional, but to keep the hair a bit tighter and out of the face I found this helps.  You can use as much or as little hair as you like.  You're making a small half ponytail.
Step 2 – Section out 2 other pieces of hair
On the right and left of the small ponytail section out two other sections of hair.  Don't use all the hair though.  You'll want to only use about half of the hair that is hanging down below your small ponytail
Step 3 – Using the ponytail as the middle strand make a 3 strand braid
Step 4 – Temporarily secure the end of the braid
Step 5 – Divide remaining hair in half
Step 6 – Weave/wrap right section of remaining hair around right side of braid
Pull the extra hair on the right up and through the first section at the top of the braid.  Weave or wrap it through each section working your way down the braid.
Step 7 – Weave/wrap the left section of hair around the left side of the braid
As done in step 6, wrap the remaining hair that is left around the left side of the braid, weaving it in and out around the braid, starting at the top down to the bottom.
Step 8 – Secure the braid with an elastic
FINISHED!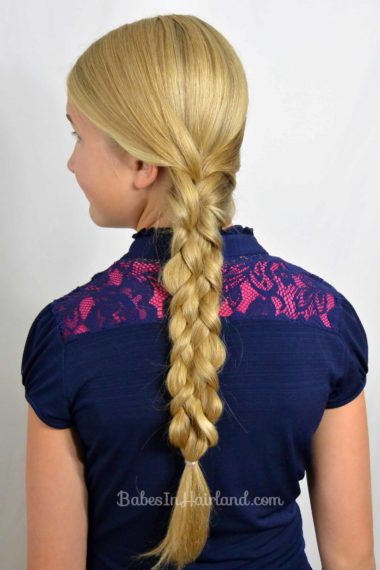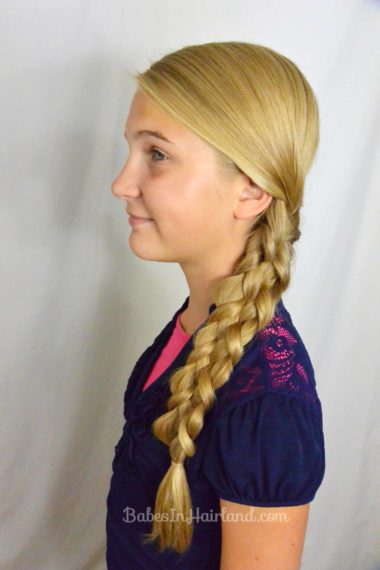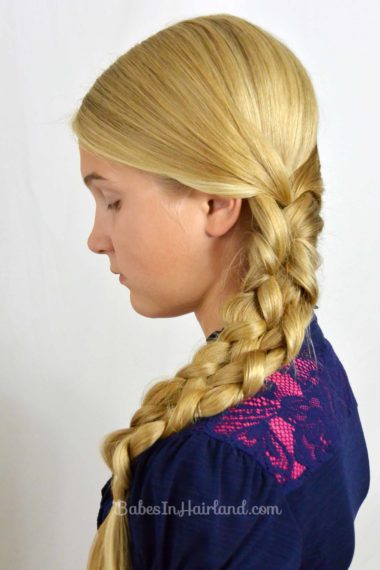 Let us know what you think!  Do you like this?  If you try it be sure to share with us on our Facebook page or tag your pictures on Instagram @babesinhairlandblog so that we can see them!  And if you like this "cheater" version – have you checked out our "Cheater" French braid?  Click on the picture below to see how it's done.