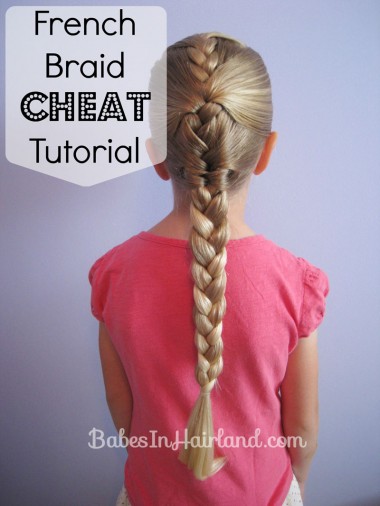 Hey guys!  We'd love it if you followed us on
Instagram
to see what else we're up to during the day besides hair!  Plus you get sneak peeks to upcoming styles!  Not on
Instagram
?  Don't miss a single post by subscribing to us on
Bloglovin'
!
This is our "cheater French braid style – or maybe you could call it a French braid hack!?  Technically it's "Stacked Braids" but when I got done with it I thought it sort of resembled a French braid (yes? no?!) so if you can't French braid, this is for you!  It's great for the summer and keeps the hair pulled back nicely.  And if you're working to grow out bangs, this would be a good one as well!
As a side note – you can do this with as many sections as you want to make it look even more "French" like, but we kept it simple and went with four.
Step 1 – Part out a rectangular section of hair
From the temples, section out a rectangle on the top of the head.  You can make this is big or as small as you want, but as I mentioned, we wanted to keep this simple so I used bigger amounts of hair as I sectioned the hair out.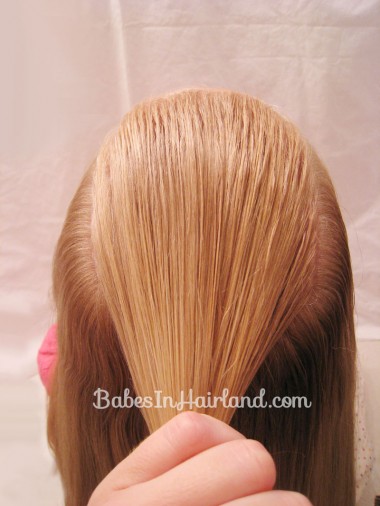 Step 2 – Make a braid
Braid most of the way down and secure temporarily with a clip.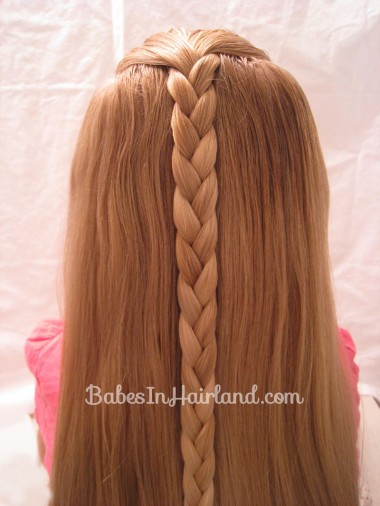 Step 3 –  Part hair from the ears back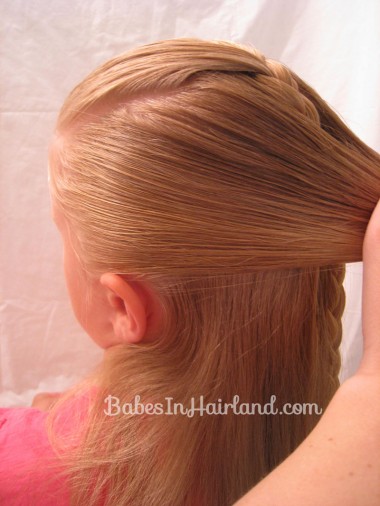 You'll do this on both sides & pull it straight back.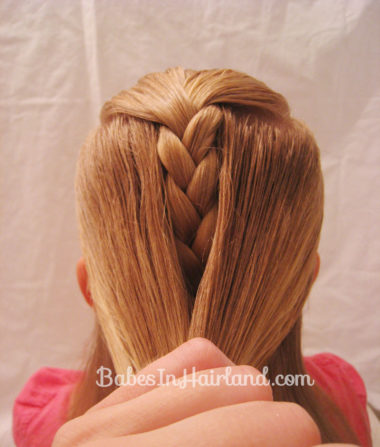 Step 4 – Make a 2nd braid
You're going to need to make 3 sections out of these 2 to make another braid.  Take some hair from the inside left, and inside right and that will be the hair for the middle section of of this next braid.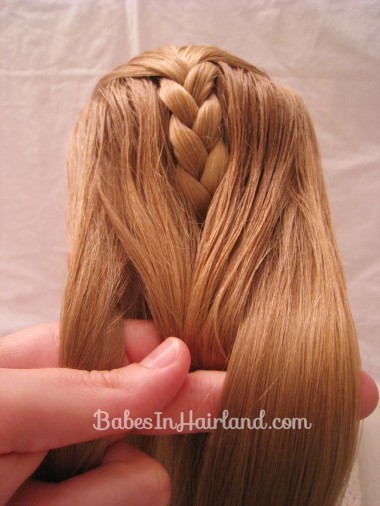 This second braid will sit right on top of your first braid.  DON'T add the first braid to it.  It is a completely new braid.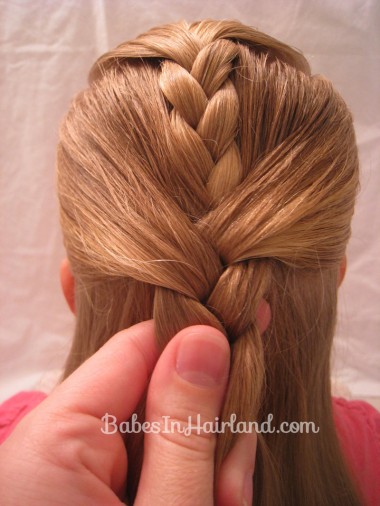 Braid it down past the nape of the neck and secure with a clip temporarily.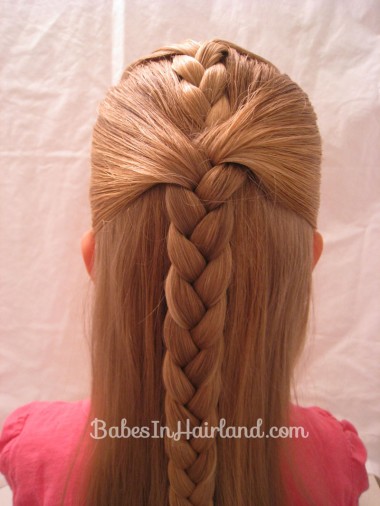 Step 5 – Make a 3rd braid
Repeat the process as shown above, parting out another section of hair right below the one above.  Divide the 2 sections into 3 to make another braid.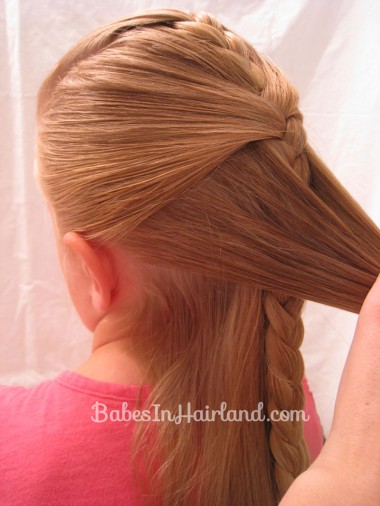 This 3rd braid will lay right on top of the other 2 braids.  Again – DON'T add either of the other two braids into it.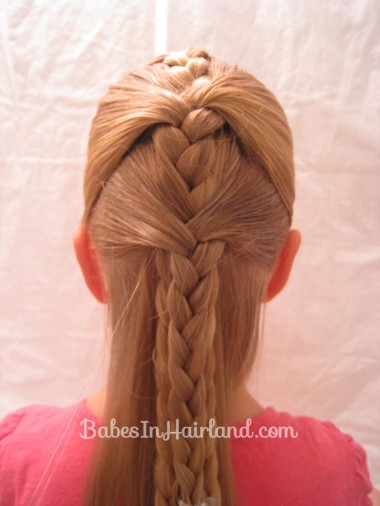 Step 6 – Make a 4th braid
As shown above, repeat the process with a fourth braid that lays on top of the other three braids.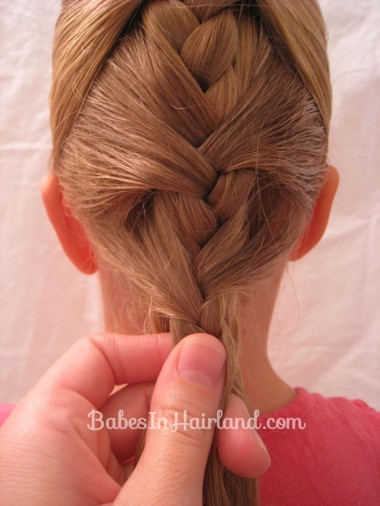 This is what it will look like when you've made all 4 braids.  **Again, you can part out more sections of hair for this and have a lot more than 4 braids at the end. **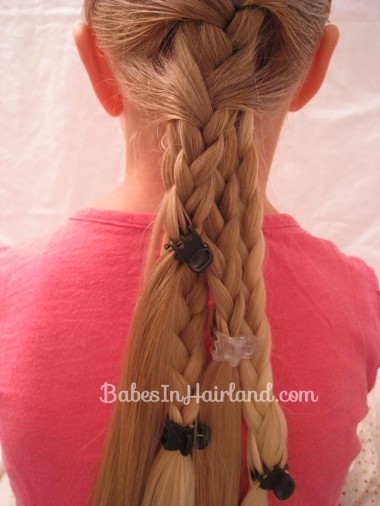 Step 7 – Undo the first 3 braids
Take out the clips from the first 3 braids you made so they unravel a bit.  These are the 3 bottom braids.  Be careful that they don't completely come undone.  Leave the clip in the 4th braid (or last braid you made) for now.
 Step 8 – Braid the tail of the braid
With the hair that was previously braided, use those sections of hair to make one big braid in the tail.  For the middle strand of this braid, I used one of the unraveling braids and the 4th braid you made that was still held by the clip.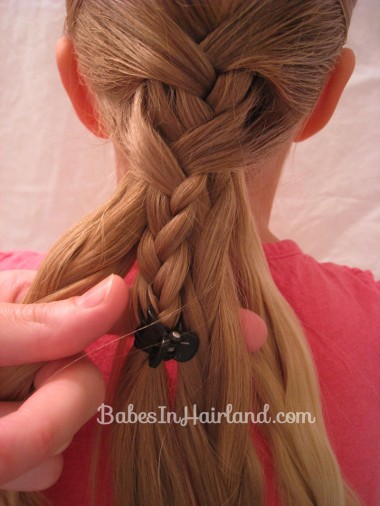 Once I'd done a few plaits, I slid the clip off of that 4th braid that was made in Step 6.  That was to ensure that things didn't completely come undone.

 Step 9 – Secure the end of the braid with a rubber band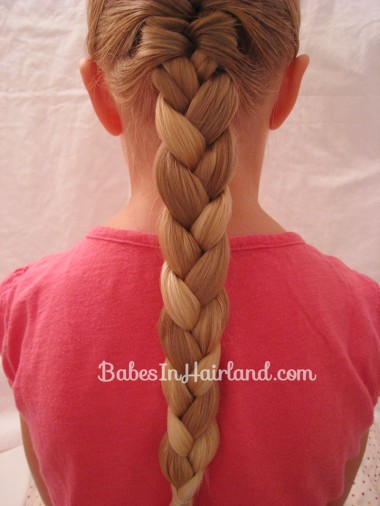 FINISHED!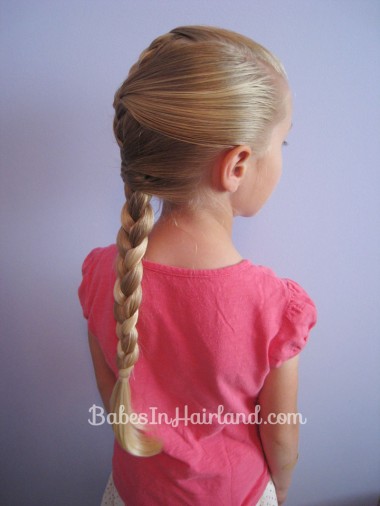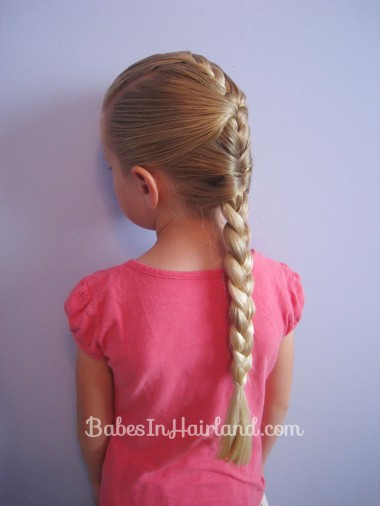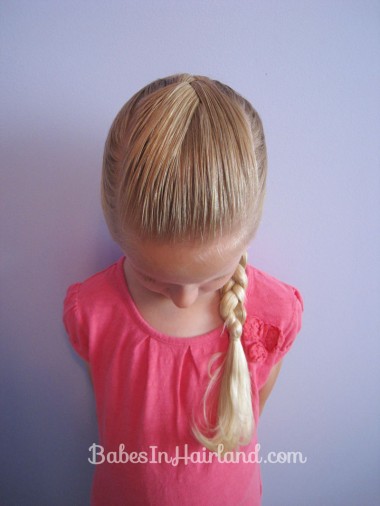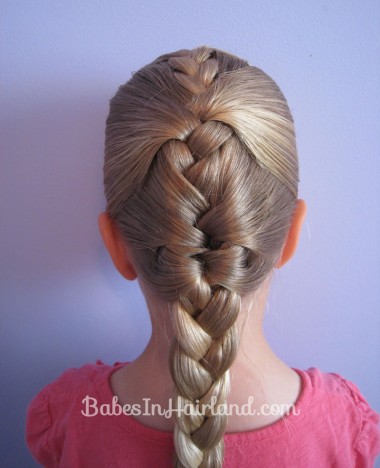 We've done this a few other times, ending it differently.  We've braided all 4 braids into a 4 strand braid for the tail, instead of one thick braid like we show here.  We've also done a pretty updo with it as well that we'll post in the near future.  We hope this helps some of you that struggle with French braiding because you hopefully won't feel like you need 4 hands to do it!