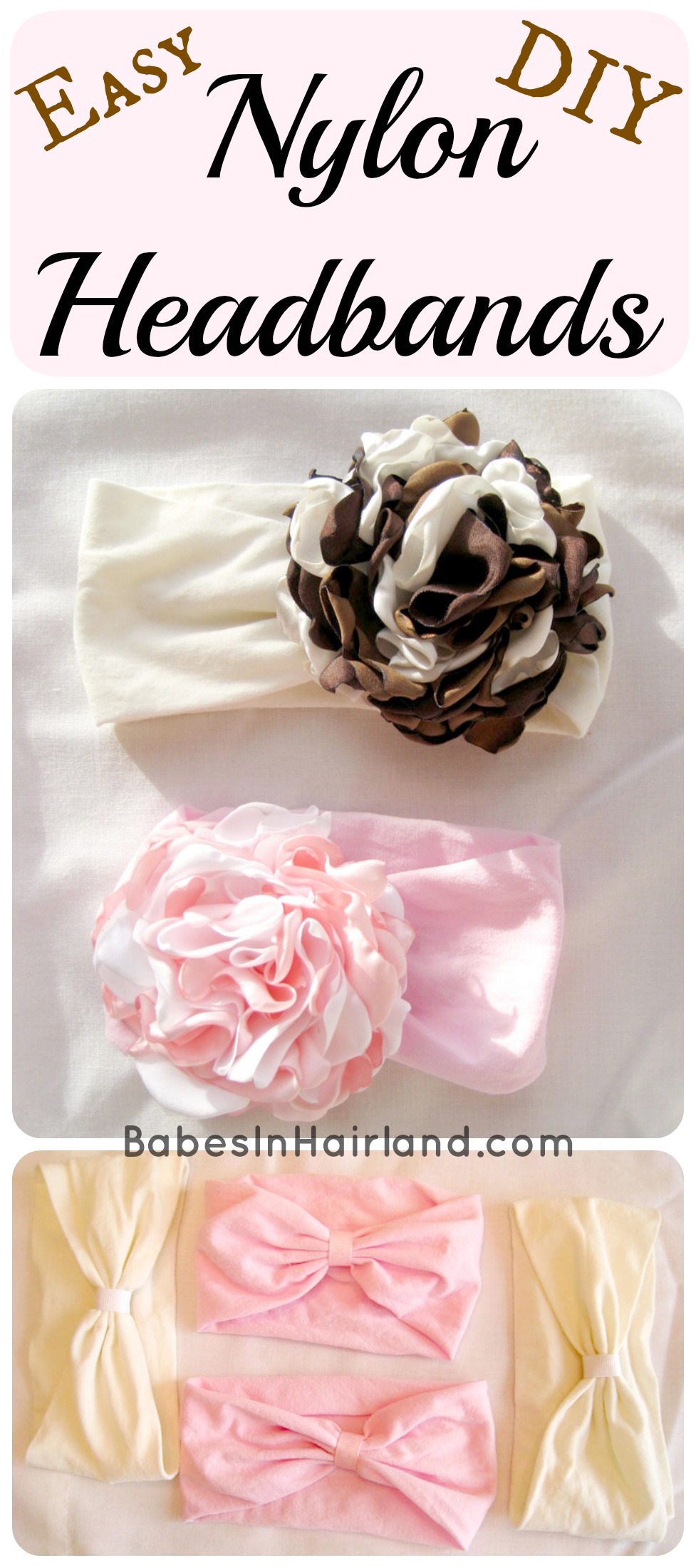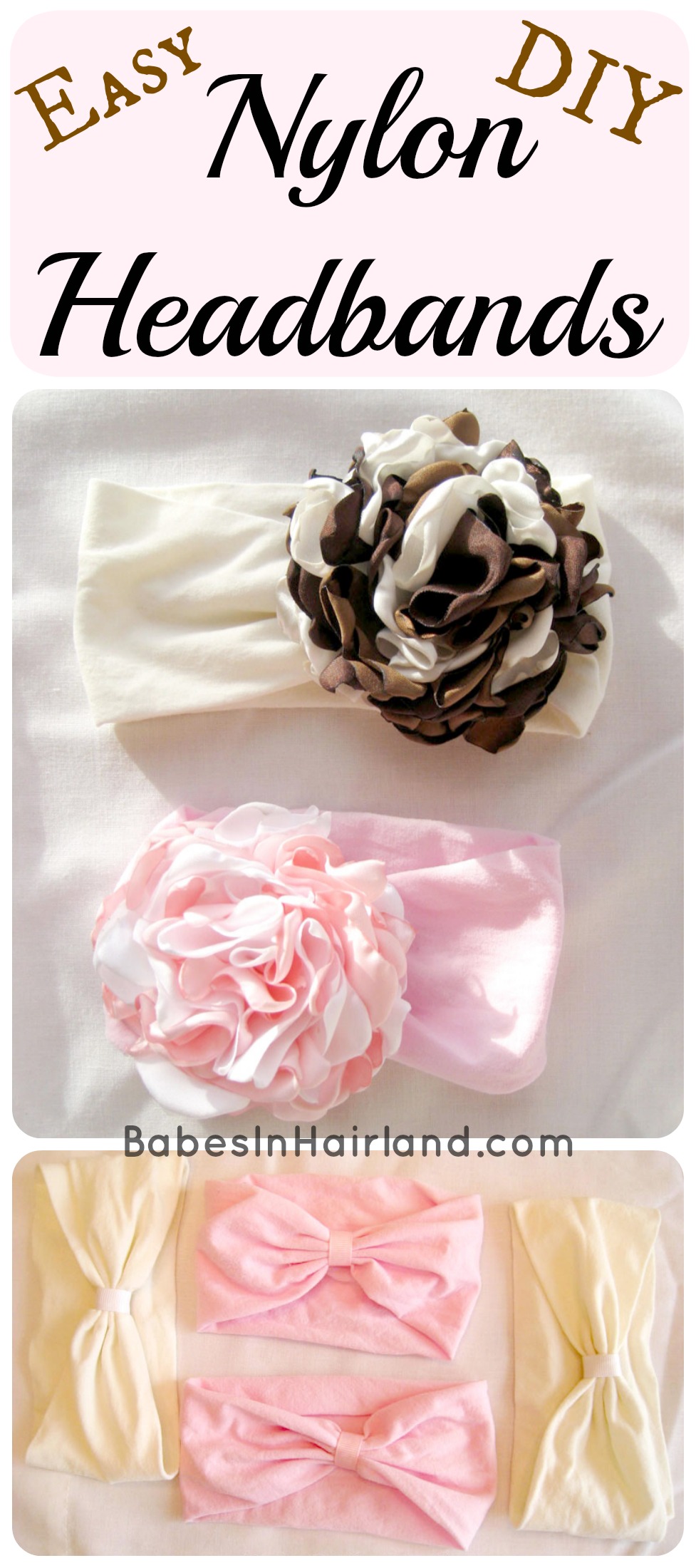 It seems for the last couple years, my friends that had babies were having boys, until this year, a few finally had girls!  That translates to "I can finally try make a cute headband for them!"  I did this months ago & took pictures along the way as I made the headbands, but forgot to ever post the tutorial.  I'd actually made a huge one for one of our TV segments about a year and a half ago to put on Big Buddha (the newscaster) as a joke, so these really can be made any size – they don't have to be just for babies.
For this project you'll need the following:
Nylons, or baby tights, scissors, needle & thread, measuring tape, ribbon, lighter (to seal the ribbon ends), and not pictured – a hot glue gun.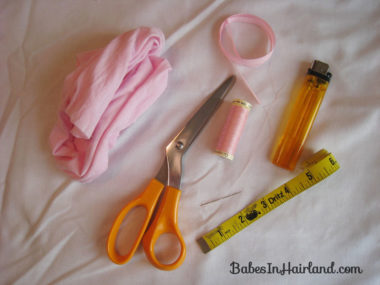 It seems like when we bought packs of baby tights, we rarely used anything but the white ones, so I had several black, pink & cream ones packed away just for this occasion!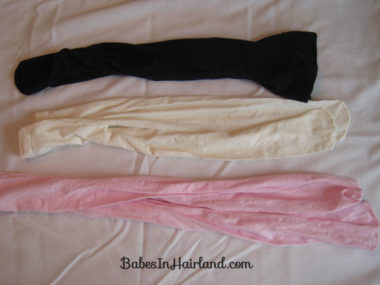 Step 1 – Cut the nylon
If you are working with tights, cut it off just below the thicker elastic part on top & cut the seam off of the toe.  If you are using a pair of knee high nylons, cut off the elastic part at the top & then the toe.
TIP:  Keep that toe seam you cut off …. I earned the "Mom of the Year Award" by not throwing it away — so keep reading! 🙂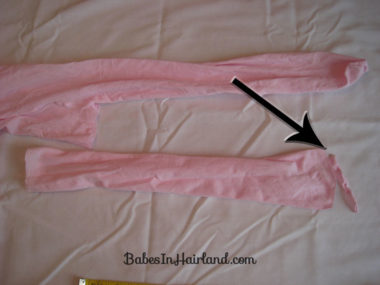 Step 2 – Cut to size
Depending on what size you want and what size the nylon is that you're working with, you may want to cut a bit off.  The leg I had was originally 16″ long, and I cut it down to 13″.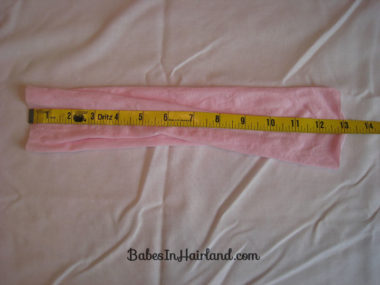 Step 3 – Join the ends together
You'll want to form the headband by bringing the ends together and put one end inside the other so they overlap.  Make sure they overlap at least 1/2″-1″ or it will come apart.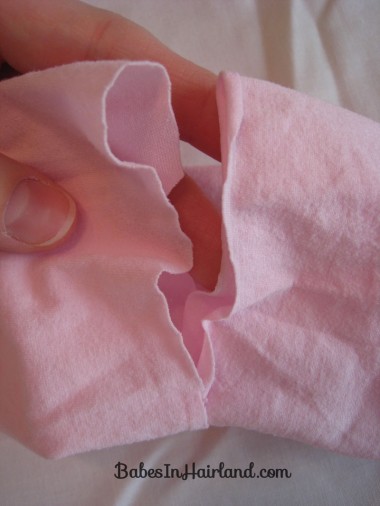 Step 4 – Sew the ends together
Make sure they over lap enough that you can sew the ends together.  Just make a "running" stitch  along the overlapped edges.  Be sure to have a knot in one end of your thread!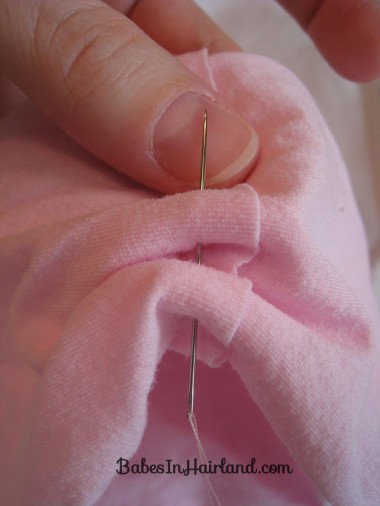 Step 5- Cinch it in
After you've done several stitches across the width of your headband, pull on your thread so it cinches or bunches the headband up in the middle.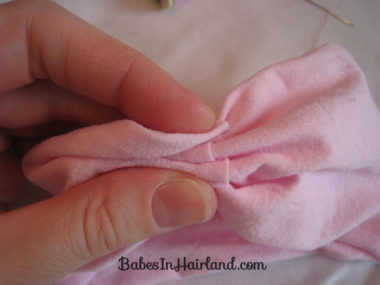 Step 6 – Wrap the thread
To ensure your cinched up middle stays together, take your thread and wrap it tightly around that bunched up section several times.  Tie it off & cut the remaining thread.  If you're worried this won't hold, repeat all the above steps again about a 1/4″ away from your original stitches.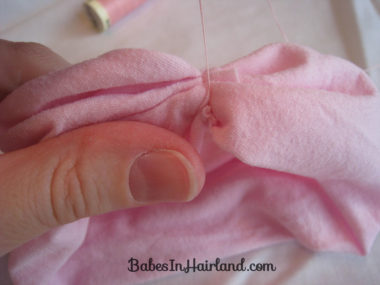 At this point you could be done & hot glue a flower to the top and cover up the bunched middle, but I wanted to make it so they could change flowers on the headbands, so we did a few extra steps.
Step 7 – Cut ribbon & seal edges
Depending on how thick your headband is, you'll want to cut a small piece of ribbon that is 3/8″ or 5/8″ wide about 3 inches long.  That was a bit long for me, but I rather have extra than not enough!
 Step 8 – Hot glue the ribbon
After you've sealed the ends of your ribbon, glue an end of the ribbon on the underside of the bunched up section of the headband.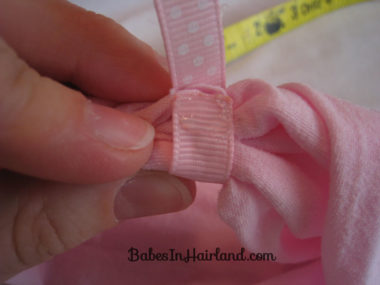 Step 9 – Wrap ribbon & glue
Wrap the ribbon around the bunched up section of the headband & glue on top of the other end of the ribbon- underneath.  Be very careful not to get  glue anywhere else, or you won't be able to slide the alligator clips through when you put on a flower.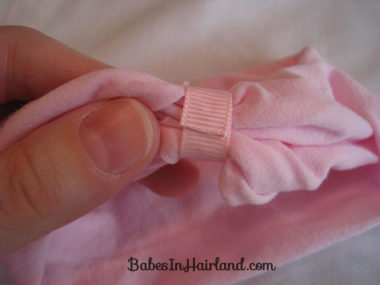 And you're done!  All that's left is to add cute flowers or bows & put it on your cute little girl!  These are such great headbands because they are so soft and don't dig into your daughter's head – regardless of their age.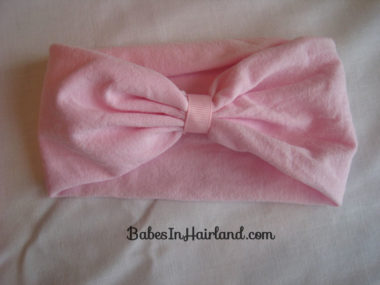 Tip:  Be careful not to pull the ribbon too tight or you won't be able to get the alligator clip underneath.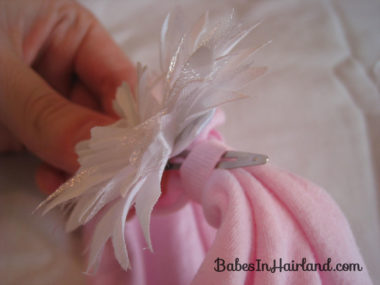 Add a you're favorite accessory to these darling stretchy headbands & they are sure to please!  The flowers below are favorites of ours from All Things Ribbon.  ***UPDATE — So many people have asked about the flowers attached to the headbands – you can get the pattern for All Things Ribbon vintage mums HERE *** And one more tip: If the headbands get stretched out after a lot of use, simply soak the headband in water and let it dry.  It will shrink right back up!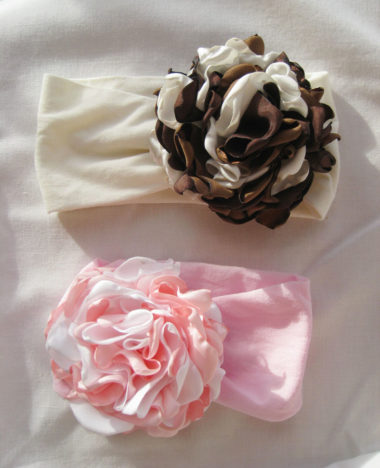 But wait … there's more.  Here's how I earned that "Mom of the Year Award!"
I made a teeny tiny headband for Barbie!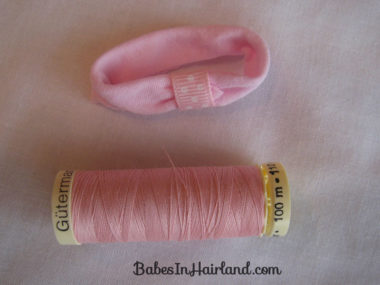 Yes that's right … the girls saw me making these and asked if I could make one for their Barbie.  I took the tiny toe seam I'd cut off  in Step1 and doing all the steps to make the "real" headbands, I made one for their Barbie.  Thus – earning me that ever so coveted "Mom of the Year Award!"    Although I think my award was revoked by them later that night because I made them eat their vegetables at dinner! 🙂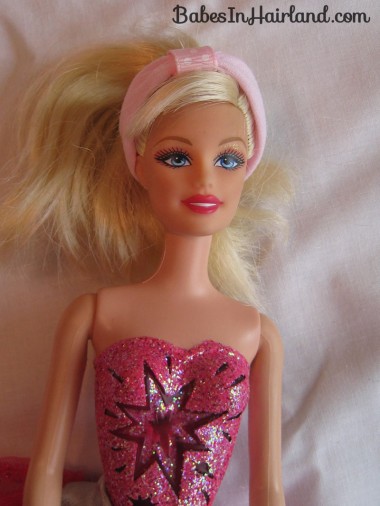 If you love these easy headbands, be sure to check out our easy 2 minute – No Sew Ribbon Bows.  These are fabulous and you can whip up a bunch in no time at all!