Welcome back for our final post in our Summer Hair Care Series!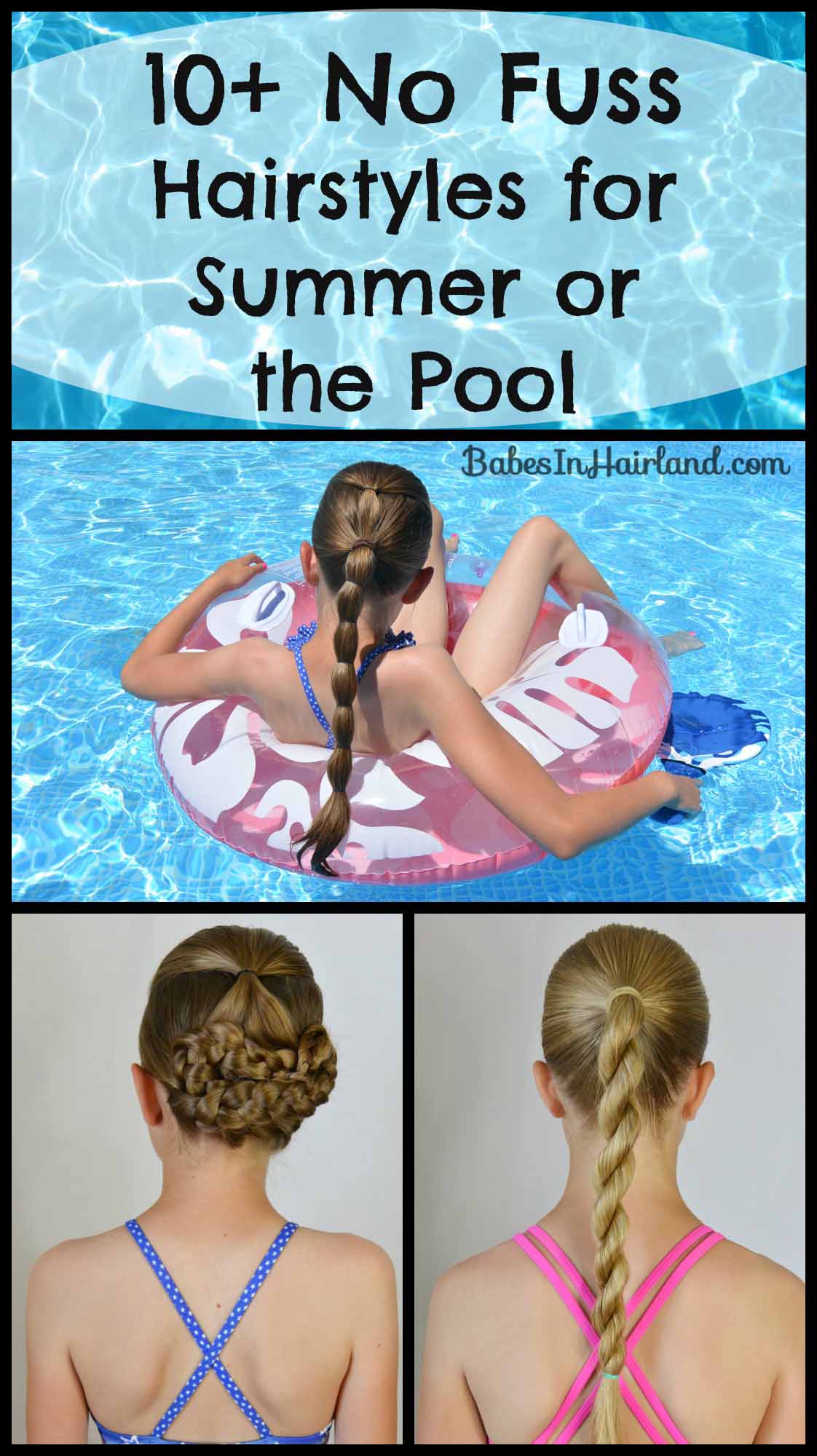 If you missed either of our summer hair posts — be sure to check them out.  There's bound to be something there that is going to help you care for your hair as well as your daughter's as the summer is starting.  First we talked about 10+ Ways to Protect your Hair from Chlorine and the Sun, and the second part of our series was 5+Easy Ways to Get Rid of Green Swimmer's Hair and now for the third and last part of our Summer Hair Care series, we're sharing some no fuss hairstyles that are perfect for a hot summer day or a day at the pool.
The girl's are officially out of school for summer break now & I am so happy.  I love having the girls home and not having to worry about homework and sticking to a hard-core schedule.  And now that they are out of school, it means a lot of pool time for them.
I don't think any of these really need step-by-step explanations, but hopefully this will help when you're headed out on a hot day or going to the pool or beach.  None of these are extra fancy, because if they end up in the pool, that won't really matter in the end!
My biggest recommendation for summer hair is to avoid styles with parts (as much as possible) that expose the scalp to the sun – especially if you'll be swimming.  All of the styles we're sharing today have minimal parts so you don't have to mess with sunscreen in the hair.  Using sports headbands that are rather tight and don't slide are awesome for keeping those fly-away's back and out of the way.  (How 'bout her farmer tan! lol)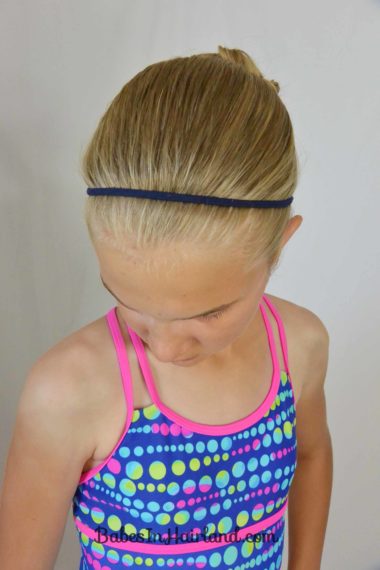 Basic Ponytail
If you're running short on time – this one is a no brainer.  The most important part is that the hair is up and off the neck to keep you cooler.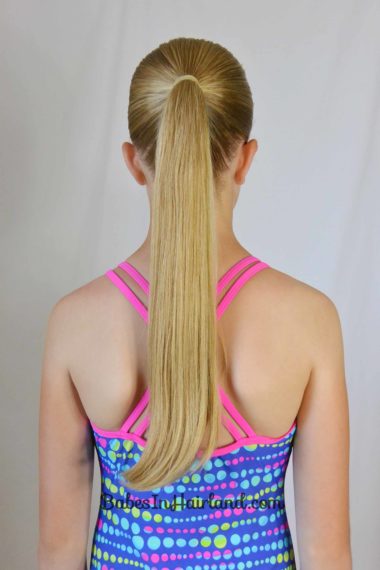 Rope Twist/Braided Ponytail
More than just straight ponytail, these are even better because the hair is all twisted and secured.  These are great for swimming because they are so easy to squeeze the water out of.  If you don't know how to make these, check out our rope/twist braid video.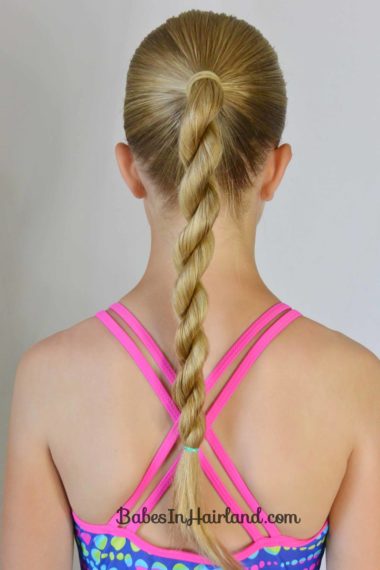 Braided Ponytail
If you find twists hard to get to stay in, a basic braid will also do the trick.  Also totally easy but contains the hair and gets it up off the neck.  Keep these tight rather than pancaking them for maximum hold.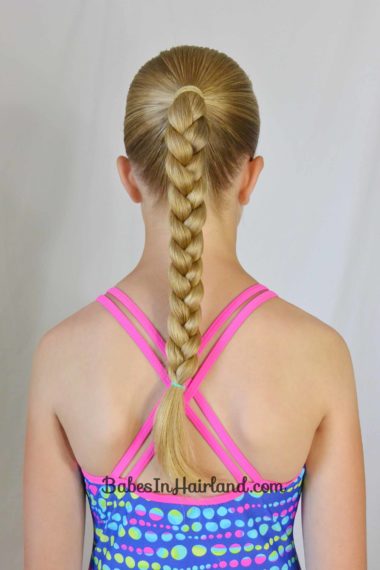 Braided Bun
Take that braided ponytail one step further and wrap it into a bun and secure it with bobby pins.  This is even better than the ones above because it gets the hair totally up and out of the way and if you are swimming it's going to help keep those tangles to a minimum when you are done.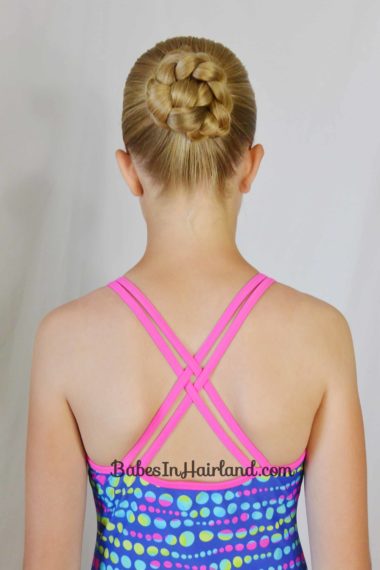 Small Ponytail & Double Braids
So I mentioned before I prefer minimal parting in our summer & swimming hairstyles.  I'm not a huge fan of parting hair down the middle from front to back when I know there will be long periods of time exposed to the sun.  But braids are always a win for summer.  So this is my way of getting around it.  Take the section of hair on the top of the head and near the temples and bring it back to form a small ponytail.  Then divide it and the rest of the hair down in back in half.  Parts on the back of the head don't get as much sun as if it's parted right on top.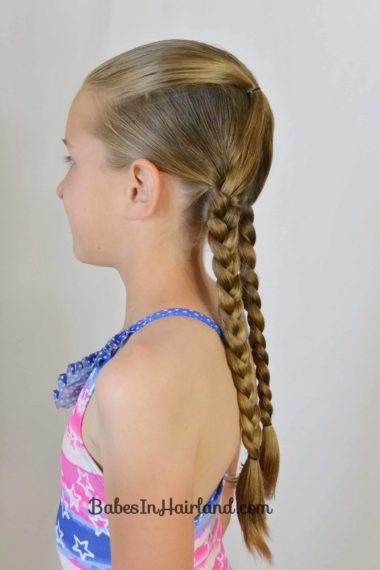 See?  That little part in back isn't going to really be hit by too much sun compared to if you'd parted the hair right down the middle.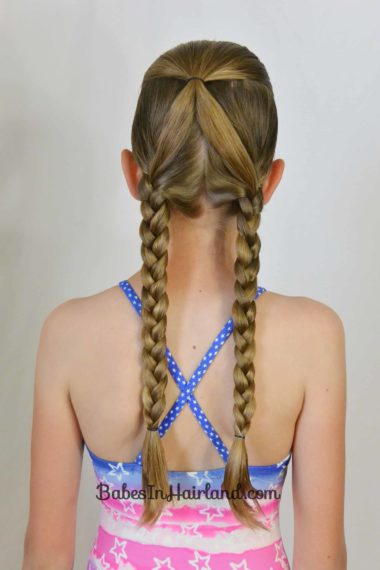 Small Ponytail & Wrapped Braids
Take the above hairstyle one step further and wrap the braids up onto themselves and secure with a few bobby pins.  This is another one that's great for swimming because all the hair is totally up and out of the way.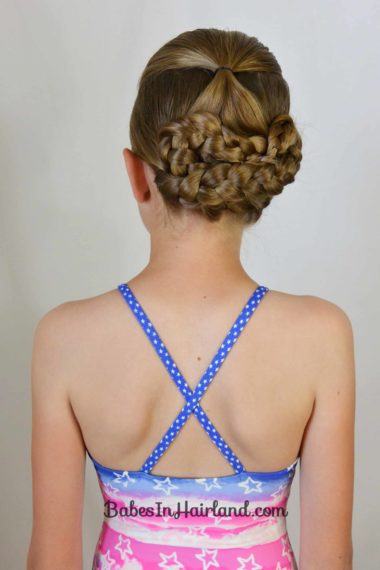 Small Ponytail & Braid
If you prefer to forgo the parting completely in back, just bring all the hair back into a single braid at the nape of the neck.  Again, really great for keeping the hair contained, and easy to squeeze out after a dip in the pool.  That small ponytail on top is also great if you are wanting to keep bangs off the forehead or have a bunch of uneven hair up front.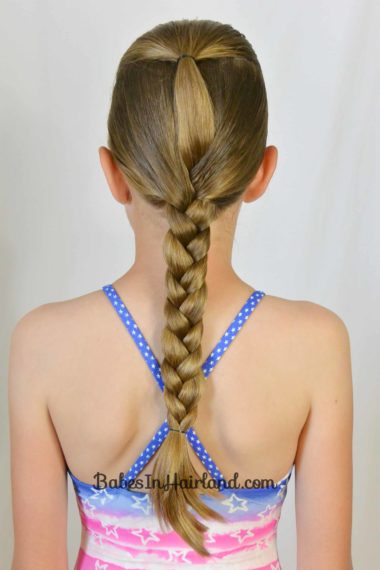 Linked Ponytails
Again – a no brainer, but great for totally containing the hair if you're out doing yard work or playing.  And it's even better for swimming because it totally keeps tangles away since everything is wrapped up.  Just take a seam ripper (from your sewing kit) or a small pair of nail clippers to snap all the elastics when you are done for the day.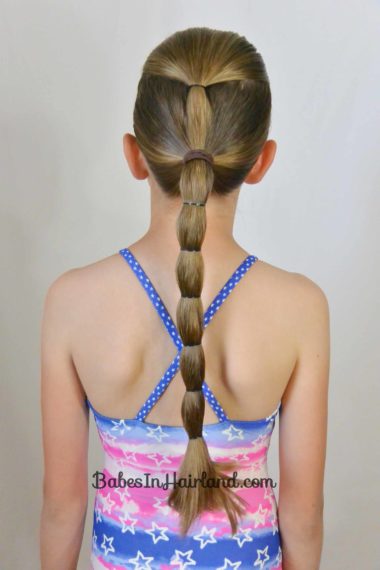 Of course – almost all of these styles can be done if you part the hair right down the middle and want ponies, braids or buns on each side of the head.  But like I said, I prefer minimal parts.
Of course, French braids in any shape or form are always great for keeping hair contained for swimming.  You can watch our French Braid video if you need a refresher course.
Or our "Cheater" French braid hairstyle is also a great one to keep parts to a minimum.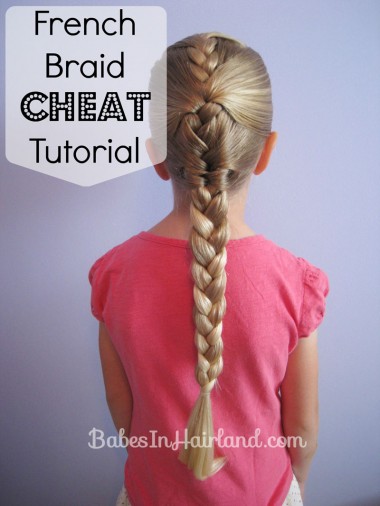 And flipping ponytails – no matter how big or small is always an excellent way to contain hair and keep things out of the way.  Try our triple flipped ponytail style.  You could even braid the ponytail when you are done to keep things together even further.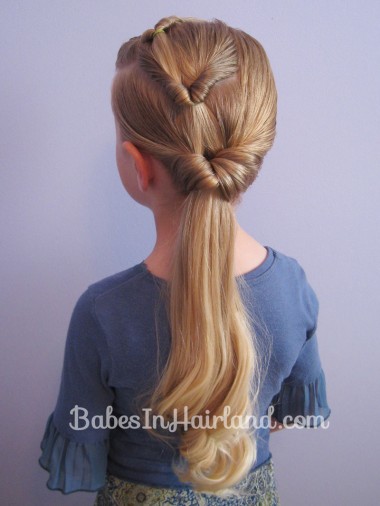 But no matter how you do your hair — make sure you have fun outside & enjoy the fabulous weather — I know we will!
If you do have a cute style that does require parts be sure to put sunscreen wherever you can see through the hair.
How to Apply Sunscreen to a Part:
Apply sunscreen to your index finger and gently dab the sunscreen along the part where the scalp is exposed.  You can also use a Q-Tip if you have one handy.  Just be sure to rub it in well.  There's nothing worse than a sunburned scalp.  No one likes the pain, or the flakiness that starts happening once it starts to peel!
And don't forget our helpful tip if you are going swimming: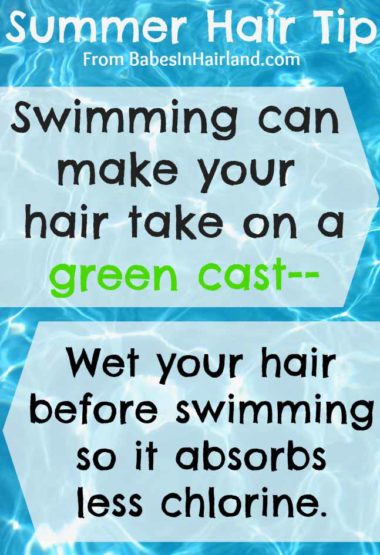 And don't forget to check out our other first to installments of our summer hair series.  Just click on an image below to be taken to the post: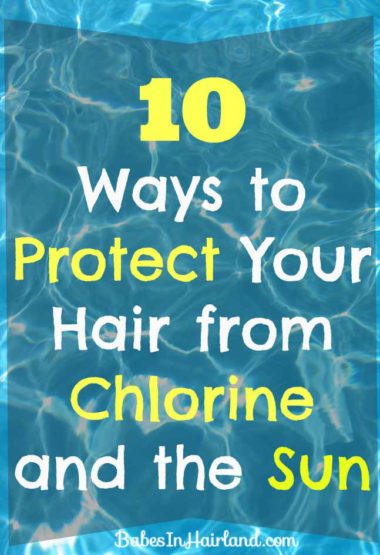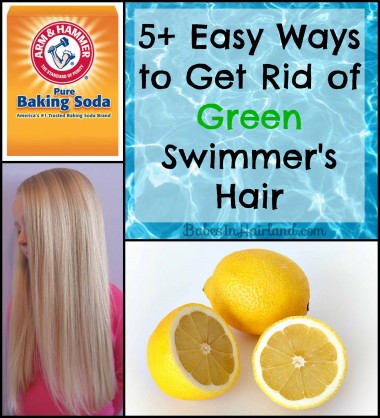 What other ways do you wear your hair during the summer to keep it up off your neck and contained when you are swimming?  Or if you have other tips or suggestions on summer hair care – we'd love if you shared them with us!