It's obvious that 2 out of the 3 Babes currently have very long hair.  And of course, it's no secret how much we love & use our Curlformers around here.  But the different lengths of Curlformers have led to a bit of a dilemma.  Currently the longest Curlformers cover about 22″ of hair – so I'm faced with the decision of pulling the curler down the shaft of hair a bit or leaving straight hair sticking out the bottom and curling the ends with my curling iron later.  Neither of which is a big deal to me – but we decided to experiment a little.  If you aren't familiar with Curlformers, you can see all our posts HERE, or watch our videos on how to put them in & how to remove them.
A couple months ago we decided to try using 2 Curlformers in sections where Goose's hair stuck out the bottom.  So read on to hear about our results and recommendations…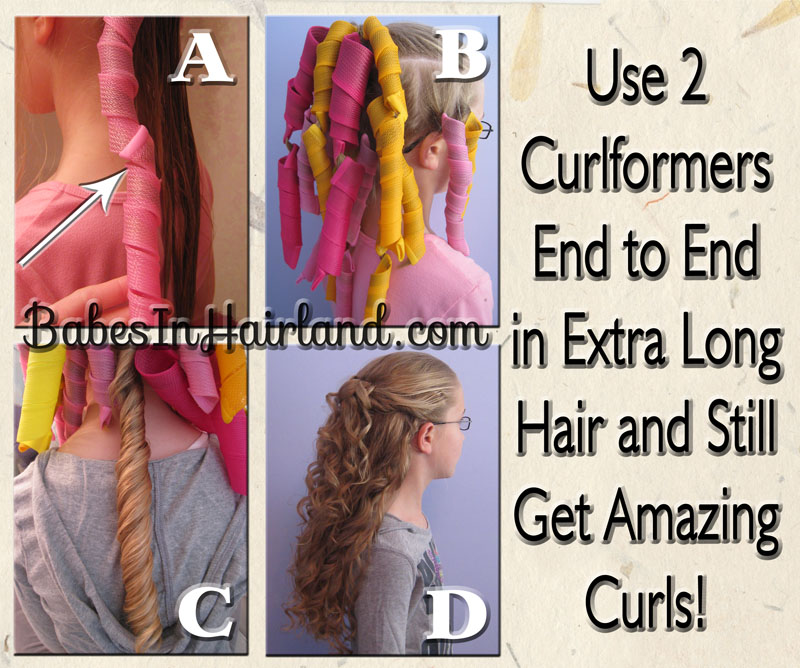 Using Curlformers "long & wide" curlers (that are good for hair up to 14″) first, we prepped the hair like we show in our 1st video…
1 – We added 1 Curlformer right up to the scalp
2 – Add a 2nd Curlformer (using the regular technique with the hook) and pull a 2nd long & wide curler right up below it.  If possible, as you pull the hair through the bottom Curlformer inch it up onto the 1st Curlformer.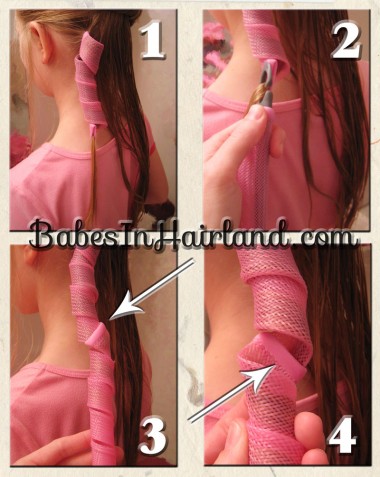 3 – This is where we experimented.  We pulled the top of the 2nd Curlformer's rubber end up over the bottom of the 1st Curlformer's rubber end so they over lapped. Some of these were a bit trickier to get to stay like this than others.
*** I will add a disclaimer, that this may not be something you  want to do on a regular basis, as I don't know if it could affect the way your Curlformers perform.  I haven't seen any ill affects from doing this – but I don't want someone coming back saying I ruined their Curlformers!  ***
4 – That picture is a more up close look at how they are joined together making 1 continuous super long Curlformer!
5 – The Curlformer on the left is an "extra long & wide" one (good for long hair up to 22″) and it's next to 2 "long & wide" (14″) Curlformers end to end that will accommodate up to 28 inches.  Obviously if you have extremely long hair, if you put 2 of the 22″ Curlformers in a section of hair, you'll have even more room to accommodate all your hair!
6 – We also experimented with just butting the 2 rubber ends up next to each other on some of the sections of hair to see how those curls would turn out as well.  The orange Curlformers to the right of the arrow are done the same way.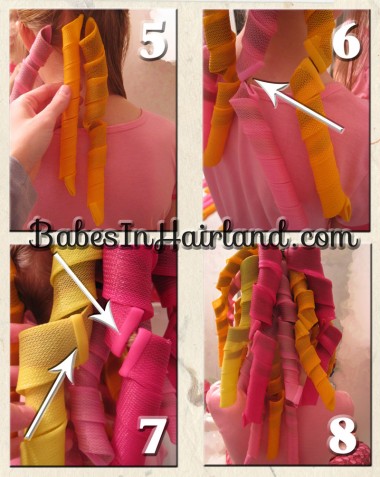 7 – We tried the same thing with some of our "long & extra wide" Curlformers as well.  The yellow one we overlapped the ends, the dark pink we just put the ends right next to each other.
8 – This is how her head looked when we got all of the Curlformers in.
The following morning we woke up to several inches of snow & Goose wasn't going to let her Curlformers stop her from playing in it, so she bundled up and had a ball playing in the snow!
 After she came in from her fun in the snow – we continued our experiment!
The results of our Curlformers Experiment:
Here are pictures of the first few sections we pulled —
And can I just say how thrilled at the results!  So so excited! 🙂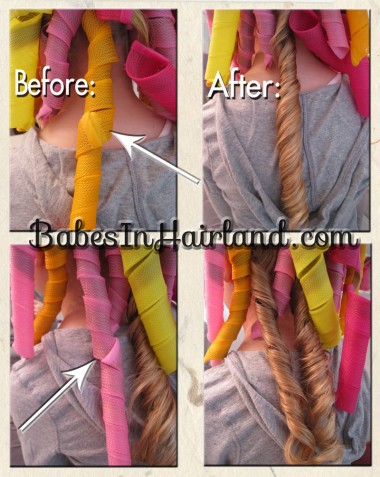 Pictured below:  (top 2 pictures) Here's the results from one section where we'd just butted the ends up next to each other.  Over the course of the night & her play, the bottom one had slipped down a bit, but it still curled it & didn't look too bad.  It wasn't as great as the pictures from above – but still not too shabby.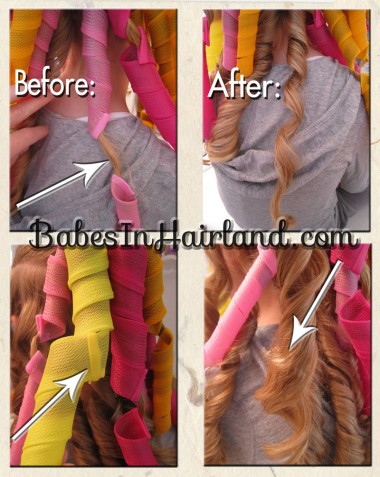 The above picture with the yellow Curlformer was really the only "less than fabulous" result I got from tucking the ends into each other.  There was a slight kink that had formed in the curl when I pulled them off.
Once I pulled all the Curlformers out – here is what we had … (drum roll please!)
The few looser curls in the middle are from the "extra wide & long" curlers, but other than that – all of them were made by "long & wide" Curlformers – either over lapping each other, or just butted up next to each other.  I think we used about a total of 32 Curlformers.  Most we doubled up, but there were a few places where we only used 1 extra long/wide Curlformer.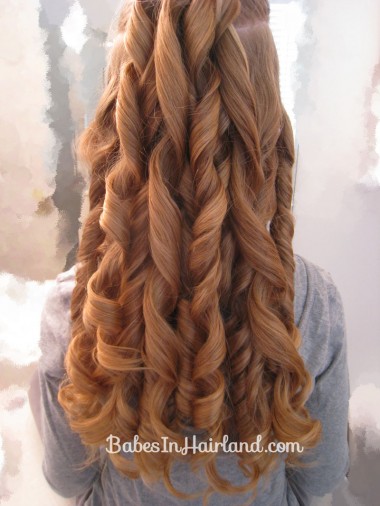 Then to style it, I pieced out all the curls into many different small curls, like I show in our 2nd Curlformer video.  Then I pulled the hair from the crown back (it hadn't had any Curlformers in it) and secured it with a few bobby pins.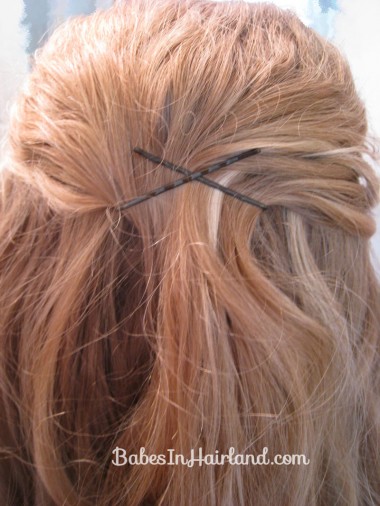 Sorry no step-by-step pictures for the rest, but then I twisted the remaining hair above the ears, pulled it back and secured them below the X of bobby pins above.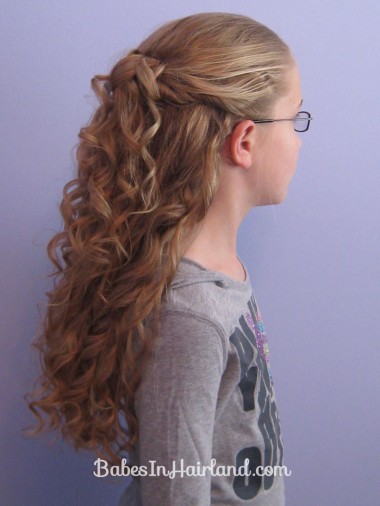 Then I covered the bobby pins by looping a few curls up and over everything sort of like I did in THIS old post.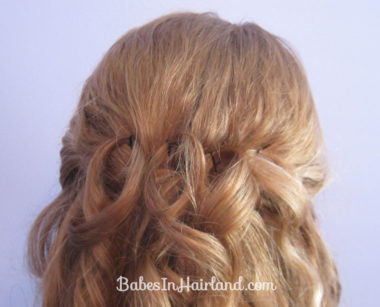 And that was it!  The whole day Goose walked around with her hair like this I couldn't stop staring at her!  The amount of hair she has was completely amplified with all these curls.  It was gorgeous.
So there you have it!  Our Curlformers Experiment was a success!  We've done this several times since then & had just as wonderful results each time.  I will again, add my disclaimer that results will vary, and it would might be easier if you have someone to help you with this process if you are overlapping the ends. 
If you have extra long hair but have had the same issue we have – give this a try!  We'd love to know how it works for you!