In our last post, we shared Bee's baptism hairstyle and a few pictures of the dress she was baptized in.  But obviously after you're baptized, you're all wet, so that means we needed another dress afterward for her confirmation.  When the other two girls were baptized we purchased their dresses from a local store, White Elegance.  I contacted them to find out if we could come in and try on a bunch of dresses and have a fun mother-daughter afternoon together.  I wanted to take a bunch of pictures so Bee could remember this special time of her life.  The owner of White Elegance was extremely gracious and said we were more than welcome to do so.  While White Elegance has stores here in Utah, and can also be found online.  They produce beautiful white specialty clothing for women, men & children. They carry clothing perfect for christenings, blessings, baptisms, first communions, weddings, temple clothing, shoes, accessories and so much more, and even better the clothing is made here in the USA.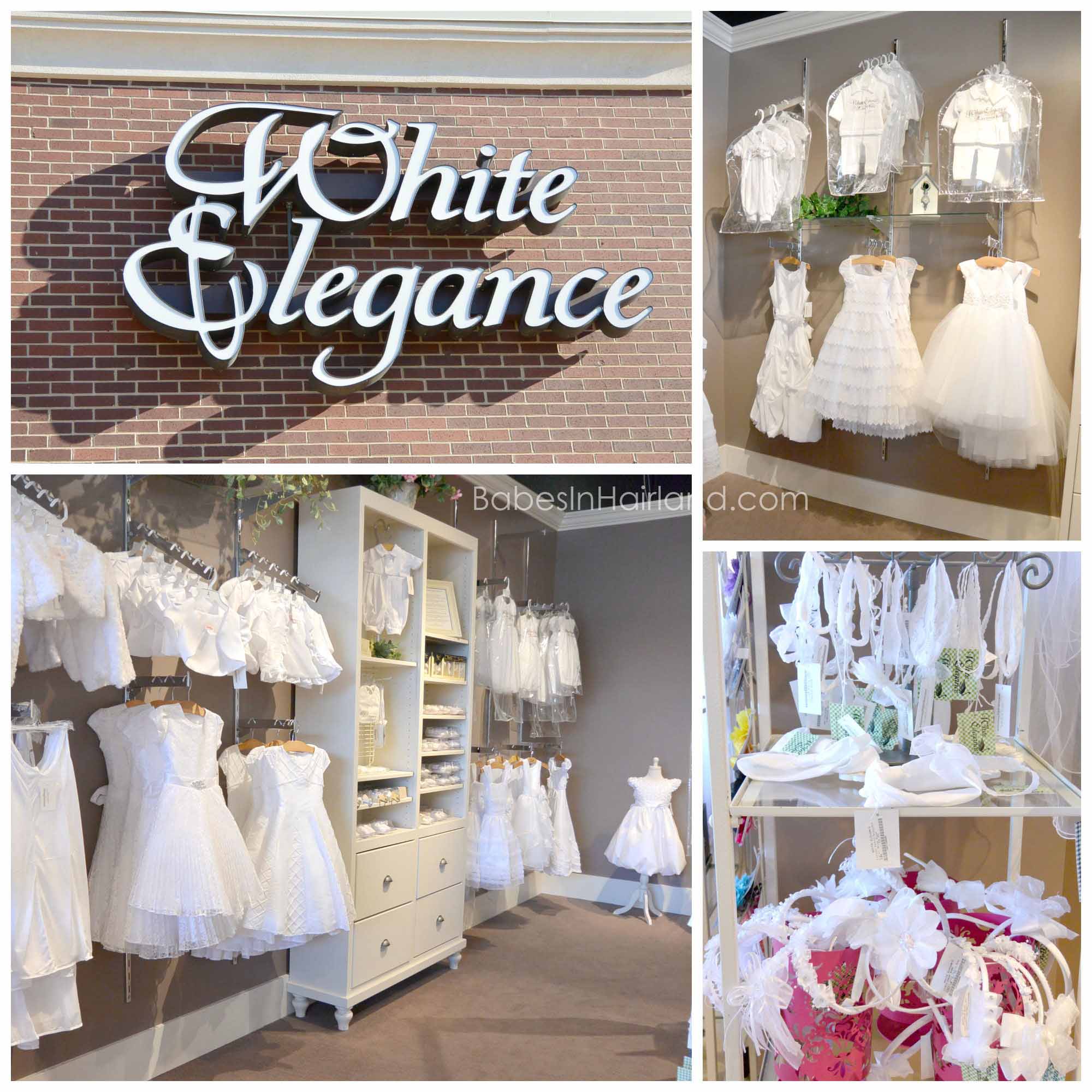 So just after Christmas — New Years Eve to be exact, We headed to one of their locations at The District, in South Jordan, Utah and had a wonderful time.  They were so kind and helpful while we were there.  Bee truly felt like a princess.  I, couldn't help get a bit emotional as she tried on all the dresses!  I envisioned doing this again in (hopefully many) years down the road as she gets married.  There's just something about a little girl (or grown up girl) dressed in all white!  We had such a great time we had to share some of our pictures!
Bee had the hardest time trying to decide which one to pick.  I loved the fact that if the dresses were sleeveless, they had little jackets and sweaters you could put over them as well.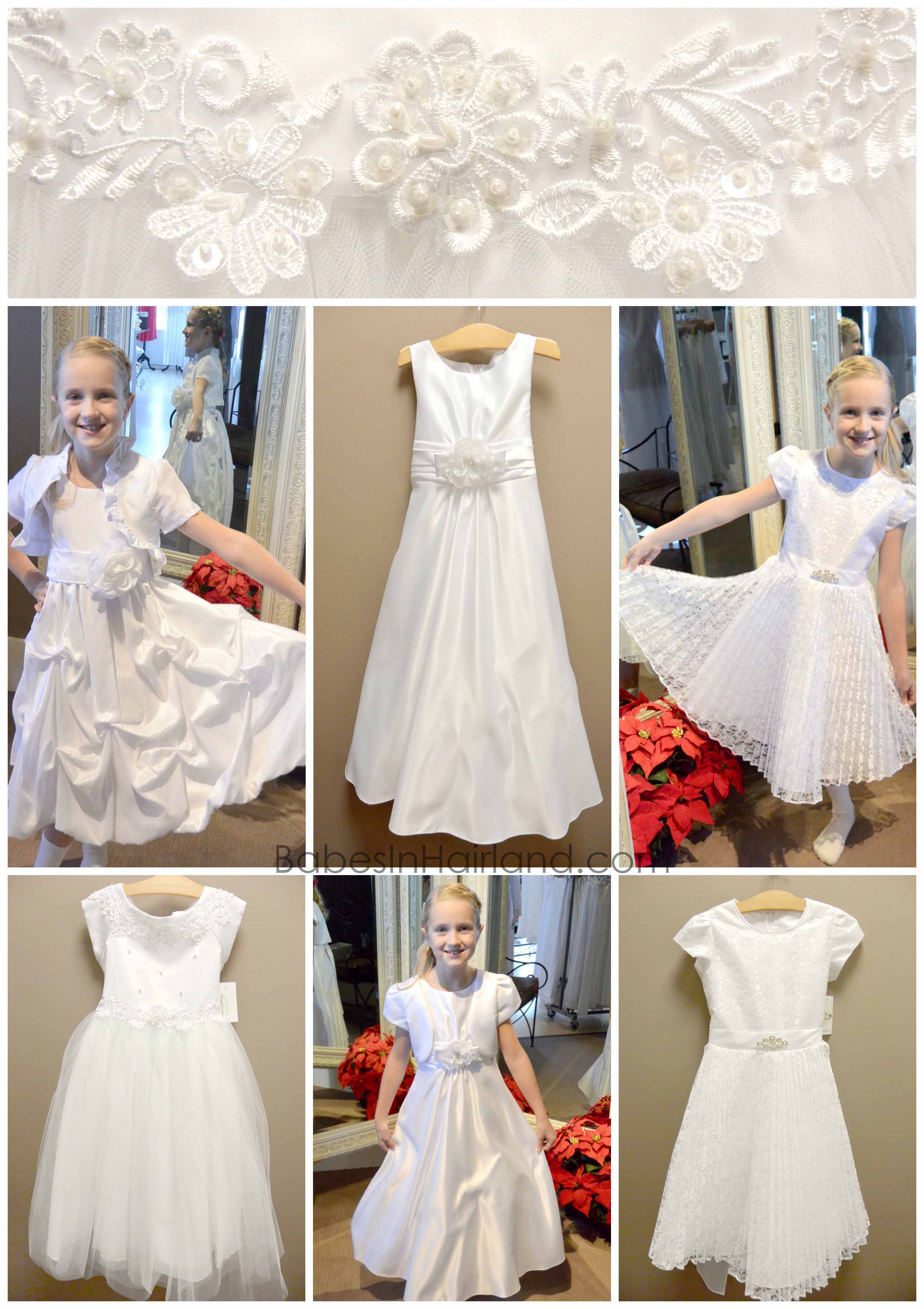 I thought this dress is the one she would pick.  It was gorgeous and I loved the detail around the middle. The "twirl or spin factor" was a big deal to her!  She wanted it to spin so she'd look like a "cupcake!"  This one, however, proved to be a bit too "itchy" for her with all the tulle on the bottom.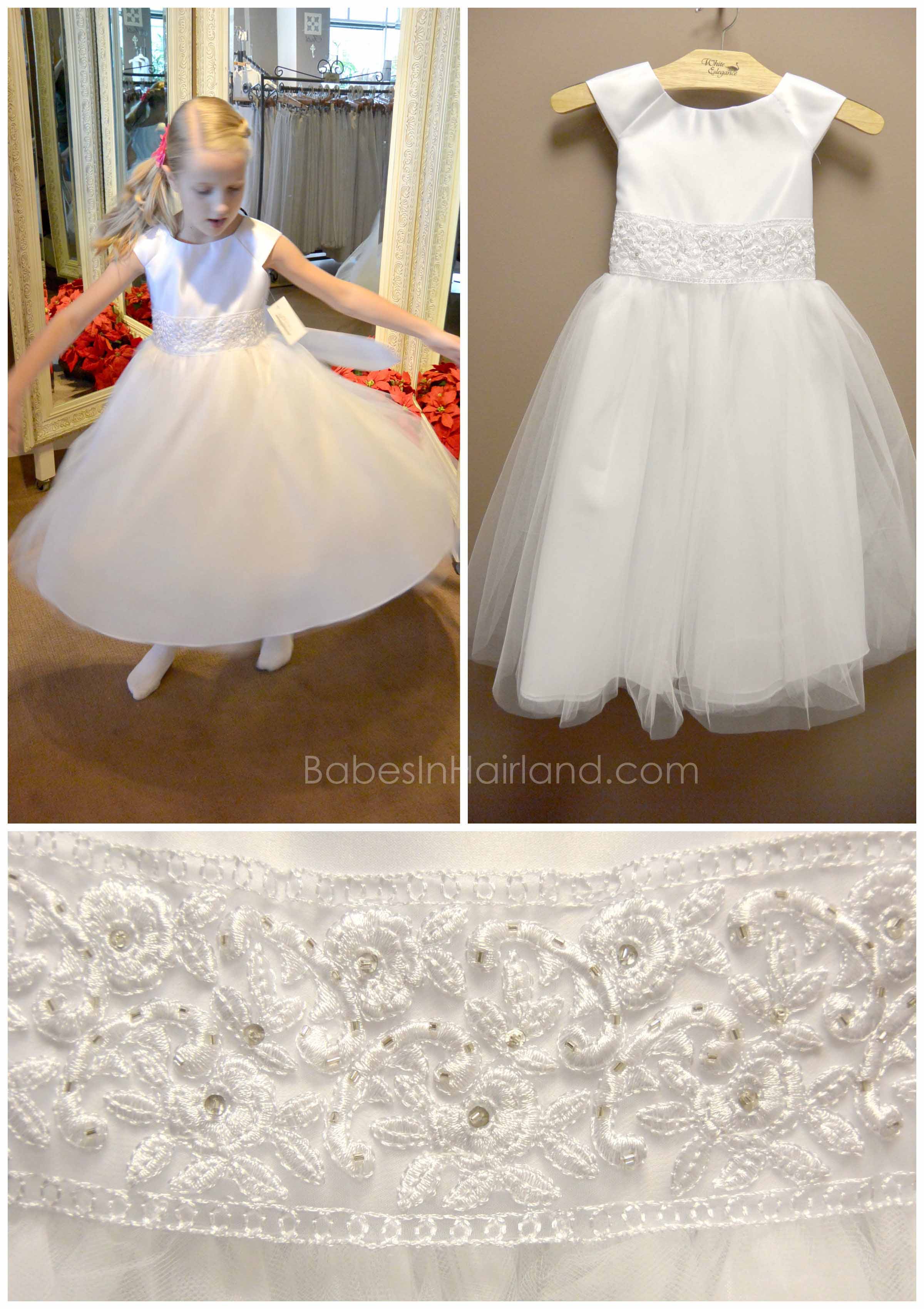 This is the dress she decided was in 2nd place, but in the end, I think she opted not to get it because her cousin had this one!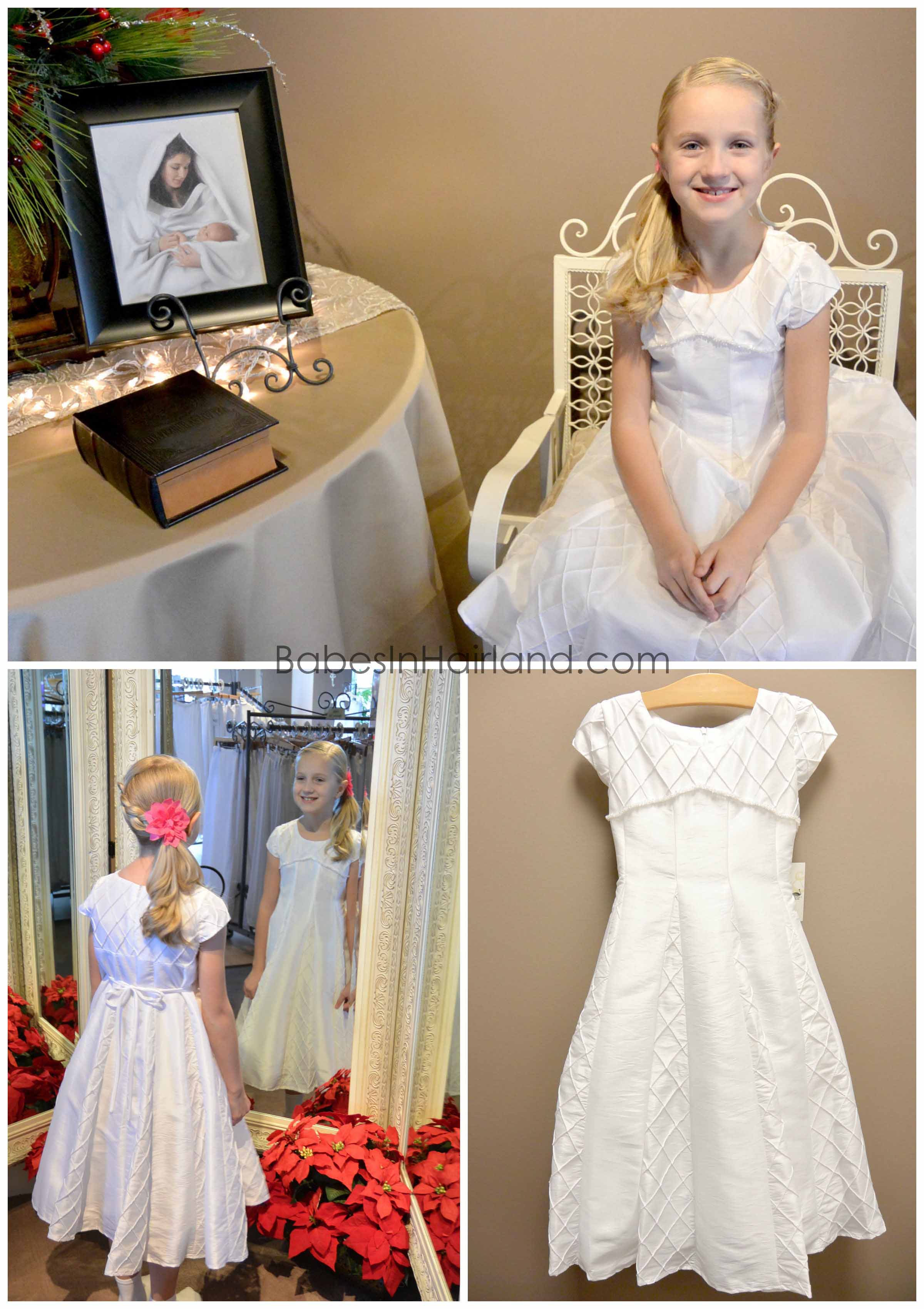 I love in the store they've got nice dressing rooms, and then a beautiful open area to look in mirrors and get a real idea of how you look in the dress.  So many places only have a tiny dressing room and mirror, but White Elegance has a lovely set up and it made Bee feel even more princess like I think!  The sweet lady that was working there when we came in was so helpful and made sure we had the sizes we needed and that everything was to our liking.  She was great!
Then Bee tried on this dress … "Lace Frosting" is its name.  I fell in love with it the moment she put it on …. and so did she!  You can tell by the smiles in the pictures below that this was the one!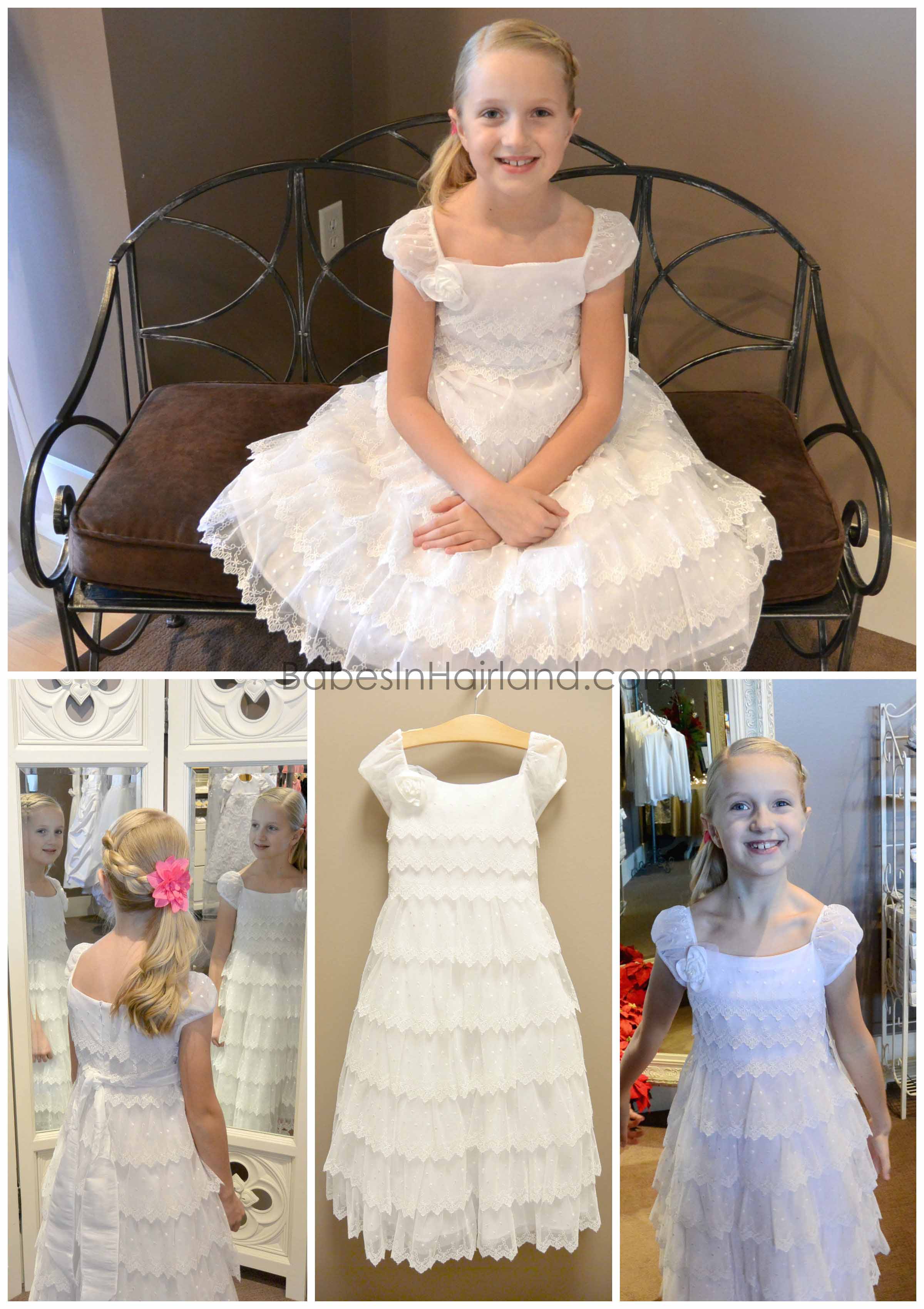 But then the true test came … did it meet up to her "spin" test?  Absolutely!  (You can see her actual spin in the video below.)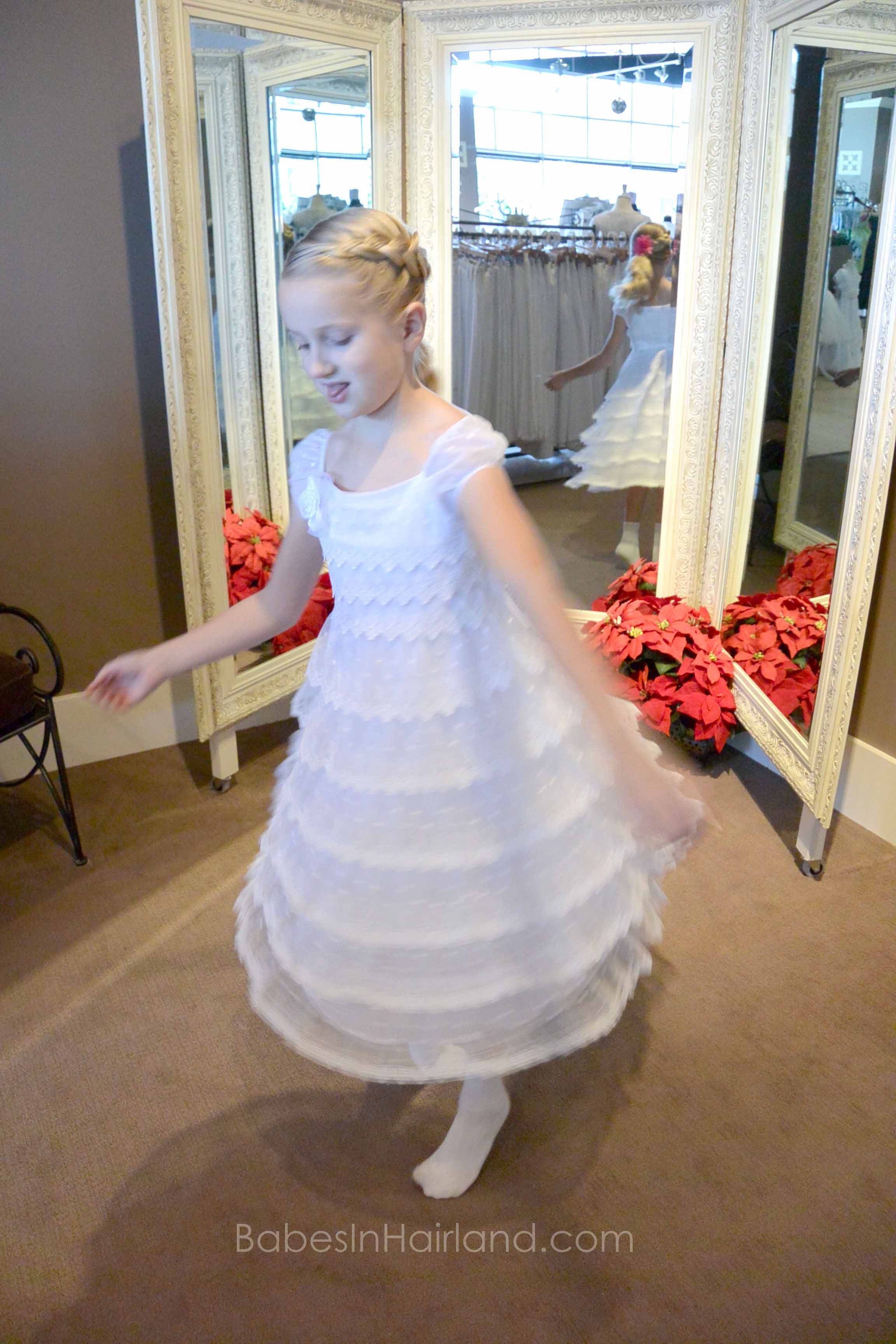 So, after trying on at least a dozen dresses, she decided upon "Lace Frosting."  We both loved it and we couldn't be more pleased.  It truly is a dress fit for our sweet princess Bee!  Also the owner of White Elegance was so kind & is offering our readers 15% off your next purchase using code WE0724.  You can use it in their stores or online.   (If you are local and plan on shopping in their store you can print off the coupon below or show it on your phone.)  The code is good through 5/30/15 – so if you or someone you know is in the market for beautiful, high quality white clothing – White Elegance is where you'll find it.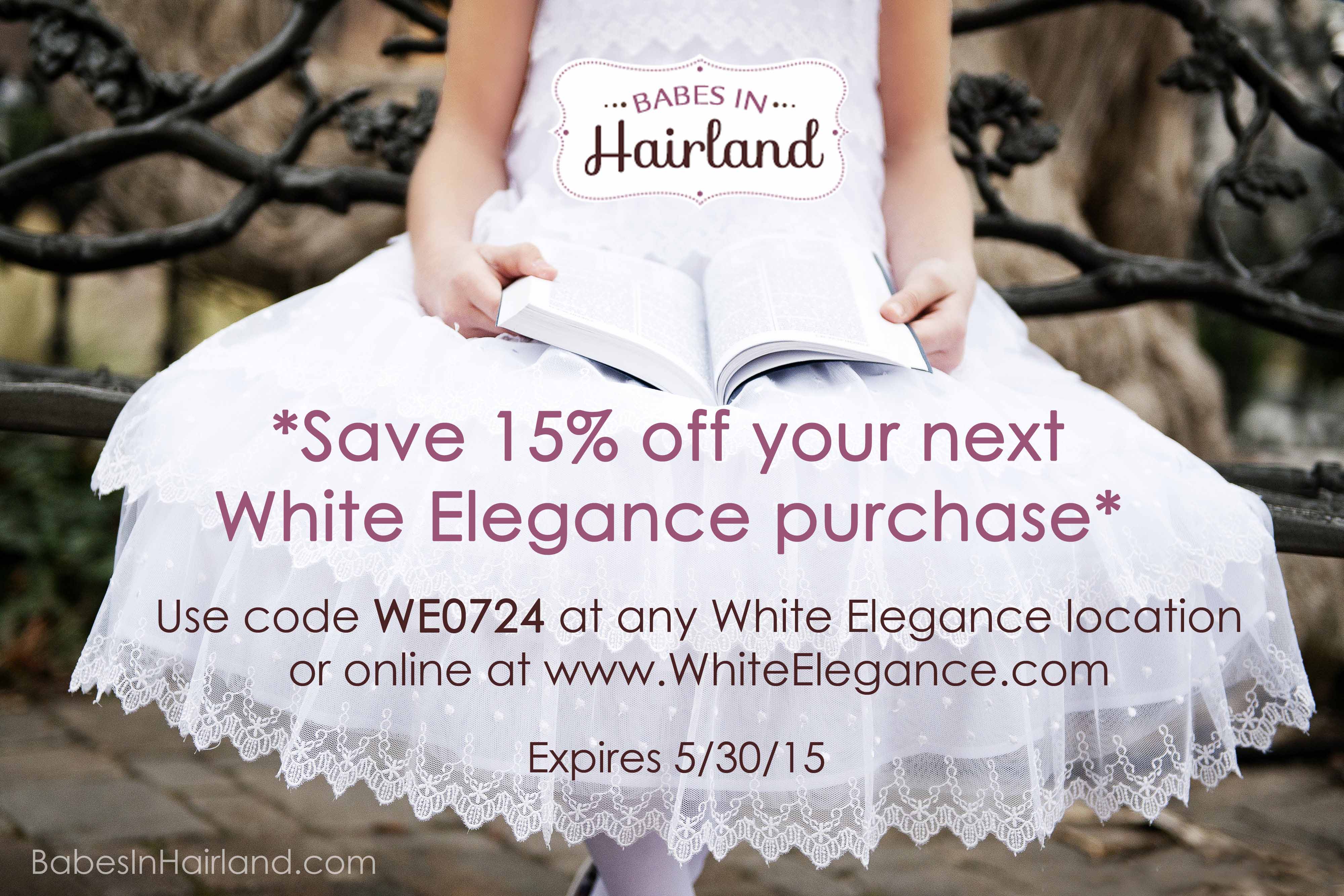 So once we found the perfect dress, we wanted to get her pictures taken.  We did her hair in a style similar to her baptism day hairstyle, but we wanted the hair in back to be down and curled.  We used the same hair pins to accessorize and it turned out perfect.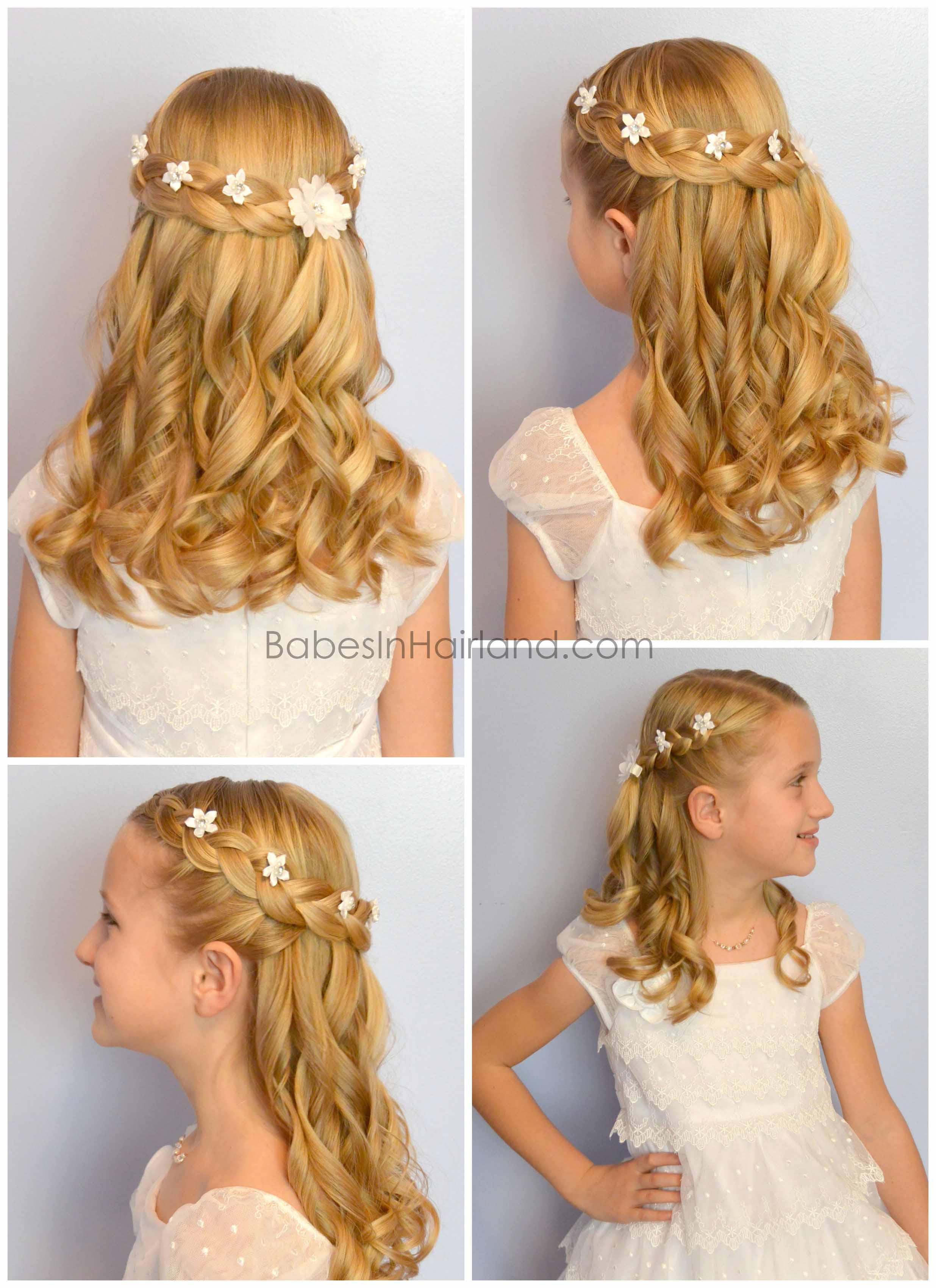 We contacted Jessica of White Dandelion Photography and she met us in down town Salt Lake City, Utah at Temple Square one cold January day.  Bee was a trooper, because not only was it cold and she was in a short sleeve dress, but she had been a bit under the weather so I was worried a bit on how things would go.  But once she got into her dress, everything worked magically!  Jessica was great and got so many fabulous shots, we just had to share some of them.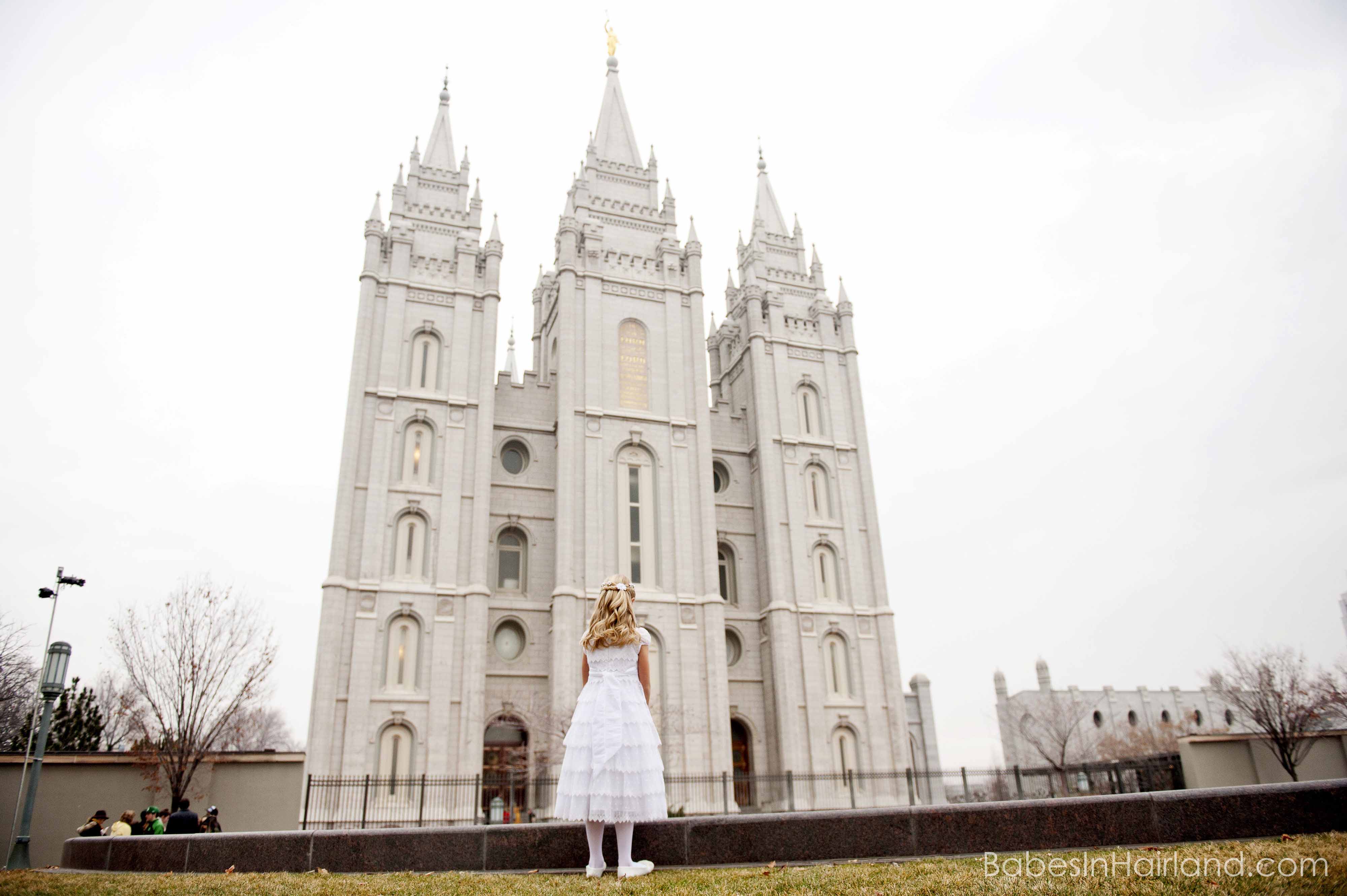 We thought it'd be fun to share a quick video as well, so we hope you enjoy.

A HUGE thank you to White Elegance and White Dandelion Photography.  White Elegance is also on Facebook – so be sure to follow them for updates and discount information.  White Dandelion is also on Facebook and Instagram, so check her out too! Thanks to them, Bee's special day was made even more memorable.
* While we were provided a dress from White Elegance at no-cost, all opinions and thoughts expressed are 100% mine. *