I think I recently mentioned that Goose turned 8 years old this month. Which also means for us, that she'll be getting baptized soon. Anyway, I recently begged enlisted the help of my ever so talented BFF Jenn to take some pictures of her in her pretty white dress (which we got from White Elegance),  so I could make up some invitations for my family. Plus I needed a new picture of her for my wall here at home. And Jenn was kind enough to humor me and play photographer!
In my search for a dress, I, of course, was thinking hair accessories as well. I was torn – do I do a flower, bow, what??? After looking around at several of the local craft stores I decided I'd do something myself. Well – sort of. I thought they turned out so cute, I had to share. I hope you don't mind I don't really have a new hair style for you today, but being that Easter is coming, and you may be trying to figure out how to accessorize, this is a quick and easy way to do it. And pretty cheap too.
First I'll show you what the little flowers are like on her dress (sorry they look a bit yellow in the pic – they're really white.)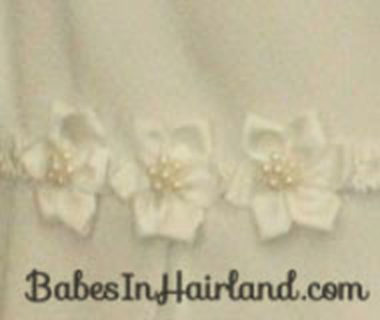 I was so excited to find these darling little things at Joann's. Not exactly the same – but oh so close.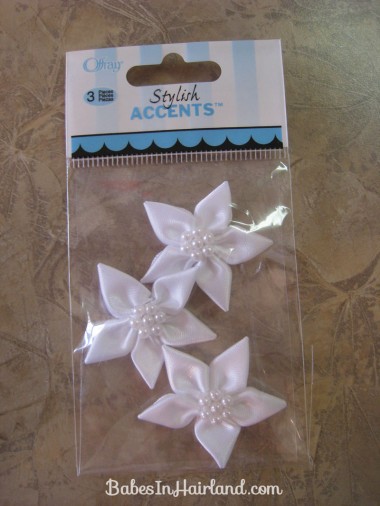 I also picked up a package of these cuties – they've got pearls and a bit of bling goin' on!: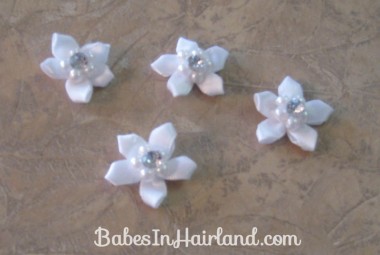 I also had to buy some hair pins – because I decided I wanted to try attaching them to hair pins instead of regular old bobby pins. I've gotten frustrated with things I've attached to bobby pins in the past because I feel like I have to shove them into the hair precariously to get the whole pin to hide, or put it just right to get the accessory to actually show at the angle I want it. Maybe that doesn't make sense, but either way, I went for hair pins this time. *** Update – I recommend getting the salon strength hair pins for this (you can buy them at Sally's) and the hair pins will hold up better & you won't loose them out of your hair. ***
The one on the left is how they look when you pull them out of the package. I didn't want it so wide so I squoze the top of the pin a bit to look like the one on the right.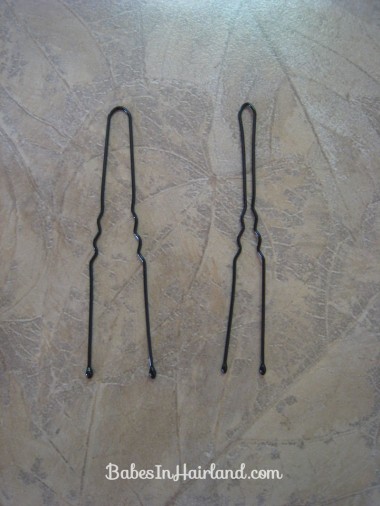 Grab your trusty glue gun & put a dot of hot glue on the back of the flower. Press the hair pin into the glue for a second.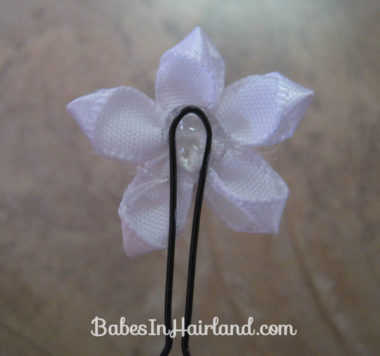 Then once you're sure it's pretty stuck, add another dollop of hot glue on top of the hair pin, to ensure it's secured really well. Jenn suggested covering it with a bit of fabric so the glue didn't pull the hair, but I opted for the easy way out and didn't add fabric. I didn't notice hair pulling – but it is an option to give it a more finished look on the back side.
Once I did this to all my flowers, I ended up with a ton of pretty little accessories that I love love love!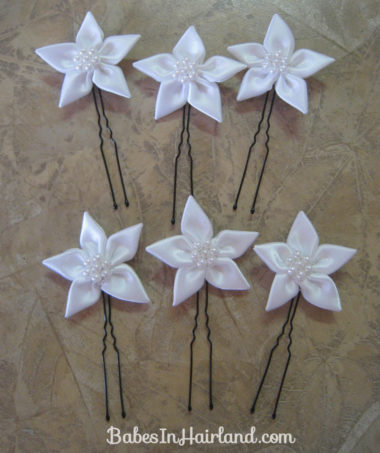 And here's how I used them in my Twisted Flower Girl hairstyle I did recently: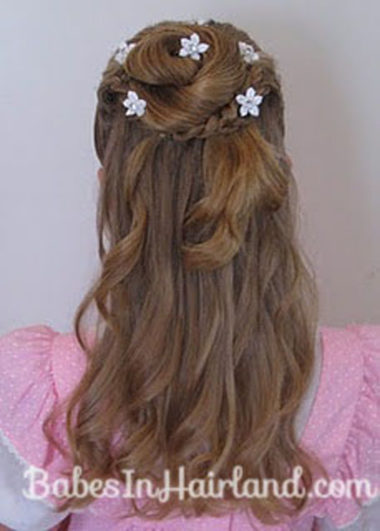 I just loved that I could stick them in wherever I wanted and didn't have to worry about the angle of the bobby pin. I was so excited! Here's a few shots from our fun time with Jenn as well. I hope you don't mind me sharing them!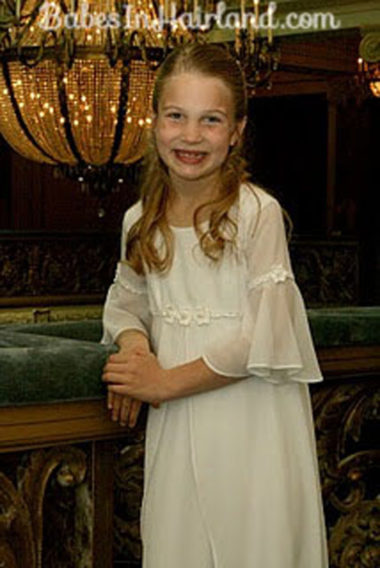 I was so excited to have her wear the dress in the next pic because it was the dress my mom sewed for me to be baptized in ages ago. I wore the white dress that's underneath, and then the next day I wore the pink pinafore over it. Can't believe she fits in it now!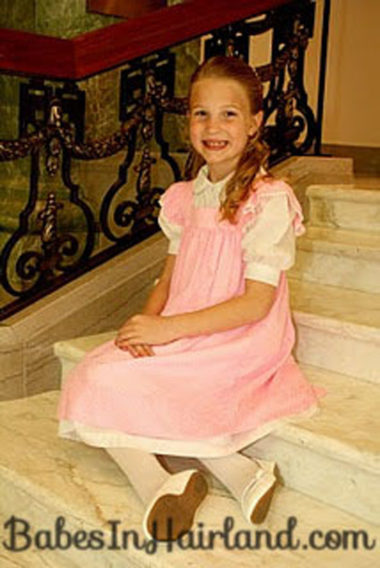 Anyway, you can attach pretty much anything to hair pins and stick them any which way you want in the hair. So if you are struggling as to what to put in your dd's hair with her fancy Easter dress, stop by the craft store and pick up something that will match and whip a few of these out! We love them. These would work great for weddings or any fancy dances your girls might attend as well!
P.S. I know I've had several of you write me about "baptism day hair" – and my vote is keep it simple. I plan on doing a few pull through's up in front to keep all those wispy hairs secure, and then just have it in a ponytail in back. Once she's dried off and all that, I'll probably quickly braid her ponytail and wrap it up into our quick & easy "Almost a Bun", and then stick a bunch of these hair pin flowers I made all around to pretty it up. I'll save the "really fancy hair" for the following Sunday! But braids are good too. Anything that will hold up to water! Hope that helps.