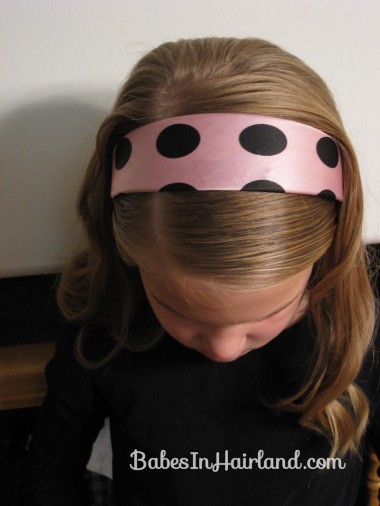 Well, since I introduced my headband "tricks" back in December, and since we had our new little headbands the girls, especially Goose, have wanted to wear them more often. Unfortunately, I can't say I'm still much of a headband fan! Goose seems to always want to wear one when we are running short on time & I don't have time to do one of my cutsie ways. I hate that 10 minutes after she wears it she pulls it out to adjust it – and the "smooth – hair is done look" goes away! Plus she's not mastered putting it back in yet & having it all smooth & nice or keeping hair behind her ears. And of course because I'm a hair obsessed mom, I don't like my girls going to school looking like I didn't touch their hair before they're even out of the car!
So this is what we came up with. Definitely not rocket science, and you may have already done this. But this has helped greatly in keeping it looking nice up front even if she does have to take it out or reposition it.
Hopefully you can see this because I forgot to take pictures when I did it. I first parted her hair off on the side and smoothed the hair down behind her ears. The hair that "swoops" down behind her ear I pulled tightly & grabbed a bit of hair randomly underneath the back of her hair & secured it with a rubber band.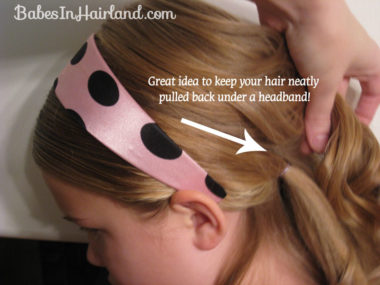 This one is buried back under there, so I don't know if you can see it. But I did the same on the other side. Just grabbed a little random hair at the nape of her neck & secured the hair that was coming from the front back.
Then I quickly curled the ends since we were short on time. You can't even tell the hair is held back with rubberbands because it just hides nicely in the hair in back.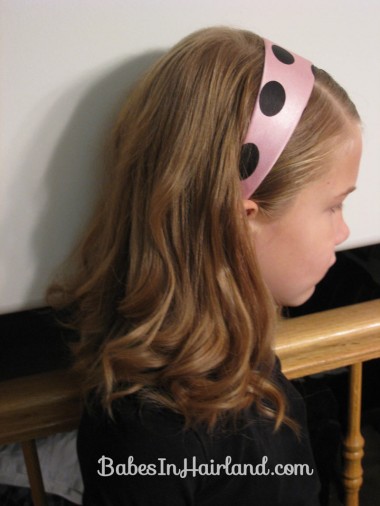 And there you have it — sleepy eyes & a smile! This stayed all day – and she said she took her headband out many times throughout the day and it still pretty much looked like this when she got home. We also did this another day when she had left over wavy hair from braids & it looked darling too – smooth up front & poofy waves in back. Doing this has helped me like headbands a bit more! And it was VERY quick & easy. (Maybe not as quick as just slapping in a headband – but right up there time wise!)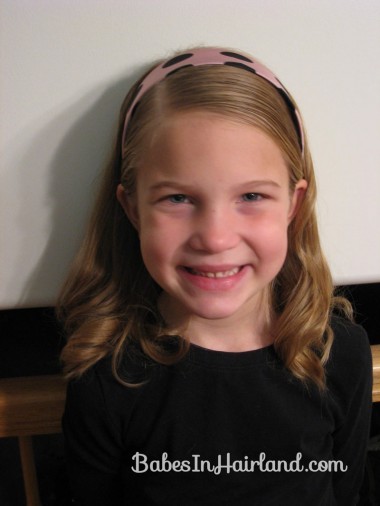 Oh, and if you missed or forgot what headband tricks I did back in December … go HERE & HERE.