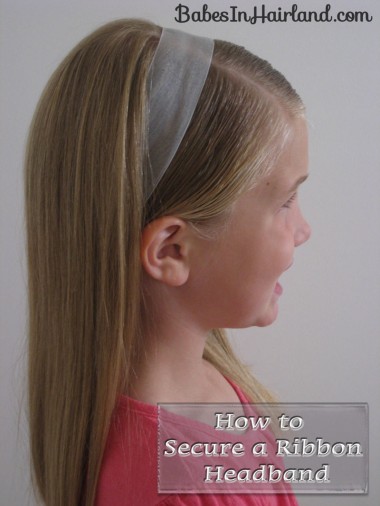 Sorry for the lack of posting lately. I've got just 2 words — Potty Training. 'Nuf said! (If any of you have any sage words feel free to impart them – as things aren't going well!)
So – any of you have an extra cute piece of ribbon laying around the house? Don't know what to do with it because it's not enough to make a bow or something out of it? Well, that's me for sure. And if you've been around my blog enough to know, headbands were not my fav, but as we've come up w/new ways to use them, I've started loving them.
Normally if you were to just tie a ribbon around your head for a headband, chances are it doesn't stay in – right? Falls out within no time? Or if you tie a scarf on or use a scarfed headband, you have that big knot at the nape of your neck, and then your hair separates in the back or it makes some funky bump in back from that knot?
If you have had any of those things happen, well then try this. It worked wonderfully for us, and stayed in all day.
Start by making "Barbie bangs" as we call them. These work great when you wear a real headband as well.
Part the hair off center on the side of your preference. Then part the hair from ear to ear. I took the rest of the hair hanging down in the back & pulled it up in a clip just to keep it out of the way for the time being.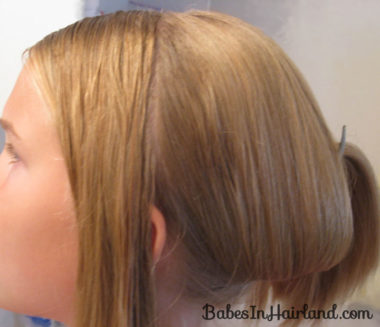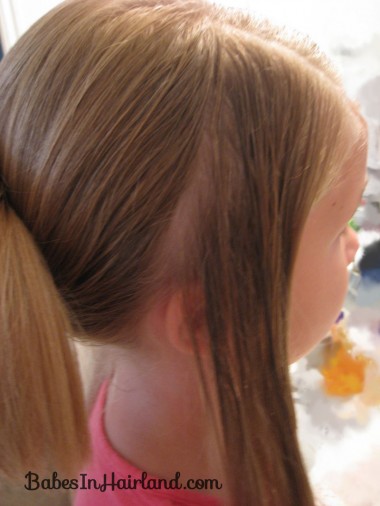 Starting on the left side, once you've parted the hair out, take a tiny amount of hair from the nape of the neck, and combine it with the hair you are smoothing down on the left side. Secure them together with a rubber band. Repeat on the right side. Be sure to do this far enough under the hair in the back, so you can't see it from the side.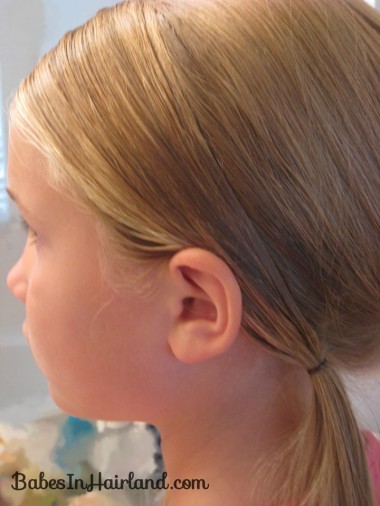 Then take your ribbon of choice and secure the end of it with another rubber band to the "ponytail" you made making your Barbie bangs.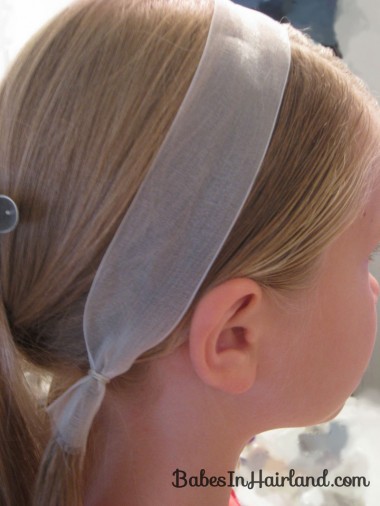 Bring the ribbon over the top of the head, towards the other ear. Be sure to pull it so it's snug, or it will just slide off her head like a normal ribbon would. Again, using a rubber band secure it to your little ponytail underneath the hair. You could probably do this whole thing in 2 steps, securing the ribbon at the same time you do the ponytail, but I wanted to make sure the hair laid right for me first, before I added the headband.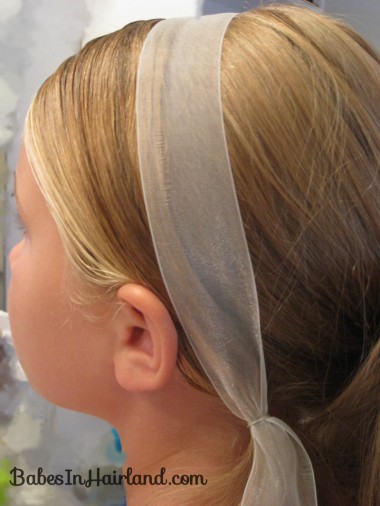 That's it – you're done. I wish I would have had the ribbon sitting a little bit more forward, but it still worked nicely and stayed in without any problems. Best part was, she really couldn't even tell it was there – no tight headband bugging her, or no worries of her loosing the ribbon.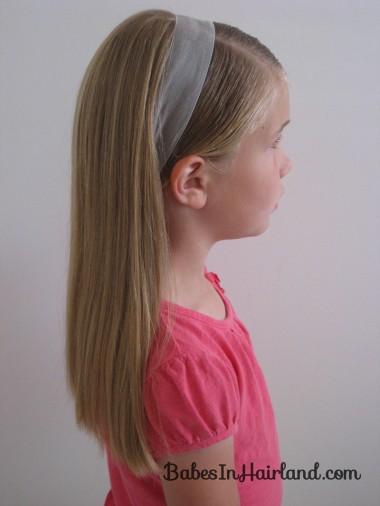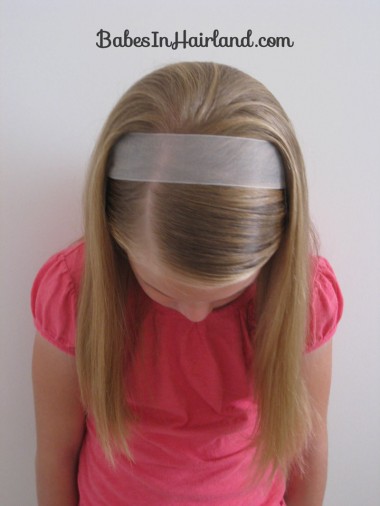 Funny thing was – she wore this to church & her primary class teacher said, "Oh, look she doesn't have her hair done today!" I was thinking – what the heck? Yes she does. But I guess normally it's up and "fancier" or curled and she was just "normal" looking to her teacher or something! Anyway, let me know if this trick works for you using a ribbon this way!