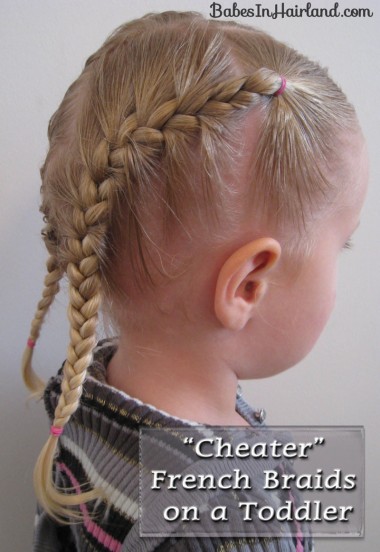 First off, I've got to pat myself on the back, as I feel like I've finally got a hang of French braiding. Gasp – yes, I have a hair blog and I've stunk at French braiding (at least in my opinion!) I mean, I could do it, but I never really like how things turned out. But with practice, I've gotten better. And as the old adage says – practice makes perfect! I still am not the queen of braiding, but I'll actually let the girls go out of the house sporting one of my braids now! 🙂 For this one, you'll need to know how to French braid. I'll eventually put my video on here, but I don't have time for that yet!
Anyway, back to the hairdo. This is nothing earth shattering, just something I thought I'd share because chances are some of you out there deal with this problem too (and who knows- w/all the many, many hair blogs out there, this possibly has been done elsewhere!) Bee finally has enough hair to braid, or French braid. BUT – she still has a lot of the little short hairs/baby hairs up front around her face. So trying to French braid towards the front of her hair is a joke for 2 reasons. One being those baby hairs, and secondly, trying to get her to tip her head the way I need her to so I can get a grip on the hair and braid it is just ridiculous. She's pretty good at holding still for short periods of time, but I still am usually working on a moving target. So the other day I decided to try something else.
I made a side part, and then parted from ear to ear – making 2 little ponytails up front and secured them with rubber bands. Then I did a zig-zag part down the back of the head to divide the rest of the hair in half.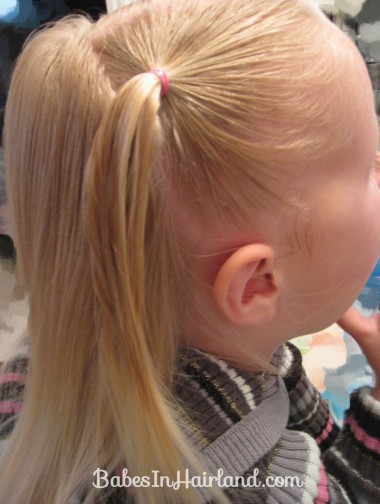 Starting on the left side ponytail I made 4-5 plaits of a regular braid in the little pony tail working towards the back of the head.
Then once I had braided far enough down the ponytail and I was over the hair hanging down in back – that's when I started adding hair into the regular braid, to start making a French braid.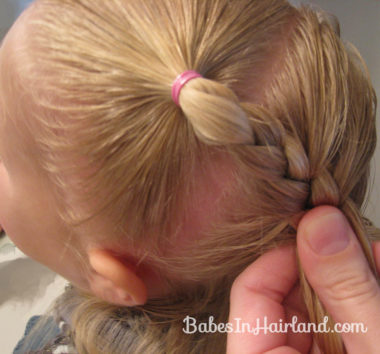 Continue adding hair, as you would to French braid, and braid until you run out of hair. You could stop at the nape of the neck and leave the rest in ponytails, or I could have flipped the braids up to cute-sify it some more, but I left it as is – 2 basic French braids, just started from a ponytail, into a regular braid, and then into a French braid.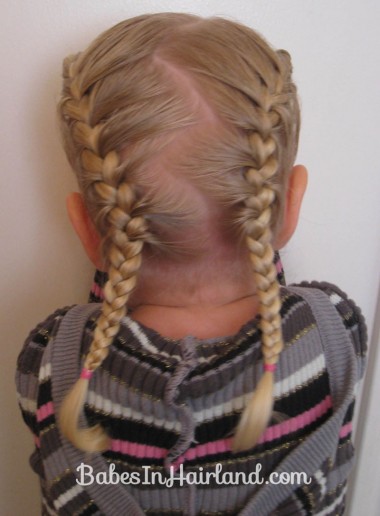 And because she was in a silly mood & her sister wouldn't let her have her Halloween vampire teeth, she opted for putting a claw clip in her mouth for "scary teeth!"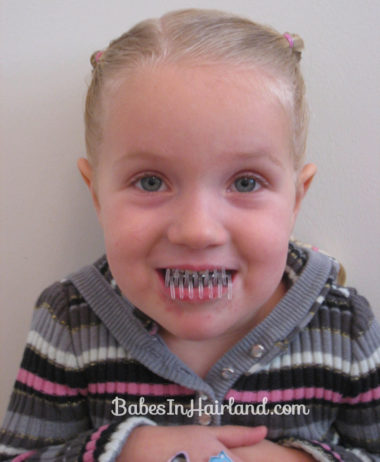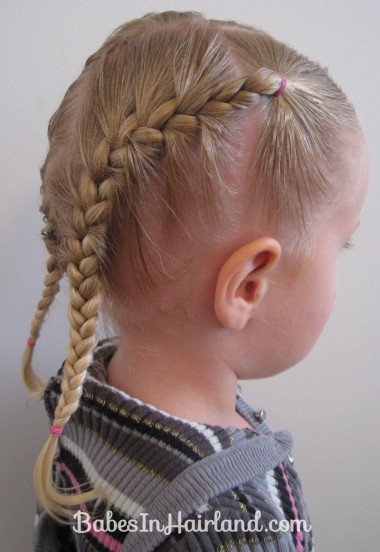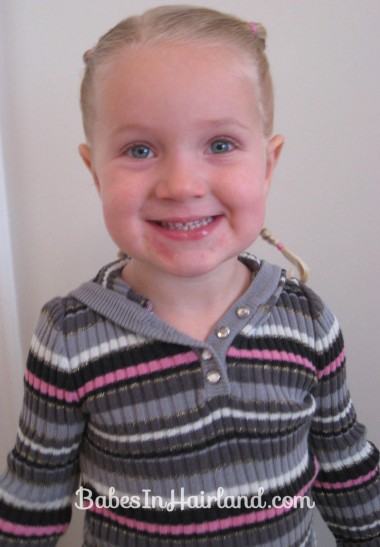 Anyway, by doing the ponies up front, it helps all those little hairs stay put, she doesn't have to crank her neck to some weird angle for me, and we still get cute French braids out of the deal!